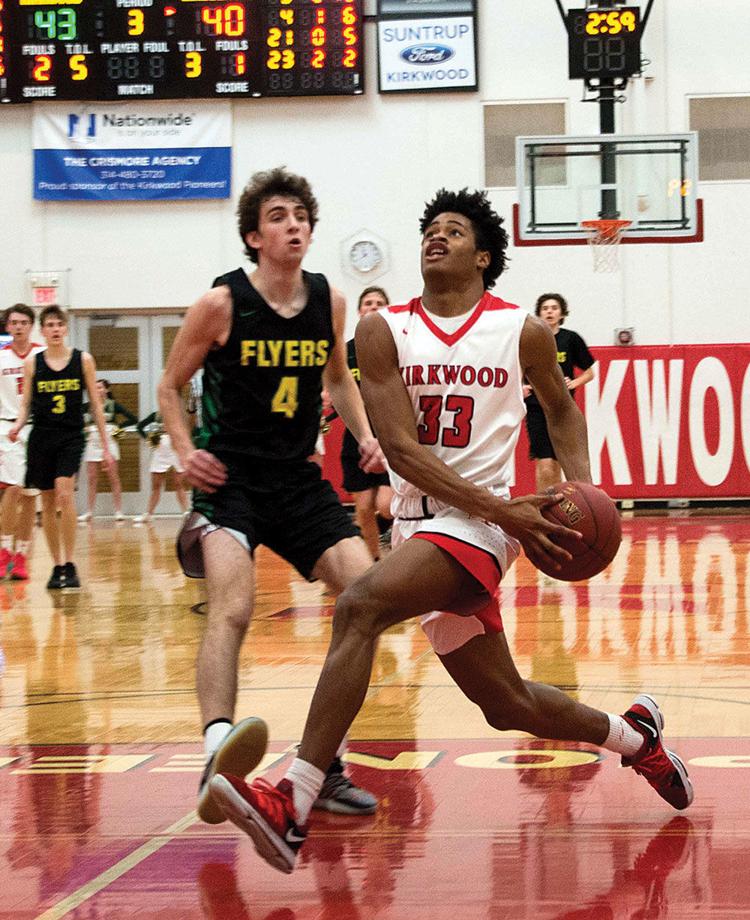 When Kirkwood High School needed to make plays, the Pioneer boys basketball team responded.
Between Kirkwood's full-court pressure defense and hitting free throws in the fourth quarter, the Pioneers pulled out a 59-56 victory over Lindbergh at David Holley Assembly Hall on Feb. 1.
This was a game that had nine lead changes and three ties while celebrating and honoring Kirkwood Coach Bill Gunn's 300th victory that happened against Northwest Cedar Hill 82-33 on Jan. 21, in the first round of the Union Tournament.
"There's a reason he has won 300 games," Lindbergh High Coach Jason Wolfard said.
Kirkwood received three key three-point field goals from senior guard Brad Lay, who finished with 10 points. Senior point guard Damien Loyd provided a team-high 13 points, but he calmly converted two free throws to extend Kirkwood's lead to the final score with 2.7 seconds remaining.
Sophomore guard Jaylen Phipps also contributed 10 points while hitting three of four field goals. Senior guard Jonah McDowell contributed three three-point field goals to finish with nine points. Senior forward Arvell Ferguson added eight points before fouling out with 1:59.1 left in regulation.
Kirkwood, which has struggled from the free-throw line, converted 12 of 17 foul shots, including three of four in the fourth quarter. Kirkwood led by as many as seven points, that coming in the second quarter, but Lindbergh refused to quit, despite never leading in the final 22:45.
"I kept looking at the scoreboard and thinking we're up by more and it was close," Loyd said.
Kirkwood, which used four guards at times, used the full-court trapping pressure defense to keep Lindbergh from getting into its half-court offense.
"We wanted to speed it up and prevent them from getting into their half-court offense," Loyd said.
"I thought our defense finally tighten up when we needed it the most," Gunn said.
The 6-foot-5 Ferguson is a standout football player who will play next at Garden City Community College. Ferguson had to guard Lindbergh's 6-10 senior center in Erik Lahm, who finished with a game-high 19 points, with all seven field goals made coming inside in the paint.
"It was a challenge," Ferguson said. "I can't lie. I just have respect with big guys like that."
Gunn said he was proud of his players in the victory over Lindbergh.
"We were able to pull together as a team," Gunn said. "Hopefully we can focus on basketball and get better. Everybody contributed in a lot of different ways. A lot of different players contributed and that makes it fun."
And the win has given Kirkwood hope down the stretch of the regular season.
"As a team, we can compete," Ferguson said. "We can compete with anybody in the state."
Kirkwood is now 13-8 after losing to host Francis Howell 80-54 on Tuesday, Feb. 5.