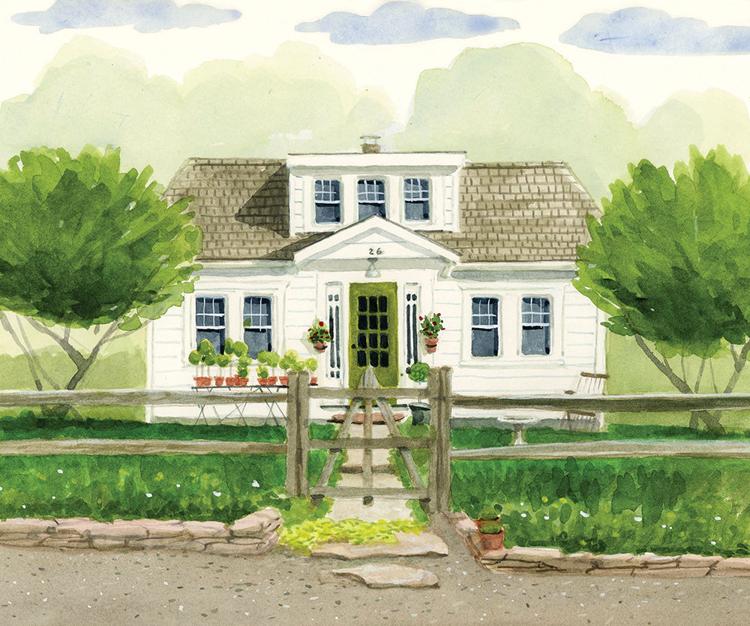 If you send local artist Cathy Einspanier a photo of your house, she'll create a personalized watercolor for you. Einspanier runs a shop on Etsy called Picket Fence Portraits that has been featured in HGTV Magazine and a slew of online publications, such as Good Housekeeping. With all this exposure, her project keeps her busy!
Einspanier's Picket Fence Portraits has become a popular Mother's Day gift, and she says May is her busiest month. This week alone, she will create 12 portraits. And Einspanier will soon complete her 500th personalized "picket fence portrait."
The personalization is what makes these portraits so fun for Einspanier. Sometimes personalized means a house with eight cats on the porch, other times, it's a Coke can in the driveway, or maybe a specific tree in the front yard. Einspanier delights in these small requests. They are the stuff that make a house a home, and only the people who live there will "get it."
Perhaps the most challenging portrait she has been asked to create was of a house that had burnt down, and the family lost their photos of the house. Working from a photo taken by the owner after the fire and from the family's memories, Einspanier recreated the look and feel of their lost home.
Einspanier's interest in art took root while she was a student at Nerinx Hall. Her teacher, Roberta Hudlow, was the first person to encourage her to pursue art, and the two have remained friends.
Einspanier went on to earn a B.A. in fine arts from Fontbonne University where she says she learned to master the fundamentals and techniques of representational art.
Through the years, Einspanier said, her work "developed from a serious, realistic style to a casual, folk art style." There are other artists making home portraits, but Einspanier thinks hers are distinctive because they straddle the line between hyper-realism and caricature. Her representational skills are softened to evoke a warm, light-hearted mood, the way we like to think of our homes.
For more of Einspanier's work, visit her Etsy shop, PicketFencePortraits, or follow her on Instagram: @picketfenceportraits.