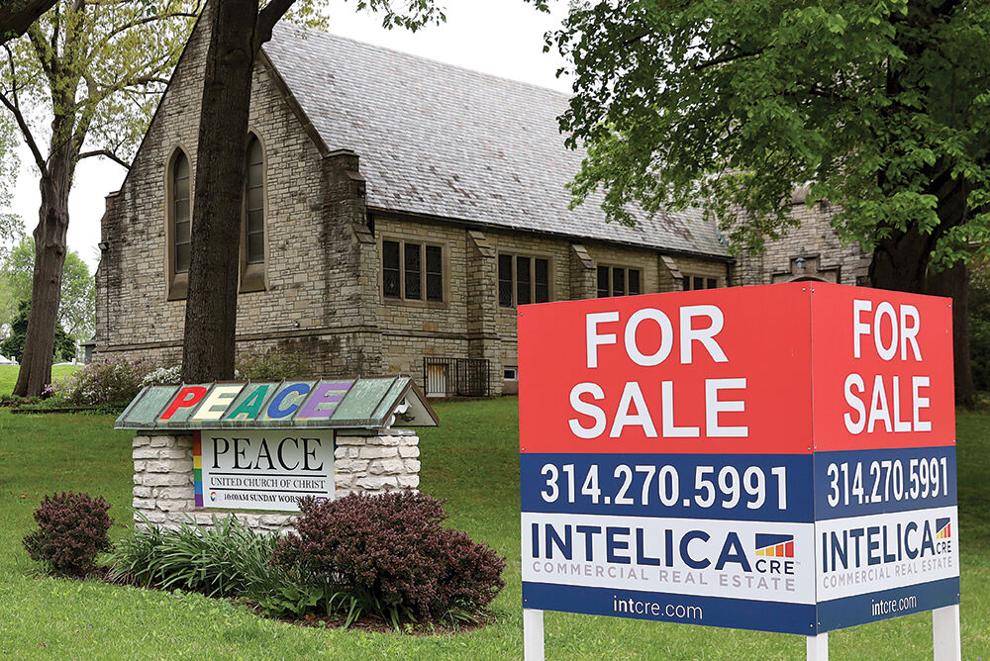 Peace United Church of Christ congregants have voted to relocate the church's worship, education, music and justice work to the campus of Eden Theological Seminary, 475 E. Lockwood Ave., in Webster Groves. 
The two religious entities will share the seminary's buildings and 20-acre, wooded property, but a specific relocation date has not yet been determined.
"This is an exciting leap of faith," said Rev. Wendy Bruner, pastor of Peace UCC. "As a minister, I'm in awe of what the church I serve has decided to do. We're truly living out our faith."
However, she admitted it was "an emotional decision for all who call Peace UCC home."
The property at 204/212 E. Lockwood Ave., which has been the church's home since 1920, is now for sale. The lot , listed with Intelica Commercial Real Estate,  consists of 2.24 acres and is subject to offers. 
Webster Groves Planning and Development Director Mara Perry said the site has two zoning designations, both of them residential. She added that any future development on the property, such as mixed-use development or group homes, would require conditional use permits or perhaps rezoning. 
The congregation's move about a half mile down the street from its current location at the corner of East Lockwood and Plant Avenue comes four years after members of the 102-year-old church adopted a new mission stated as "working in solidarity with all to achieve well-being, justice and equity for God's creation." 
Bruner said congregants analyzed how the church's vision could be strengthened if the time and cost of operating its church building were rechanneled into supporting the mission. 
"Maintaining a building makes it harder for us to do the work we are called to do," she added. 
She said congregants approached Eden Seminary leaders in 2020 to discuss it as a potential, ideal site for Peace UCC's imagined new location. Seminary representatives were open to the concept, she added, with a collaborative visioning process jump started to outline ways the congregation and the school school can do more than merely share space.
Peace UCC and Eden Seminary are both affiliated with the United Church of Christ religious denomination, and have long been focused on social justice. 
"Peace members stand up for Black lives on the church lawn every weekend. Just laws are supported with voter registration drives working with Metropolitan Churches United. In the summer, the church hosts a Children's Defense Fund Freedom Schools program in partnership with the Deaconess Foundation," said Bruner. 
Likewise, the seminary's stated curricula aims to empower religious leaders to lead their communities to resist racism and its intersecting oppressions with interfaith collegiality and vocational resilience.
Eden Seminary President Rev. Deborah Krause said the two entities have a rich history together, with Eden's Webster Groves campus being founded in 1924. Eden's origin dates to 1850.
"Our two groups have a compatible theological vision. In the past, we've shared a childcare center in common (the Eden Lab School), and Peace regularly had a seminary student as one of their staff. We've been collaborating for decades, and Peace pastors serve as mentors to our students regarding how to lead congregations," Krause said. 
"Now we have the chance to share space and more programming together," she continued. "We believe with the spirit's guidance, we will learn and grow together. We're delighted the Peace congregation is thinking in innovative ways about their mission, although it's an understandably difficult decision."
Eden's residential campus offers apartment-style, on-site housing in one- and two-bedroom units, weekly community lunches in Schroer Commons, visiting lecturers, worship services and chats with students and faculty around the Weise Quadrangle fountain.
Krause said Eden serves about 120 students annually, now through blended approaches with online and in-person courses. 
"We have umbrella connections and shared thoughts with Peace that mesh well. We know the path ahead has many details to still be worked out, however we also know these are hopeful steps," said Krause.