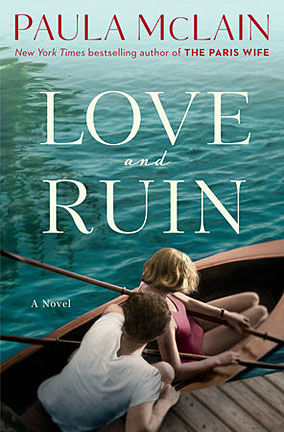 After writing "The Paris Wife," a historical fiction novel based on the marriage of Ernest Hemingway and his first wife Hadley Richardson, Paula McLain thought she was finished writing about Hemingway.
Then she discovered St. Louis native Martha Gelhorn, an acclaimed war correspondent and author who became Hemingway's third wife.
Gelhorn was a fiercely independent woman bent on forming her own career path who became involved with a man having the same traits.
In her late 20's, Gelhorn's budding career was foundering, and she returned home to be with her dying father.
Following his death, Gelhorn, her mother and brother took a trip to Florida, and on one hot day in a Key West bar, Gelhorn spied her idol, in all his dishevelment.
He invites them to dinner at his house. At the time, he was married to his second wife.
When Hemingway leaves to write about the Spanish Civil War, Gelhorn follows him and finds her calling writing about ordinary people in extraordinary circumstances.
She also falls in love with Hemingway and the two marry.
After the war, Gelhorn spends a year crisscrossing Europe, visiting countries on the brink of war and telling the back stories of the people dealing with the coming horror of World War II.
Hemingway wants to return to his retreat in Cuba. At that point, their professional careers are on an even keel. They live an idyllic life, both working on their respective novels – his being what would become the biggest book of his career, "For Whom The Bell Tolls."
After the book is published, Hemingway's career skyrockets, while Gelhorn's languishes, and she becomes restless.
She desires to be something more than Mrs. Ernest Hemingway, and asks herself, "Why should I be a footnote in his life?"
When her editor at Collier's Magazine asks her to cover some unrest in Finland, she leaves, much to Hemingway's chagrin.
This begins a series of overseas assignments for her, including being the only woman journalist to cover the D-Day landing at Omaha Beach, and being one of the first to report from Dachau Concentration Camp after its liberation.
These events also begin the unraveling of the marriage.
McLain tells an exciting story of the couple's experiences in Spain, and Gelhorn's reporting of the European conflict. She puts the reader in the thick of things, from war to the hot, humid Havana nights and the constant partying of Hemingway and his group.
What I did not feel was the fire in Gelhorn's belly to become her own person.
That she had that fire cannot be disputed given her 40-year career with all its amazing accomplishments, but all I could glean from her relationship with Hemingway was a rather dull, predictable marriage with a self-destructive, albeit talented alcoholic.
After Gelhorn leaves Cuba, "Love and Ruin" becomes an interesting travelogue with Gelhorn being alternately exhilarated with her experiences and bemoaning the fact that a future with Hemingway is not to be, even though she wants it. So back and forth. Back and forth.
That McLain is a talented writer cannot be disputed. I wanted more about the "fire in the belly" and less of a tedious marriage.