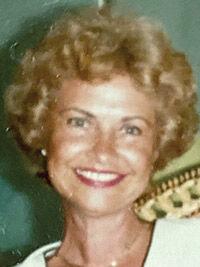 Ferguson, Patricia Jane "Patsy," 1931-2020, went home to meet her Lord and Savior in the company of those she loved on Wednesday, Dec. 30, 2020, in St. Louis, Missouri, at the age of 89. Patricia is survived by: her daughters Becky Coulter and Lori Kraatz; grandchildren Mark (Lauren) Block, Caroline (Bill) Kraatz Moll and John Kraatz; and great-grandchildren Isabelle Kraatz, Jack Moll, Justin Moll and Eleanor Block. Patricia is survived by her sister, Dollie Hopkins. She was preceded in death by her sister, Josie Doss.  
Patsy was born on Oct. 31, 1931, in South St. Louis, to Dollie Wallace (nee Moore) and Oliver Wallace. Patricia graduated from Southwest High School in 1950, and shortly thereafter married the love of her life and high school sweetheart Eugene William Ferguson in 1950. Before they could start their life together, Eugene left for basic training. After serving his country, Eugene returned home to help run the family business and start their life and family together. Over the next 70 years, Patricia proved to be quite the homemaker, mother, grandmother, and most recently great-grandmother.  
While Gene ran multiple businesses over the years, Patricia raised her two daughters and later played a large part in helping with the upbringing of her grandchildren. Patricia was an avid playgoer, theatre buff, lover of the arts and expert at quoting Star Magazine. "If it is in Star Magazine, it must be true!" LOL. In addition, she was known for her bright pink lipstick, spoiling all of her grandchildren, and the attack of "50 Kisses" with that bright pink lipstick! Just ask her grandchildren. Patsy was a true family woman and was loved by many. She will be truly missed. 
Services: due to the coronavirus, a "Celebration of Life" will be held at a date to be determined in the future. In lieu of flowers, please send donations to the St. Louis Children's Hospital at One Children's Place., St. Louis, Missouri, 63110, or online at https://www.stlouischildrens.org/giving.