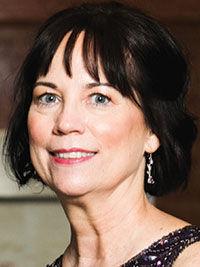 Neyer, Patricia Ellen (née Thomas), 62, of Des Peres, Missouri, returned home to the loving embrace of our Almighty Father, on Sunday Nov. 13, 2022, at peace and surrounded by her family. She is survived by her beloved husband, Joe; their sons, Jeff (Emily), Doug, and Matt Neyer; her granddaughters, Quinn, Sloane, and Darcy; and her siblings, Michael Thomas (Nancy), Debby Thomas, Robert Thomas (Sally), and Sandy Thomas. She was preceded in death by her parents, Hal and Fern Thomas.
Born April 21, 1960, in St. Louis, Patty attended St. Luke Catholic Grade School and graduated from Rosati Kain High School, class of 1978. She attended the University of Missouri-Rolla, where she earned her bachelor's degree in mechanical engineering and met her husband Joe, whom she married on Sept. 4, 1982. 
After a brief career as an engineer at McDonnell Douglas, Patty left the workforce and instead dedicated herself to raising a family and building a home for her three sons, in whom she took great pride. Of the many joys in her life, her children, and later grandchildren, gave her the most happiness. Patty was never long into a conversation before bringing up her kids' latest updates or sharing photos of the newest granddaughter.
Patty lived life to the fullest and brightened any room she was in with her smile, sense of humor, and knack for fun. As her sons grew, she volunteered and took part in many parish/school activities. Through these, not only was Patty a constant source of love and support in her sons' lives, but she also shared the gift of her life with many others who have come to call her friend. Whether it be after-school sports/plays, Fish Frys, the Church gardening club, Mothers' and Alumni Mothers' Clubs, SLUH Painted Treasures, or her St. Louis Catholic Academy tutoring, Patty was always involved and giving back.
When she wasn't sharing of her time with her sons or others, Patty enjoyed reading, going on walks, and rooting for the St. Louis Blues/Cardinals. Family vacations were favorite memories of hers, and include many a Florida or Gulf Shores Spring Break (her favorite spot was on the beach with a cold drink in her hand), Disney excursions (which were more enjoyable once her sons were adults, she'd admit), and visits to family/friends across the country — especially to Minneapolis or Tulsa after her sons moved away from home. Minneapolis had the benefit of having grandchildren, but Tulsa's Oktoberfest was always hard to beat!
Patty touched the life of everyone she met and made lifelong friends during her journey here on earth. This is evident by the outpouring of support from so many sources that her family has received since her diagnosis and especially these last few weeks. Her personal reflections and email updates during her cancer journey were an inspiration to us all — accepting God's will, as difficult a burden as it was. Her courageous spirit survives as she looks down on us all from Heaven, and a better guardian angel could not be asked for. She will be sorely missed, but her memory lives on in the hearts of family and friends — faith, hope and love filling our hearts until we all meet again.
Visitation with family and friends on Sunday, Nov. 20, at Bopp Chapel from 3 to 6 p.m. Memorial Service on Monday, Nov. 21, at 10 a.m. at St. Clement of Rome Catholic Church. Interment ceremony at Resurrection Cemetery to follow.
In lieu of flowers, donations to causes close to Patty's heart are humbly welcomed and can be made to: Pancreatic Cancer Action Network (PanCAN)— secure.pancan.org/site/Donation2?df_id=2681; or St. Louis Catholic Academy: ttef.givingfuel.com/support-slca.