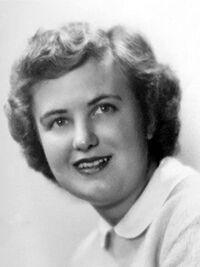 Flood, Patricia Anne Shonyo, was born in Bayshore, New York on Jan. 30, 1931. She was an only child and beloved by her parents, Pauline and Arnold Shonyo.
Her love for the beach began with the time she spent at Jones Beach with her father during her childhood. After graduating salutatorian from Babylon High School, Pat graduated from Cornell University and majored in elementary education. She joined Pi Beta Phi sorority and maintained lifetime friendships with her sorority sisters.
After teaching for a few years, she met Andrew William Flood when he came to thank her mother for writing to him while he served in the Korean War. Theirs is a sweet love story. Because Andrew attended New York Maritime College and wasn't permitted to marry, they secretly eloped during his senior year. They celebrated 67 years of marriage. After graduation, Andrew worked for General Electric. During his career, Pat and Andy were transferred to New York, Massachusetts, Wisconsin, Kentucky, and Virginia.
Pat's world revolved around her children Patricia (Jack), Susan (Tim), and Michael (Kelly), and her grandchildren, Michael, Kelsey, Connor, and Sydney. She will be remembered for her unconditional love and whole-hearted generosity toward her family.
Pat and Andrew retired in St. Louis, where they spent many happy years traveling, attending elder hostels, and visiting their grandchildren. They were members of the United Methodist Church. A private family memorial will be held.