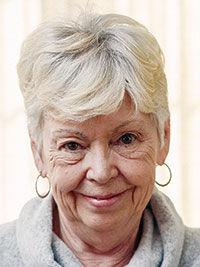 Hoffman, Pamela Gail, 75, passed away March 24, 2020, in Bethesda, Maryland. She was predeceased by her parents, Richard Henry Hoffman and Maryellen Stoner Hoffman, both longtime Kirkwood residents.
Born Aug. 3, 1944, in Anniston, Alabama, where her father worked at a munitions factory during the height of World War II, Pam and her parents moved to Evansville, Indiana, for several years before relocating to Kirkwood, where she graduated from Kirkwood High School in 1962. She returned to Kirkwood after graduating from Drake University, marrying, and starting a family. 
Pam raised her two boys, David and Jeffrey Drichta, in Kirkwood and continued to live there for 45 years. During that time, Pam taught history in area schools, worked in an interior design firm, and then worked as a manager at Fred Weber Construction Company. She was a devoted member of the Grace Episcopal Church community and a strong supporter of the Kirkwood School District, where her former husband, Clarence Drichta, taught music for 30 years.
Pam is survived by Col. (ret) David Drichta of Garden Ridge, Texas; Jeffrey Drichta of Bethesda, Maryland; daughters-in-law Shannon Drichta and Zhou (Jessica) Drichta; and grandchildren Anna Drichta, Natalie Drichta, Allison Drichta, and Jony Drichta. 
The family will hold a long-awaited memorial service at Grace Episcopal Church at 514 E. Argonne Drive on Tuesday, Aug. 10, at 1 p.m., followed by a reception nearby in Kirkwood.
Donations in memory of Pam Hoffman may be made to Grace Episcopal Church and the Multiple Sclerosis Society.