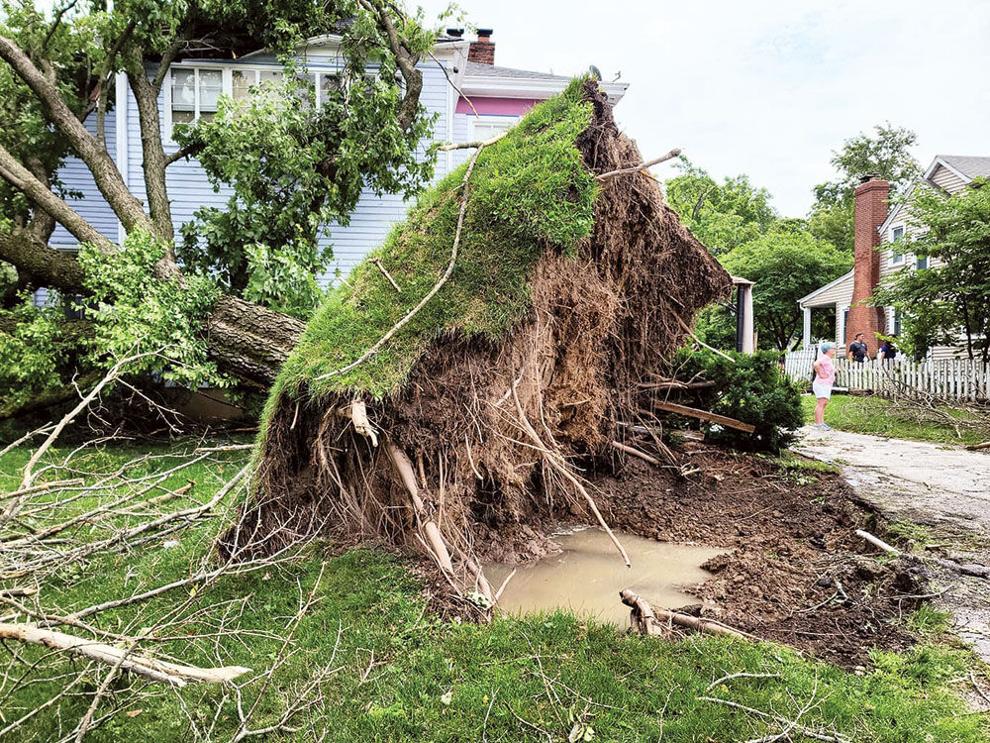 Thunderstorms wrought destruction across the St. Louis region last weekend, and residents in Kirkwood and Webster  are still grappling with the clean up.
Beginning late Friday night, July 9, and continuing into early morning Saturday, heavy rain and strong winds uprooted trees, tilted utility poles and slammed branches and debris into cars, fences and houses. 
"I just looked out there and I couldn't believe it was my yard," said Mary Phelps, who lives on West Adams Avenue in Kirkwood. "A 14-foot tree just fell completely over. We thought we were pretty much by ourselves until we drove around the neighborhood."
Phelps is one of many residents with a similar story. Over the weekend and into the week, brush piles lined the streets as homeowners cleared their yards and assessed the damage.
Fortunately, Phelps' house was spared by the storm, but not everyone was so lucky.
A house and lot owned by Gary and Terry Sibbitts on North Harrison Avenue in Kirkwood suffered extensive  damage when two huge trees were uprooted by the storm. One tree in the front of the property pulled up the driveway and fence. Another in the back struck the western side of the house.
Gary Sibbitts was home in bed Friday night when he realized something was wrong.
"As the tree hit the house, we felt it more than heard it," he said. "I got up and looked out the kitchen window and saw all those branches. It was an overwhelming feeling of ... 'What?'"
Estimated costs for removing the trees alone total over $20,000, though Sibbitts is hopeful his homeowner's insurance will cover a majority of that. A GoFundMe campaign to cover additional costs has since met its goal, and donations are no longer being accepted.
Sibbitts said he's grateful to community members and friends for helping his family through the ordeal. Another bit of brightness has to do with a stone fairy, who Sibbitts said has blessed the garden in front of his house for over 16 years.
Although the fairy was struck by the tree during the storm, it lost only its arms, the pieces of which were successfully recovered during the removal of the tree. 
"It has a lot of sentimental value," said Sibbitts. "We'll be putting her back together and in her rightful place when all this is done."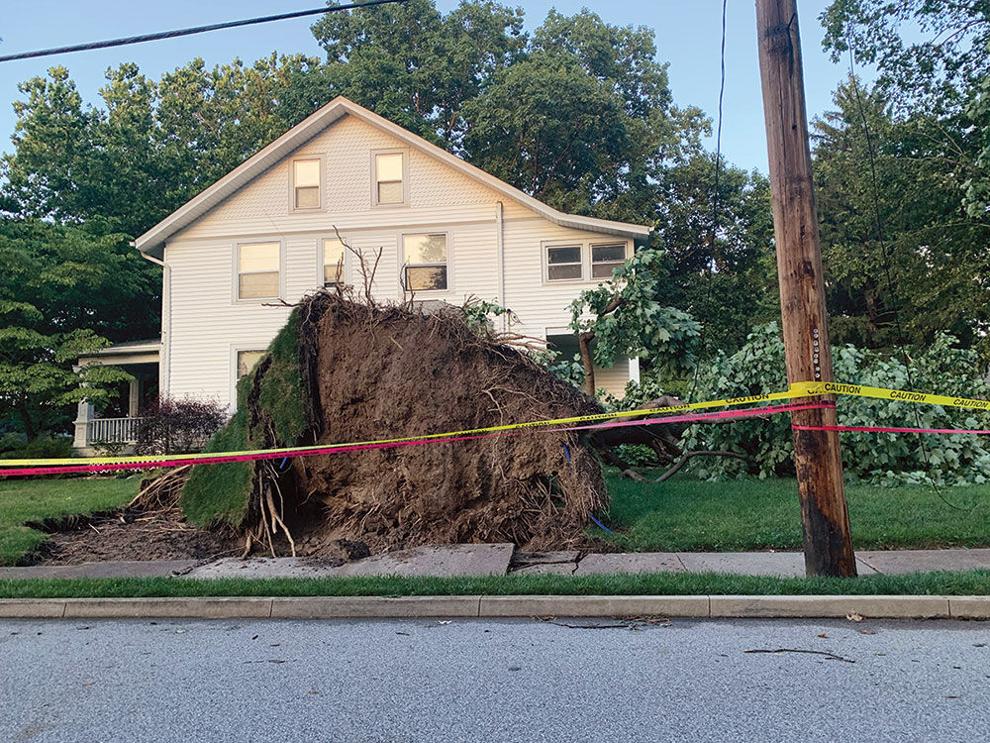 Power Outages
As a result of damage to power lines and grids during the storm, thousands of households were left without electricity. Some experienced interruptions the entire weekend, and some also lost internet service for several days. 
Mark Petty, director of Kirkwood Electric, said around 3,000 of the company's 10,000 customers lost power. Power was restored to all but 23 households by Monday,  July 12.
Despite what Petty called an "admirable" response by his crew, he's been fielding questions and complaints for several days from disgruntled customers.
"Due to the pandemic, people have exponentially begun to embrace technology: Netflix, Instagram, Zoom, cable and the other ways we use power to do things," said Petty. "There's much more of an awareness of the importance of having electricity. We've always prided ourselves in keeping the lights on for what we believe is an essential service. It's just a consequence of us being good at what we do that oftentimes it's taken for granted."
Petty said the storm caused no lasting damage to Kirkwood's grid equipment.
Ameren Missouri reported that a mix of trees, limbs and downed power lines left the company scrambling to quickly restore power to around 40,000 customers across the state. Around 7,000 of those customers remained without power through Monday.
Brush Pick-Up
Brush pick-up teams worked to remove brush piles throughout the week in Kirkwood and Webster Groves. Residents still needing brush pick-up services should contact their respective city administrations.
For residents seeking to remove a fallen tree or large branches, a list of licensed tree services is available at https://tinyurl.com/ph6dee89.