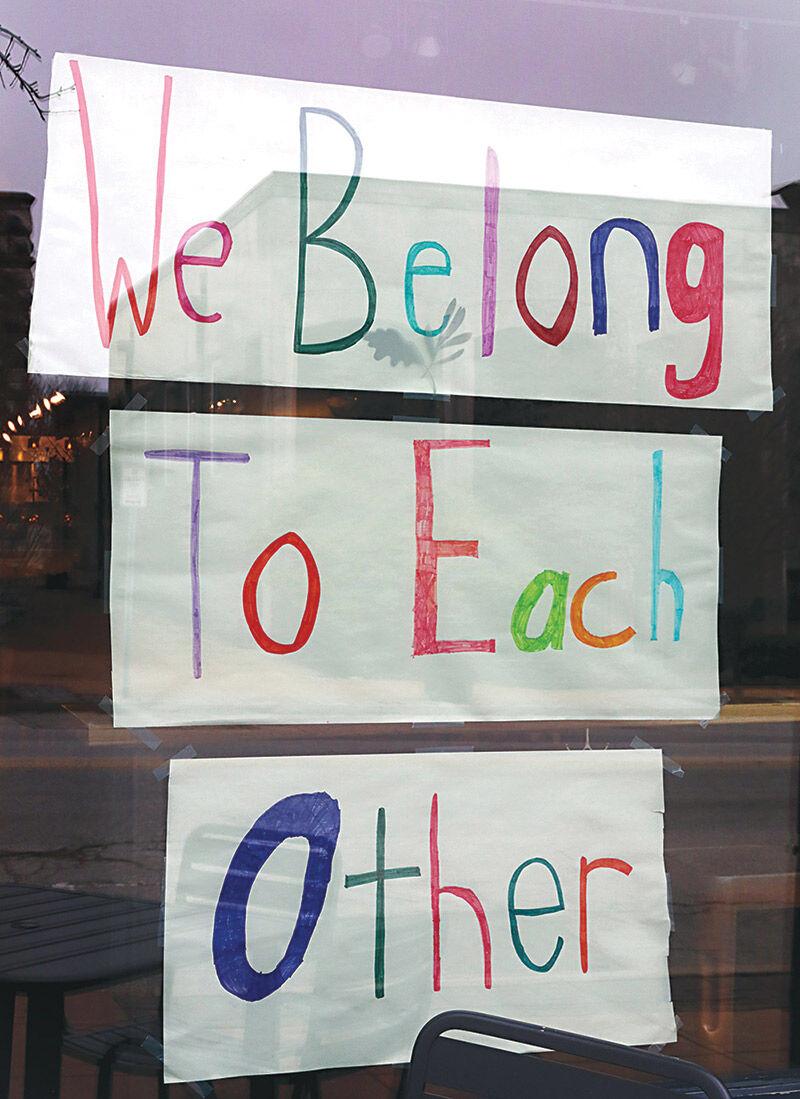 by Kevin Murphy
According to the Centers for Disease Control and Prevention, the first confirmed  case of the coronavirus in the U.S. took place on Jan. 21, 2020, when a  Washington state resident became stricken by a mysterious, new virus. Not to worry. How bad could it be?
"It's going to be just fine," said President Donald Trump, reassuring the American people at the time. "We have it totally under control."
Despite the president's calming words, the nation, and the world, would soon be embroiled in a COVID-19 pandemic. Businesses and schools were shut down, public gatherings were prohibited and people were told to isolate in their homes. Since March, COVID-19 has killed more than 310,000 Americans.
The presidential election offered some distraction  from the persistent stress and suffering brought on by the pandemic, but not much.
At last, on a positive note, 2020 draws to an end with an initial round of vaccines currently being administered to those most at risk.
Area Schools
by Melissa Wilkinson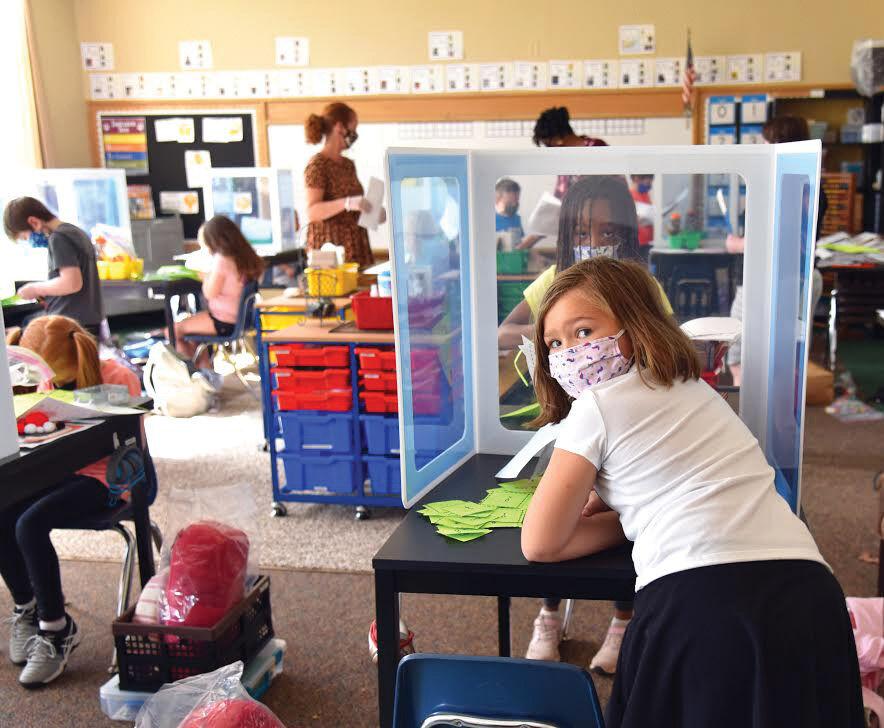 This year has been a wild ride for schools, as each month brought new challenges for students and teachers  alike. 
Both the Webster Groves and Kirkwood school districts conducted classes virtually for the last two  months of the 2019-2020 school year in the spring. Seniors attended
special socially-distanced commencement ceremonies in masks, and sat atop cars sporting their caps and gowns for graduation parades.
Though hopes were high early on that a full return to classrooms might be possible for the start of the 2020-2021 school year, by August it was clear that both school districts would conduct virtual learning for at least the first part of the semester. Elementary students  returned to school buildings first in October, followed by middle and high schoolers in November, with both districts employing partial virtual programming to ease a transition in the event of a school-wide quarantine.
Students may choose to continue virtual learning for the start of the spring semester, but for those in responsive programs, classes will begin in person after winter break.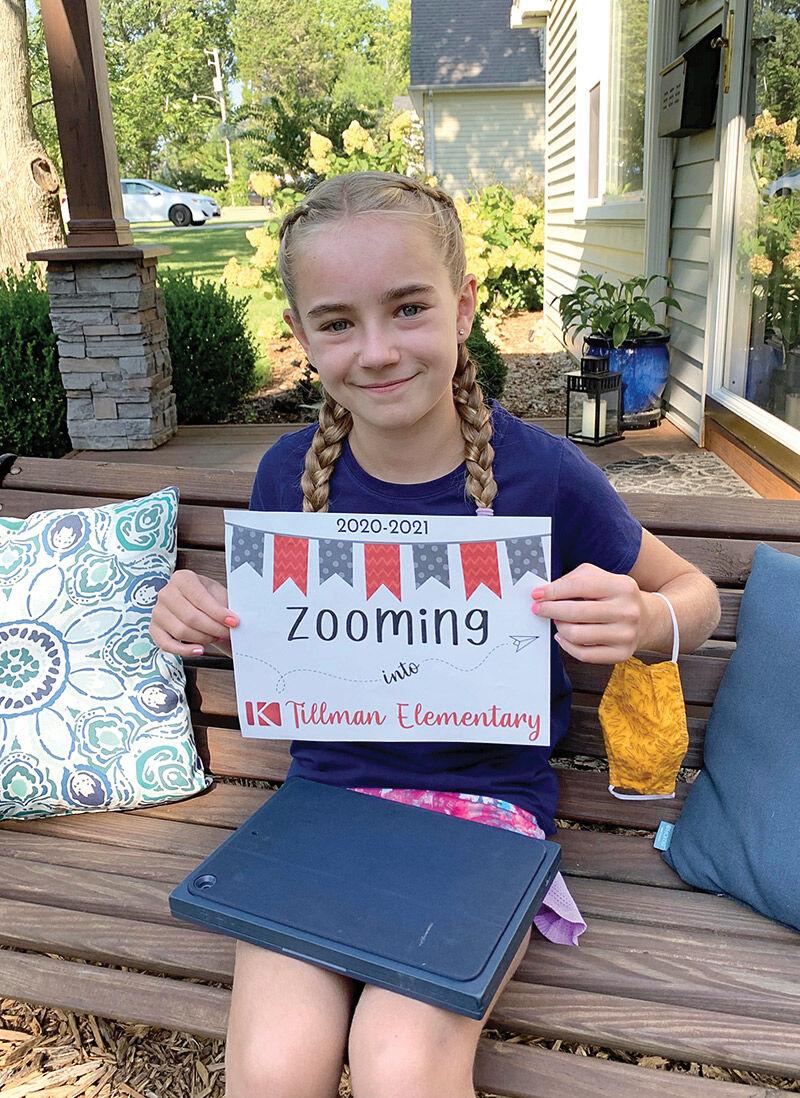 Despite COVID-19, school boards continued to meet and plan in the unprecedented realm of cyberspace. The Webster Groves School District Board of Education approved a major redistricting plan on March 23, designating Givens Elementary a "neighborhood school" with plans to transfer Steger Sixth Grade Center students, who share the Givens building, to Hixson Middle School. Major construction at Hixson to accommodate the influx of students continues.
The Kirkwood School District is also in the process of redistricting, with focus groups meeting weekly to determine a solution to overcrowding. Discussion follows the defeat of Prop S in April, which would have allowed for the construction of a new school building and other improvements.
In July, comments on a Kirkwood High School Alumni Facebook page from an alleged sex abuse victim sparked an investigation into former teacher Christopher Stephens, who has since been charged with multiple felonies including statutory rape, statutory sodomy and sexual abuse. Katie Pappageorge's Facebook post about the abuse she suffered in the 1990s prompted several other former students to post similar stories, causing many people to question the district's handling of past sexual abuse complaints.
In August, the district hired Kansas City-based firm Encompass Resolution, LLC, to investigate the school culture and climate related to the reporting and handling of sexual abuse allegations in the past. Its findings are scheduled to be shared at the Kirkwood School District Board of Education meeting on Jan. 25.
The Webster Groves School District dealt with an incident earlier this year when a racist meme circulated among students in February. Superintendent John Simpson said the district would make every effort to dismantle inequitable systems within its schools. Several months later, the district hired Shane Williamson as its first director of diversity, equity and inclusion.
Kirkwood also saw some new hires, including Superintendent David Ulrich and Assistant Superintendent Howard Fields, who was poached from Webster Groves' Steger Sixth Grade Center and Givens Elementary School, where he served as principal.
New Construction
by Kevin Murphy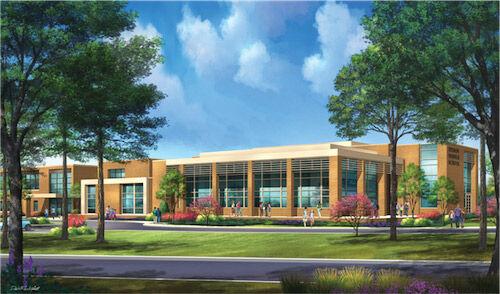 The $24.1 million Kirkwood Performing Arts Center was completed this year and expected to open for limited tours by summer.
Of course, a coronavirus threw a wrench into the works. Come the day when public venues are once again open, the 39,000-square-foot arts center at 210 E. Monroe Ave. will welcome Stages St. Louis, the Kirkwood Theatre Guild and the Kirkwood Youth Theatre program.
Work began on the new building, which features a 525-seat main theater and a 125-seat studio theater, in February of 2018.
In Webster Groves, the most talked about possible new construction — a major multi-story housing and retail development — went through a public input phase during 2020. 
SG Collaborative wants to redevelop a six-acre parcel bounded by Kirkham Avenue to the north, North Gore Avenue to the east, Rock Hill Road to the west and railroad tracks to the south.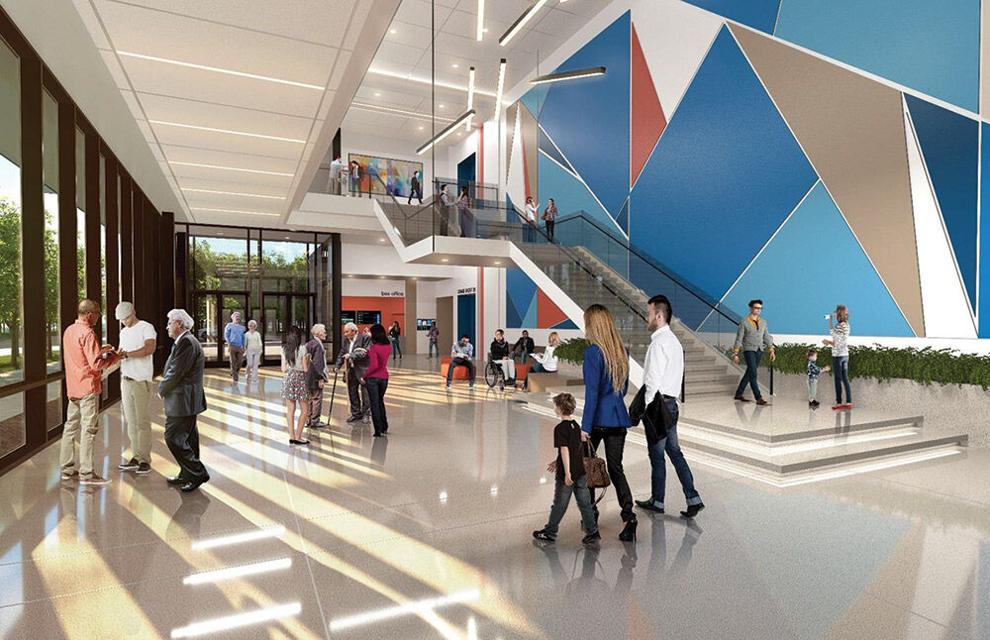 Many Webster Groves residents have concerns over the size and density of the project, its environmental impact, and the increase in traffic it would bring. Proponents like that a percentage of the rental units will be affordable, and that the development includes outdoor gathering spaces that can be used to stage public events. They claim that the current six-acre site is being underutilized, and that Webster Groves should embrace the opportunity to attract such an ambitious new project.
Look for the SG Collaborative plan to dominate Webster Groves City Council meetings in 2021.
Back to Kirkwood, The James, formerly known as Kirkwood Flats, is a 60-foot tall, 152-unit residential development at 426 N. Kirkwood Road. The controversial project was approved by the Kirkwood City Council on Nov. 5, much to the displeasure of many residents. Density and increased traffic were residents' biggest concerns.
"We have to stay focused on the longterm for Kirkwood. I think this will help do that. I think it shows that we want a vibrant, dynamic and thriving downtown," said Kirkwood Mayor Tim Griffin. "The more downtown is successful, the more successful we are as a whole."
Not everyone in Kirkwood agrees.
"The sheer size of the development will dwarf just about everything else in the neighborhood, and it will create significant traffic issues," said Doug Rau, who lives on North Taylor Avenue.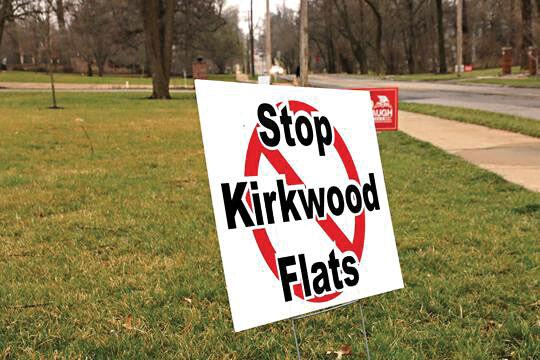 Back in Webster Groves, beginning next school year, Hixson Middle School will open its doors to sixth graders. To do so, demolition and new construction at the school was required, and that major new construction will continue into the new year.
Work at Hixson includes a new main entrance that faces Elm Avenue, as well as office space and a new library to be located in the area of the old library. The bond issue passed by district voters also provides for a two-story academic wing, which is under construction at the back of the building. 
Other projects at Hixson include expanding the cafeteria, building an additional gymnasium, improved parking, and safety and accessibility enhancements such as a secure vestibule with controlled entry devices, a secured service window and video monitoring.
Businesses
by Melissa Wilkinson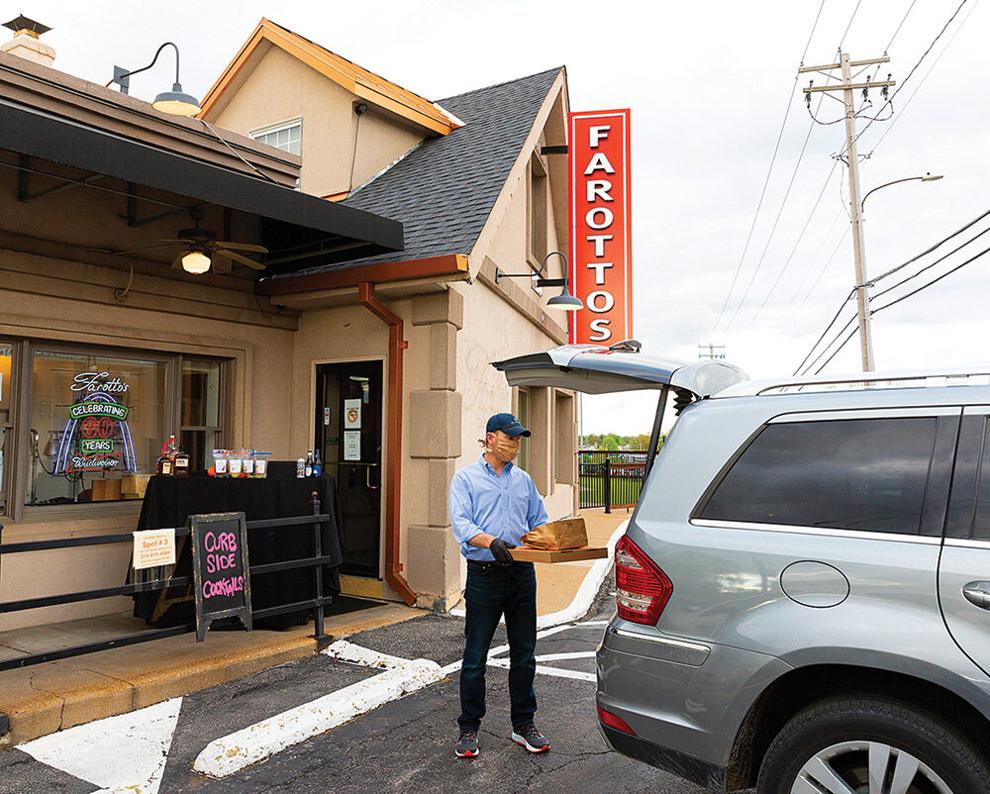 The effects of COVID-19 devastated small businesses and restaurants across St. Louis. Lowered capacity mandated by St. Louis County, plus bans on indoor dining and the general fear of leaving home have forced many businesses to close.
Area shops in Webster Groves and Kirkwood  that have announced closures — or have already closed — include Gymboree Play & Music, Firenza Pizza and Ziggy's Frozen Treats, Suburban Cleaners, The Bug Shop, SymBowl, Kirkwood Pizzeria, The Shoelace Factory, Sweet Be's Candy & Gifts, and many others. 
Some, like Highway 61 Roadhouse, are closed temporarily. Others, such as Down By The Station in Kirkwood, are closing up shop at the end of the year because plans to do so were already in place before COVID-19 came along. It is feared that many stores and restaurants, while being  sustained with sales through the holidays, may close come early 2021. 
To overcome challenges, local businesses have gotten creative with heated outdoor patios, personal shopping experiences via Zoom and same-day deliveries.
With fewer folks out and about, many restaurants are struggling to justify keeping their doors open. An indoor dining ban first instated in March was lifted in May to allow for 25% capacity. In November, the ban was reinstated, and as of now, restaurants in St. Louis County can serve customers only through takeout, delivery and curbside pickup. 
Many restaurants felt the move by St. Louis County Executive Sam Page was an overreach of his power. Around 40 restaurant owners joined a lawsuit against Page on Nov. 18, including Mike Duffy's Pub & Grill and 612 Kitchen & Cocktails in Kirkwood. The lawsuit was dismissed earlier this month by the Missouri Court of Appeals.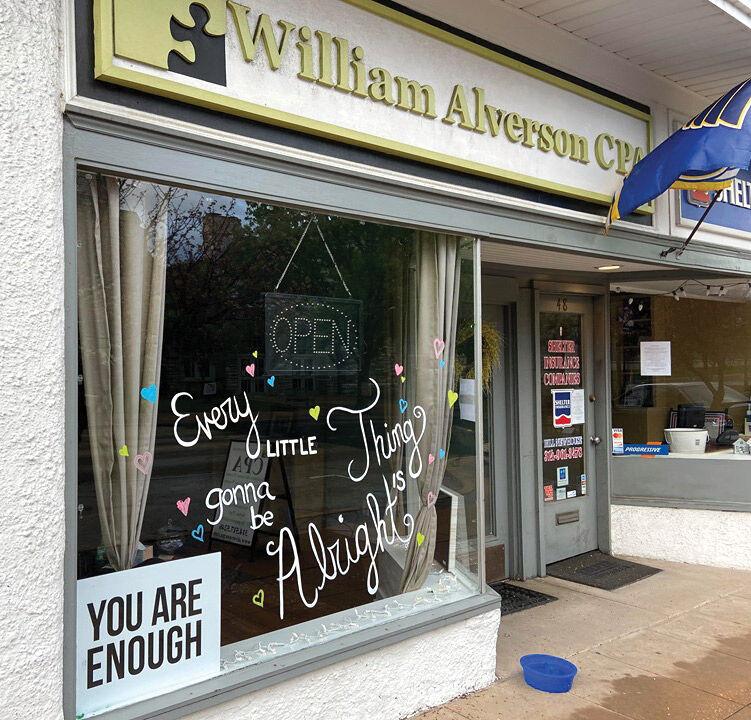 On Dec. 21, Page announced that a reopening plan has been developed to allow for some form of indoor dining beginning in the first week of the new year.
Those looking to support small businesses in St. Louis can purchase a virtual "Keep it Local" card for $30 at www.thenewnormalstl.com/keepitlocal. The card contains discount codes and coupons for dozens of area shops and restaurants to be used online or in person.
June Elections
by Kevin Murphy
While the presidential election captured the attention of patriotic-minded voters right up until Nov. 3 ... and then beyond, there was plenty of election-time activity at the local level to capture people's interests.
Earlier in the year, Missouri Gov. Mike Parson signed an executive order delaying April municipal elections to June 2, due to COVID-19 concerns.
In Glendale, voters passed Prop E to fund city employee pensions. In Kirkwood, Liz Gibbons, Maggie Duwe and Bob Sears came out on top of a six-candidate field to win election to the city council. 
In Webster Groves, Emerson Smith, Karen Alexander and Sarah Green Richardson were elected to the city council. Webster voters also passed a pair of charter amendments to give the city greater flexibility in choosing a city attorney and allow residents regular opportunities to review the city charter.
In the Kirkwood School District, voters elected Chad Kavanaugh, Jennifer Pangborn and newcomer Nikole Shurn to serve three-year terms on the school board. School district voters rejected a bond issue (Prop S) to build a new elementary school and fund other improvement projects.
In the Webster Groves School District, Thomas Todd was chosen by voters to fill an unexpired term ending in April 2023.
November Elections
by Kevin Murphy
Some believe that Donald Trump won the Nov. 3 presidential election, and without doubt will hold onto that belief long after Democrat Joe Biden takes the presidential oath on Jan. 20.
While the presidency didn't go as planned for Republicans, the Nov. 3 election did solidify Missouri as one of the nation's most reliable red states, delivering nearly 57% of its vote to Trump.
The GOP swept the statewide offices, including returning Gov. Mike Parson to a four-year term. Republican Ann Wagner easily retained her U.S. House seat with a win over Democrat Jill Schupp. Nurse and activist Cori Bush will now represent District 2 in the U.S. House, having edged out longtime fellow Democrat William Lacy Clay in the August primary and easily winning over opponents in the Nov. 3 general election.
Affton Democrat Doug Beck won the 1st District Senate seat in a race against Republican David Lenihan. Beck will replace Democrat Scott Sifton, who was termed out of office. Incumbent Republican Andrew Koenig of Ballwin held onto his District 15 Senate seat with a win over Democrat Deb Lavender of Kirkwood.
In another win for Democrats, St. Louis County Executive Sam Page, appointed to fill out the term of Steve Stenger, easily defeated Republican Paul Berry. 
Missouri Amendment 3 squeaked by for a win on Nov. 3. Democrats described the amendment as an attempt by the state legislature to undo the process of    state-wide redistricting  passed by voters in 2018. 
High School Sports
by Kevin Murphy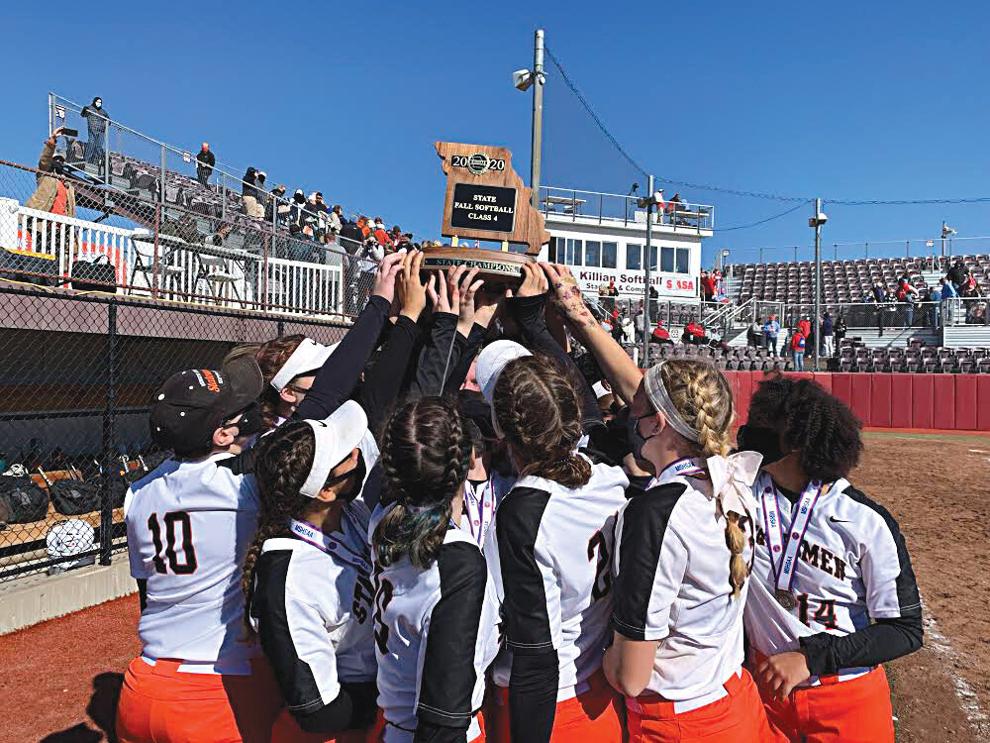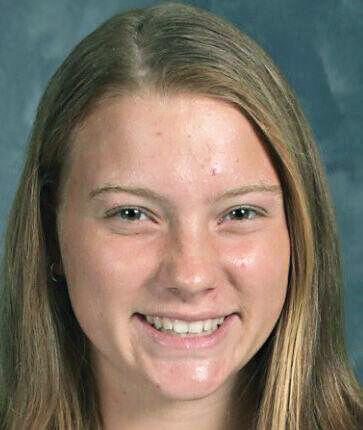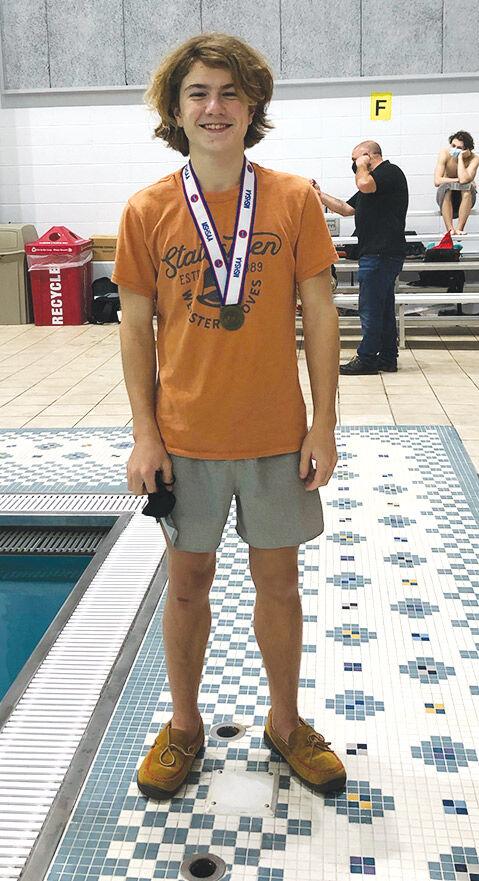 The year 2020 was mostly a year of disappointment for high school athletes, their coaches and many fans. Game cancellations due to COVID-19 concerns began in March.
Typical of a frustrating sports year, the Kirkwood High School girls basketball team was on its way to a state semifinal game on March 20, only to have the remainder of the season canceled. 
Fall sports were no better. Both the Webster Groves and Kirkwood high school varsity football teams saw their seasons end early. However, team members still had the annual Turkey Day football game to look forward to — or so they thought. Eventually that, too, was canceled due to increasing concerns about the spread of COVID-19 and a surge in cases within St. Louis County. Both the Statesmen and the Pioneers played only three football games in the 2020 season.
A high point in an otherwise challenging sports year, for the first time in Webster Groves High School sports history the girls softball team celebrated a state championship. The big win came on Oct. 30 in a title game played in Springfield, Missouri, against a formidable opponent in Webb City High School. Though Webster never trailed in the game, it took an extra inning before the Statesmen could celebrate a 5-4 win and their first state title.
And let's not forget the accomplishments of Webster High's Hannah Hansen. Not only was the catcher a key player for the girls softball state championship team, but in February she captured a wrestling state title in the 152-pound division at a three-day meet in Columbia.
Webster Groves High School boasts a second state champion this year in sophomore Bennet Loving. Loving took first place at the MSHSAA Boys Diving State Class 1 Championship on Nov. 14. He is the first Statesmen diver to win a state title in over 40 years.
Black Lives Matter
by Melissa Wilkinson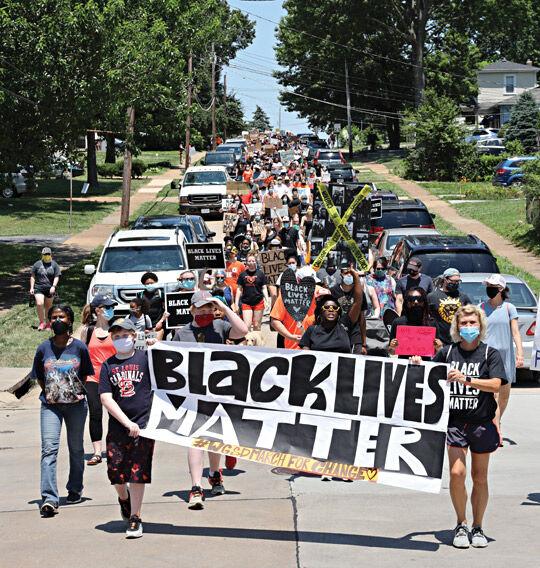 After George Floyd was killed by a police officer in Minnesota on May 25, daily protests in all 50 states became commonplace to draw attention to issues of police brutality and the unfair — and often fatal — treatment of Black citizens.
In solidarity with the national movement, the Kirkwood Teachers of Color organized a peaceful protest walk on June 6. Beginning at North Kirkwood Middle School and ending at Kirkwood High School, teachers, students and people from all across St. Louis donned masks and held signs, marching behind student leaders. Turnout, which was in the thousands, far surpassed expectations.
In Webster Groves, more than 1,500 community members and Webster Groves School District teachers, students, administrators, parents and families came together on June 14 to March For Change. The march started at Ivory Crockett Park, and paused in front of Webster Groves City Hall for 8 minutes and 46 seconds — the amount of time George Floyd was pinned by a police officer before he died. Many students, teachers and families demanded more equity within the Webster Groves School District.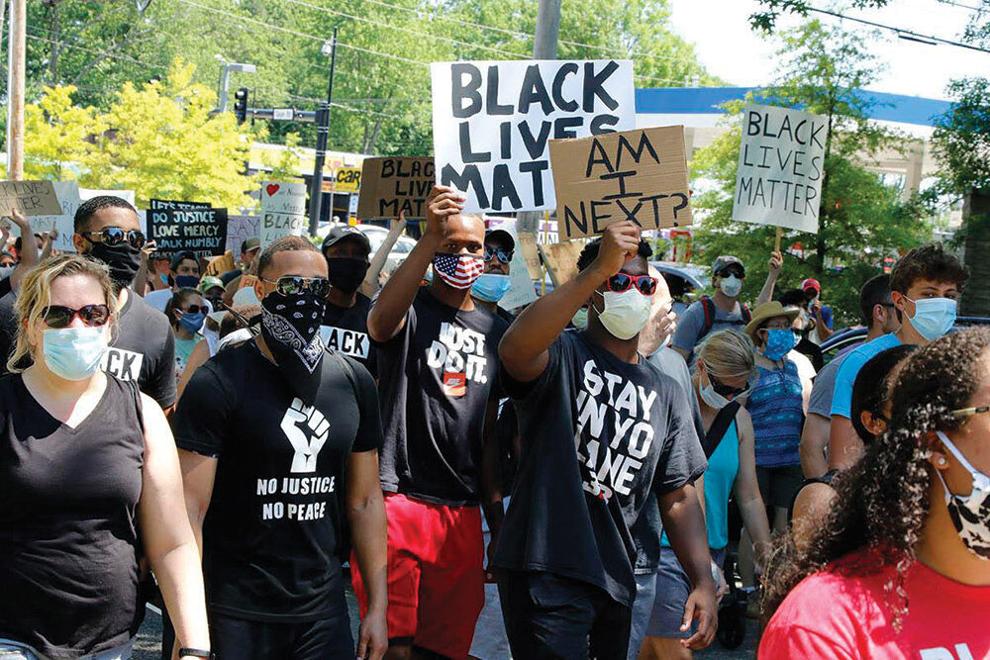 The Times spoke with Terrell Carter, former St. Louis police officer and pastor at Webster Groves Baptist Church, who offered his alternatives to the popular cry to "defund the police." Carter explained that police in America are expected to be catch-alls for social work, mental health and other issues, and that police should not be given "a million dollars  to buy tanks and militarize" when that money could be distributed to groups qualified to address those issues.
In September, several area churches known for supporting Black Lives Matter and other locations were tagged with the numbers "13/50" — allegedly a white supremacist symbol suggesting that Black Americans represent 13% of the population and 50% of crimes committed. 
While the graffiti proves there's still more work to be done, area schools are doing their best to teach young students tolerance. The Kirkwood School District is currently analyzing its hiring process to eliminate bias, and in October, the Webster Groves School District hired Shane Williamson as its first director of diversity, equity and inclusion.
See photos and read stories from Black Lives Matter protests at www.websterkirkwoodtimes.com.
In Case You Missed It
by Melissa Wilkinson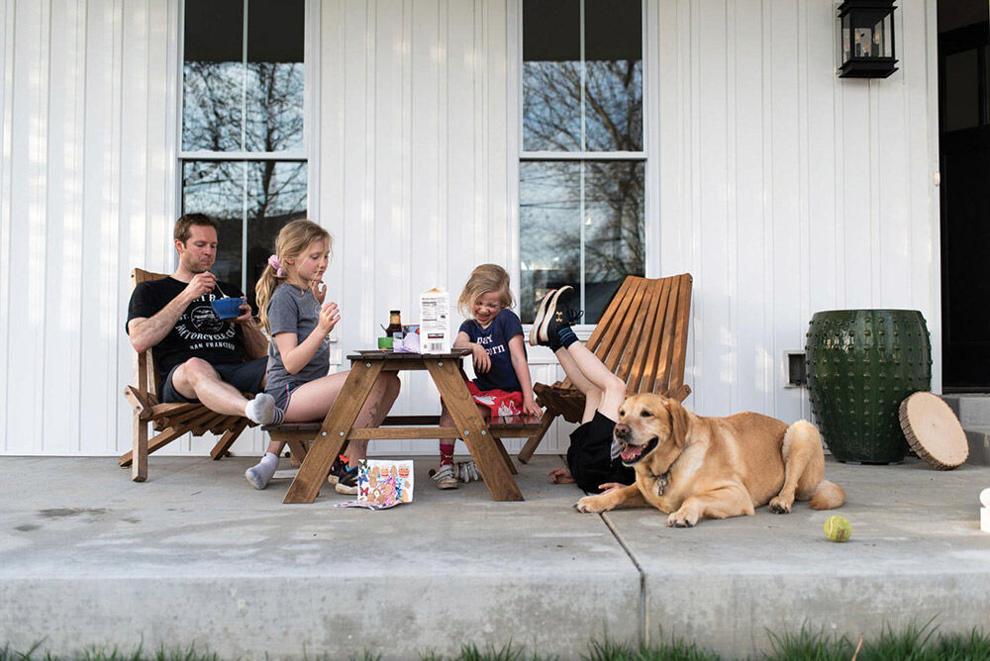 Though the Webster-Kirkwood Times was out of print for several months this spring and summer, its staff was active, keeping readers updated on its website and social media pages. 
During the hiatus, the Webster and Kirkwood communities found ways to celebrate summer and make the best of these unprecedented times.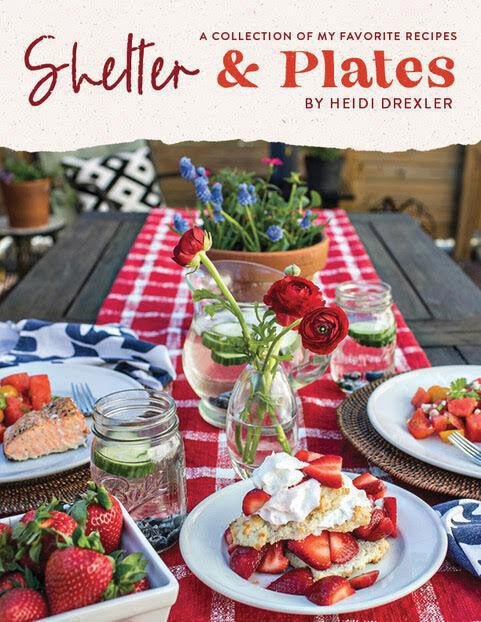 Though COVID-19 ruined plans for the annual Webster Groves 4th of July Parade, businesses and homes still got patriotic, decorating exteriors in red, white and blue for the city's  "reverse parade." Prizes were given for most patriotic, best business, best lighting and most creative entries.
Kirkwoodian Heidi Drexler flexed her creative muscles with a new cookbook, "Shelter & Plates," filled with family recipes and imaginative food photography. Over 18 days, Drexler made 40 colorful and meaningful dishes, a compilation to pass on long after the pandemic is over.
Sarah Hobler, another Kirkwood photographer, decided to offer her services to others. Hobler traveled around the area and beyond offering families free porch photo sessions to preserve images of life during quarantine.
Vincenzo Parisi and wife Rita Eugina brightened the days of all who passed by the stunning gardens in front of their Des Peres home. Parisi said he hopes the colors and beauty of the over 15 different flowers reminded passersby not to give up during the pandemic.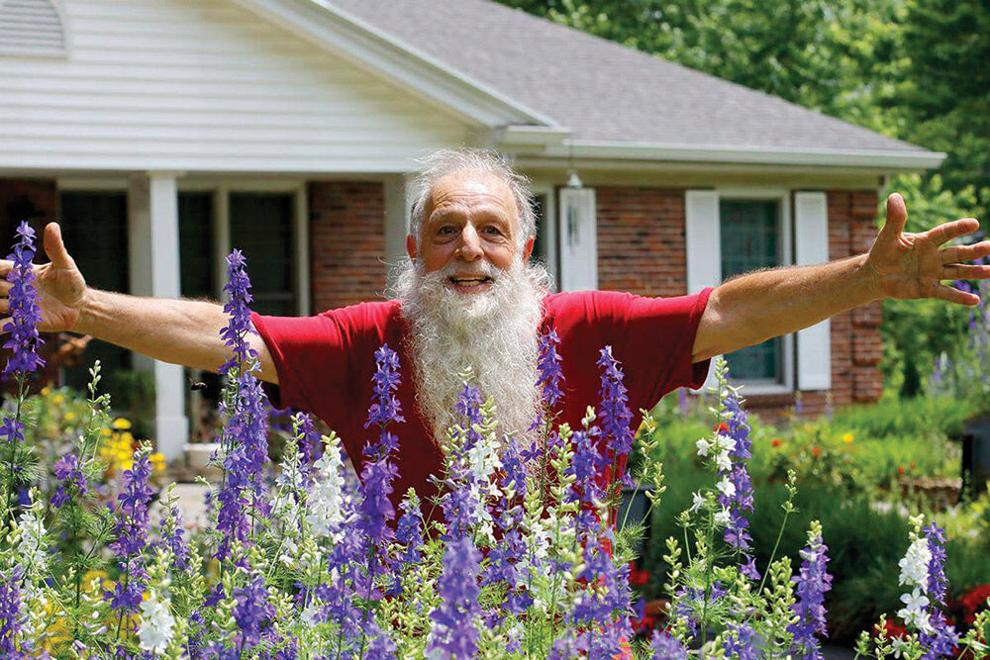 The Kirkwood-Webster Groves branch of the American Association of University Women celebrated the 100th anniversary of the 19th Amendment with yard signs, which have become a more prominent form of celebration during social-distancing mandates. The project sold hundreds of "Thank You Suffragists" signs to pay tribute to the century-old historical event.
DemBari Taneh, a Kirkwood High School student, danced his way to first place in the annual St. Louis Teen Talent competition. Taneh took the top prize — and an $8,000 scholarship — for an original hip hop routine to "Got It Good."
Also a former Teen Talent winner, Kirkwood High School graduate Joanna Serenko wowed judges on NBC's  live singing competition "The Voice." Despite pandemic challenges, Serenko made it into the top nine contestants before being eliminated on May 13.
Read these and other stories published over the summer at www.websterkirkwoodtimes.com.