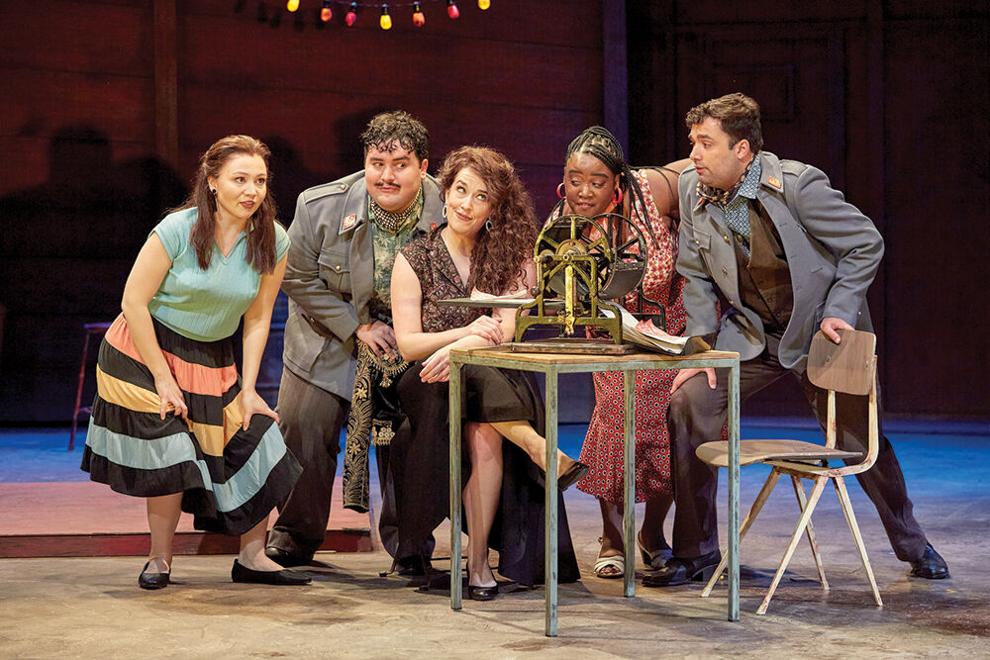 Opera Theatre of St. Louis is making its return to the Loretto-Hilton Center for the Performing Arts in Webster Groves since the start of the pandemic with its production of "Carmen."
While the 2020 season was canceled, the 2021 season was socially distanced and held in the parking lot adjacent to the theater. The new season brings several new performances, some of which are world premiers. 
The 2022 festival season kicks off with Opera Theatre of St. Louis' first production of "Carmen" since 2012 — a fateful tale of jealousy, independence and freedom. 
The story keeps all of composer Georges Bizet's original characters, yet the setting has moved from 1830s Seville to over a hundred years later. The new version, directed by Rodula Gaitanou, addresses issues under fascist dictator Francisco Franco Bahamonde. In addition, the oftentimes stereotyped female lead role of Carmen has also changed. 
"I admire Carmen's desire for freedom of choice at all costs. I see her as an autonomous spirit who is eager to create her space with no compromises," said Gaitanou. "I recognize a strong female character. I don't think I see her differently, but I rather feel a responsibility to reveal her true colors beyond the stereotypes of the patriarchal eye." 
Since 1976, Opera Theatre of St. Louis has performed all of its operas in English with projected supertitles. However, the music remains unchanged, with English translation by Amanda Holden and Daniela Candillari, who was named the principal conductor of Opera Theatre of St. Louis earlier this year. 
"It's a great way to keep opera more accessible," said Chantal Incandela, press and communications manager of Opera Theatre of St. Louis. "Of course, it's beautiful in French, Italian and German, but it's a tradition we are proud of and one that our audience enjoys." 
"Carmen" runs now through June 25.
Next Up
"Awakenings" will run from June 5 to June 24 and is based on Oliver Sacks' book, which details patients who suffered from encephalitis lethargica (or "sleeping sickness") during the 1920s pandemic. "Awakenings" was made into a film in 1990 and a ballet in 2010, but this will be its first opera adaptation.
"It's a beautiful and poignant one to see, especially since we've all been going through a pandemic for a couple years," said Incandela. 
St. Louis native Adrienne Danrich is featured as the character of Miriam in "Awakenings," and also runs the program "Music as the Message: Sing On, Sing On," which is a musical celebration of Black artistry throughout the decades. The concert will be held at the Grandel Performing Arts Theatre on June 7. 
"Harvey Milk," which runs from June 11 through June 25, is also the world premier for its New Performing Edition. The performances occur during Pride month and tell the story of the first openly gay elected official in California who was later assassinated. 
A Night At The Opera 
While tickets to the opera range as low as $25, others can be a bit pricey. However, an initiative launched in 2021 by Opera Theatre of St. Louis has helped make it more affordable.
"Phyllis' Seats," named after Opera Theatre of St. Louis patron Phyllis Brissenden, allows for 50 free seats per show. These tickets may be reserved online or by phone in weekly lotteries at 10:30 a.m. every Monday during the festival season. 
Opera Theatre of St. Louis guests are required to show proof of COVID-19 vaccination before entering all productions. Proof of vaccination may be displayed either by a physical copy of the vaccination card, official vaccination record or a copy of the vaccination record via phone, and matching photo identification. 
If a guest is unable to receive the COVID-19 vaccine, a negative COVID-19 test (PCR test within 72 hours of the event or a rapid test within 24 hours) must be shown instead. 
"The safety of our cast, crew, staff and audience members is our first priority, and that's why it's important for us to continue implementing the measures we've put in place," said Andrew Jorgensen, general director of Opera Theatre of St. Louis. 
"We want people to feel comfortable and safe when they come to the opera so they can fully enjoy the fantastic art that happens on stage," he added.