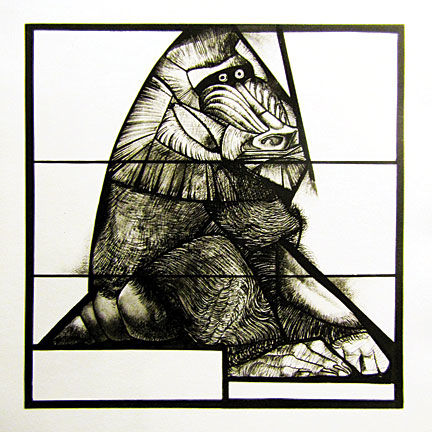 Siegfried Reinhardt is one of the few American artists with work in the Vatican Museum's permanent collection, and his pieces can be found across the globe. In St. Louis, he is best known for his 1979, 142-foot Aviation mural at St. Louis Lambert International Airport. Though Reinhardt died in 1984, his work is still relevant. The Saint Louis Art Museum recently purchased his "Portrait of Jane Blackmer Wainwright." But every artist has a genesis story.
One of Reinhardt's earliest memories was of a still-life painting of flowers and a box. He was so taken in by the painting's trompe-l'oeil, its "fool-the-eye" realism, that he tried to grab the flowers. "As I grew older," Reinhardt said, "I always thought that this was some very strange complicated form of magic and I decided that I was going to be one of those magicians."
Born in Germany, Reinhardt immigrated as a child and attended Clay School in North St. Louis, where the faculty encouraged his artistic interests, asking him to create Santa Claus posters, Easter posters, and a special project drawing all the birds of America out of Audubon.
Reinhardt speaks with particular affection and gratitude about one teacher, Mr. Charles Quest. Mr. Quest headed up a special program in the public school system that brought together art students from across multiple schools on Friday afternoons to draw and paint for three and a half hours. The program provided the students with quality materials and challenged them with difficult projects. Here, Reinhardt received his first oil paints and brushes and learned how to paint. This school-sponsored program helped Reinhardt become a magician.
This and other reflections on his life, art and influences were shared in a lengthy conversation with Rick Gaugeit during the summer of 1976. It took place in Reinhardt's Kirkwood home. "Oral history interview with Siegfried G. Reinhardt," 1976 May 22-June 26, is held in the Smithsonian Institution's Archives of American Art. If you want to read the full interview, just ask your friendly librarian! You can request a transcript on loan from the Smithsonian through your local library branch.