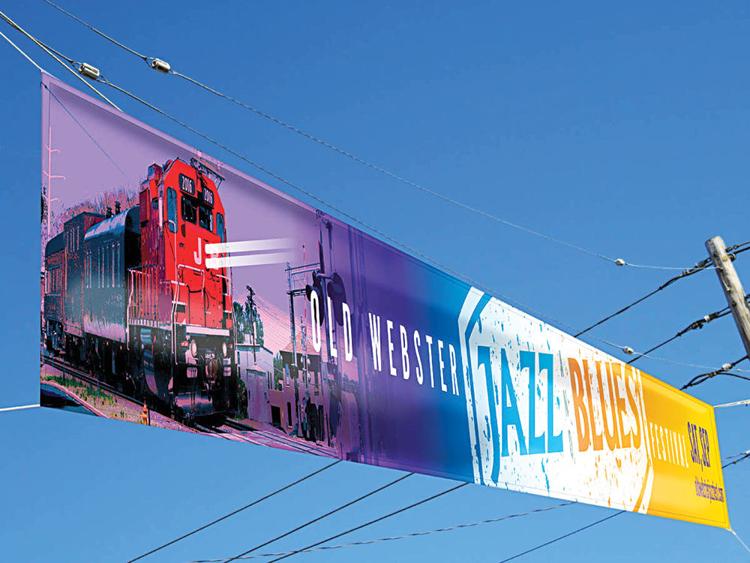 Webster Groves' biggest music event returns on Saturday, Sept. 21, with an electrifying lineup of the region's best local jazz, blues, funk, rock, and soul musicians. Music runs from noon till 10:45.
"This year promises to be the biggest and best event yet. We're bringing back longtime crowd pleasers like our friends Marquise Knox along with new favorites like Jeremiah Johnson, who's making his festival debut this year and closing out the day's performances," said Brian Ward, musical director for the festival.
For the past 19 years, Old Webster Jazz & Blues Festival has attracted more than 12,000 fans annually. Music stages are located in Old Webster, surrounded by historic buildings and locally owned restaurants and shops. The setting creates a unique performance space: Passing trains provide a backdrop of percussive rhythm while the buildings give an acoustic boost.
Live music will be played throughout the day on the festival's two performance stages:
Webster University Stage at Gore Avenue
12-1 p.m. Richard Bazille and The Bluestreak Band
1:30-2:45 p.m. Melissa Neel
3:15-4:45 p.m. Marquise Knox
5:15-6:30 p.m. Webster University Faculty Jazz Ensemble
7:00-8:15 p.m. Bach to the Future
8:45-10:45 p.m. Jeremiah Johnson
Webster Groves Subaru Stage at Allen Avenue
12-1 p.m. MoSTLy Tap/MoSTLy Jazz
1:30-2:45 p.m. Dizzy Atmosphere
3:15-4:15 p.m. WGHS Jazz Band
4:45-6 p.m. Charles "Skeet" Rodgers
6:30-7:45 p.m. David Dee and the Hot Tracks
8:15-10 p.m. Jim Manley
*lineup is subject to change