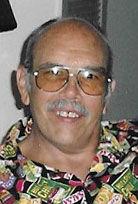 Hawken, Thomas Montgomery III, Aug. 9, 1946-Nov. 29, 2018.
It is with profound sadness that we announce the passing of our dearly beloved brother, Thomas "Tim" Hawken III. Tim left us on Nov. 29, 2018, after a courageous battle with lung cancer, at age 72. He was surrounded by his loving brother and sister-in-law, Chris and Suzanne Hawken, at Evelyn's House Hospice at the time of his passing. In addition to his nickname Tim, he was also known as Hawk and Kinji.
Tim was born Aug. 9, 1946, in St. Louis to Thomas Montgomery Hawken Jr. and Helen Hall Hawken, both of St Louis, Missouri. Tim's dad Thomas pre-deceased him in 1989. Tim was also a direct descendant of Jacob and Samuel Hawken, inventors of the Hawken rifle.
After graduating Webster Groves High School in 1964, Tim worked in the electrical supply business for over 40 years, primarily at MB Hall Electrical Wholesale as head of purchasing. Upon retiring, he cared for his elderly mother so she could remain at home for many additional years.
Tim Hawken is survived by his mother Helen of Webster Groves, Missouri; sister Carol and husband Chris Fucci of Rutland, Vermont; brother Christopher and wife Suzanne of Webster Groves, Missouri: loving nephews and niece, Sean, Brady, Jake and Samantha; great-nephews and nieces Andrew, Jack, Daisy, Tate and Marie; multiple cousins including Pam and Helen; and best friends Louis Carosello and Richard Baeyen.
We will remember Tim as an avid sports fan, particularly of Mizzou sports and Cardinal baseball; a love of the Grateful Dead and being a kind, witty, loved brother and son of the Hawken family. He will be missed.
There will be a "Celebration of Life" in memory of Tim to be held at a later date, per his request.