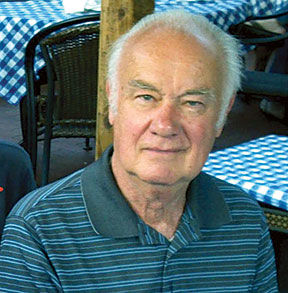 Kheim, Teofil George, age 83, of Webster Groves, Missouri, passed away peacefully on Oct. 25, 2018 with his wife Renate and family by his side.
While on his annual holiday visit with family in Colorado he was challenged by a series of illnesses which began in January of this year, all of which he faced with determination, courage and dignity.
He was born Aug. 25, 1935 in Budapest, Hungary, to Dr. Teofil F. and Olga M. (von Fuchs) Kheim. He and his family immigrated to the U.S. in 1949. Teofil always remained very proud of his Hungarian heritage and ties to Austria.
Teofil was a Webster Groves High School, Class of 1955, graduate. In 1957 he joined the United States Army, first serving in the 1st Airborne Division and then 3rd Engineer Battalion, stationed at Henry Kaserne Base in Munich, Germany, until 1960.
He attended Washington University School of Architecture and worked in the field with, among others, the Siteman Organization and Helmut, Obata + Kassabaum. Desiring to create with his hands and artistic nature, he joined Architectural Bronze Studio, custom fabricating items from semi-precious metals, many unique and one-of-a-kind.
Teofil went on to open his own business, Amici, Inc., where he continued to craft items which not only adorn locations throughout the St. Louis Metro area, but also coast-to-coast and as far reaching as Saudi Arabia.
Teofil was a man with many interests and talents, not the least of which included being an avid photographer, expert marksman, sound recording engineer and automotive enthusiast. His children, when young, referred to him as "the fix-it man;" he was seemingly able to repair anything or solve any engineering quandary.
He and his family were ardent supporters of classical music, opera and the arts. Teofil volunteered for Opera Theatre of St. Louis (OTSL) beginning in the early 1980s and later went on to record many of their master classes and recitals. His recording career in retirement included many St. Louis area arts organizations, some of which were Webster High School bands, Arianna String Quartet, Bach Society, OTSL artists, St. Louis Women's Chorale and Union Avenue Opera.
During his annual, often months-long visits to Colorado, Teofil also volunteered his mechanical and technical skills for many years with the Forney Museum of Transportation in Denver. He was a long-time member of the Mercedes-Benz Club of America, Last Friday of the Month Architects, Winchester Rifle & Pistol Club and Leica Historical Society.
He had a great love for the St. Louis Symphony, Missouri Botanical Garden and the history and architecture of St. Louis. The highlight of his year, every year, was the opera festival season. One of his most recent and greatest joys was spending time with his young grandchildren as their "Opa."
He was predeceased by his parents; brother William; cousins Johanna Kheim-Strohoffer and Hugo "Bill" Palm; and lifelong friend and brother Robert "Bob" Kountz. He is survived by his wife of 52 years, Renate (Mueller); son Christof (Rex Osborn) of Boulder, Colorado; daughter Marita (Jean-Jacques Poucel); grandchildren Jules Xavier and Coralie, all of Urbana, Illinois; family Bonnie Poucel and Fran Larkin and Genevieve Poucel (Kris Sciba), all of Colorado Springs, Colorado; and cousins Cornelia Balogh of South Pasadena, California; George von Fuchs of Renton, Washington; Stephen von Fuchs of Leland, North Carolina; Richard von Fuchs of Sopron, Hungary; Agnes "Kati" Kheim-Taylor of Mendota Heights, Minnesota; and lifelong friend and brother William "Bill" Kountz of Fayette, Missouri.
Burial was at Jefferson Barracks National Cemetery. A memorial service and concert will be held in St. Louis at a later date. Memorial donations in honor of Teofil may be made to Union Avenue Opera, 733 Union Blvd., St. Louis, Missouri 63108 or www.unionavenueopera.org.
Arrangements by Malesich and Shirey Funeral Home of Arvada, Colorado.