Apprill, Shirley Ann (nee Garner), age 82, Fortified with the Sacraments of Holy Mother Church on Monday, July 22, 2019.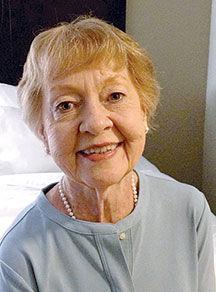 Shirley was born on July 11, 1937, in Parma, Missouri, and grew up in Dexter, Missouri. She was preceded in death by her parents, Myrtle and Lester Garner; her husband of 46 years, Stanley Glenn Apprill; her sister Fay and her husband Arnold Toner; and sisters-in-law Ruth Garner and Janet (Gene) Kohler.
Shirley is survived by her two daughters, Susanne (Tim) Doran and Janet (Patrick) Wilkinson; her grandchildren, Connor, William and Henry Doran and Colin Wilkinson; sisters Jean (the late William) Joyce, Teenie (the late Howard) Followell and Kay (Clyde) Low; brothers Howard (Rosemary) Garner and Jerry (Susie) Garner; and many nieces, nephews and friends.
Shirley was a dedicated volunteer and past president for Birthright Counseling, St. Louis. She was a foster mother to 10 babies whom she loved with her whole heart. She was an active member of her parish community and was always giving of her time to the many organizations that she was involved in over the years.
Visitation was from 4 to 8 p.m. on Thursday, July 25, at Bopp Chapel, 10610 Manchester Road in Kirkwood. Funeral Mass is at 10 a.m. on Friday, July 26, at St. Gerard Majella Catholic Church, 1969 Dougherty Ferry Road, Kirkwood, Missouri. Interment, St. Monica Cemetery.
In lieu of flowers, memorials are preferred to Birthright Counseling St. Louis, 2525 S. Brentwood Blvd., 63144, www.birthrightstl.org/donation; or Foster & Adoptive Care Coalition, 1750 S. Brentwood Blvd., Ste 210, Brentwood, Missouri 63144, www.foster-adopt.org/product/one-time-donation. www.boppchapel.com.