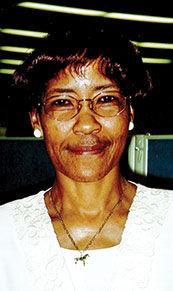 Jordan, Lorraine E., a lifelong resident of Kirkwood, Missouri, was born Aug. 1, 1939, in Madison, Arkansas, to George and Katie Mae (nee Bobo) Fields and entered into rest Saturday, Aug. 10, 2019, in Bridgeton, Missouri, at the age of 80 years and 9 days.
She was preceded in death by her parents and her husband, Raymond Jordan; six siblings, Northern Fields, George Fields, Lena Fields, James Fields, Mattie Seaword and Clarence Fields.
She is survived by her daughter, Marsha Lewis; her goddaughter, Keisha Sanders; three grand-godchildren, Jaylon Whitted, Kelden Whitted and Jorian Whitted; one sister, Rosie Fields, along with many family and friends.
Lorraine was a unique woman with a sweet heart. She was a good, strict mom who led with a firm hand and yet she was classy. Lorraine was a hardworking career woman. She loved her daughter unconditionally. She wanted the best for everyone. She was overjoyed when her goddaughter gave her grand-godchildren.
Lorraine was conservative, not flashy and enjoyed going shopping and eating out. She will be fondly remembered and dearly missed by all who knew and loved her.
Visitation is Friday, Aug. 16, 2019, from 4 until 8 p.m., at Chapel Hill Mortuary, 10305 Big Bend Road, Kirkwood, Missouri. Service is Saturday, Aug. 17, 2019, 11 a.m., at New Emmanuel Baptist Church, 6233 Chatham Ave., St. Louis, Missouri. Interment to follow at Oak Hill Cemetery.
Memorial donations may be made to the American Cancer Society, 4207 Lindell Blvd., St. Louis, Missouri 63108 or Saint Jude Children Research Hospital, P.O. Box 1000, Department 142, Memphis, Tennessee 38148-0412.
Family and friends can review and share stories, photos and condolences online at www.stlfuneral.com and follow details of this event and others in the community at www.facebook.com/stlchapelhill.