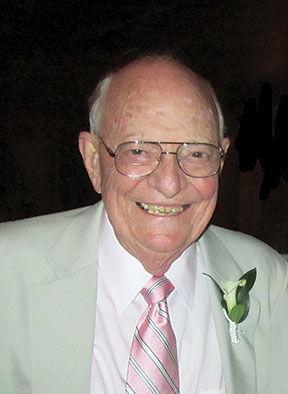 Johnson, Duane Earl Sr., born Jan. 24, 1926, in Salt Lake City, Utah, died Aug. 1, 2019, in Webster Groves, Missouri.
Duane Sr. is survived by his wife of almost 70 years, Nancy (McCaul) Johnson; his three children, Christina (Tom), Duane Jr. (Kay) and Mark (Suzie); his brother, G. Kenneth (Dorothy) Johnson; nine grandchildren and seven great-grandchildren. His family was the most important part of his life.
Duane Sr. served in the U.S. Navy during World War II and was stationed in the South Pacific. He remained a devoted Navy man for the rest of his life. After the war, he received his bachelor of science degree in biology from the University of Oklahoma and his master's in hospital administration from Washington University.
After marrying Nancy in October 1949, he had a successful career in hospital administration with LDS Hospital in Salt Lake City; University of Nebraska Medical Center in Omaha; Audubon Memorial Hospital in Audubon, Iowa; Milwaukee County General Hospital in Milwaukee; and the American Red Cross-Southeastern Michigan Chapter in Detroit.
After retirement, he continued to be devoted to work in hospitals by volunteering his time and knowledge at the University of Tennessee Hospital in Knoxville, Tennessee, and at Bethesda Dilworth Hospice Care in Webster Groves, Missouri.
Arrangements through Bopp Chapel, Kirkwood, Missouri. A private family memorial will be held. In lieu of flowers, donations in memory of Duane Sr. can be sent to: Bethesda Health Group Foundation, 1630 Des Peres Road, Suite 290, St. Louis, Missouri 63131.