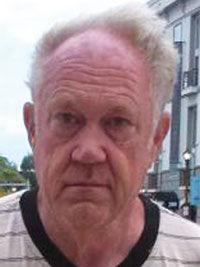 Nick Schmitz was born in Kirkwood in 1949, and was a very frequent visitor all his life.  He was loved and cared for by family and numerous friends. 
He was a good student and a very intelligent person. Nick was a well-known figure around Kirkwood, collecting cans and scrap metal for pleasure and maybe some financial gain in his eyes.  
He was passionate about trains —  model and real ones — and trips, especially by bus. He enjoyed the journey despite his disabilities. Songs he created, jokes and word play were some things he immensely enjoyed.  
Though he was loved by family and friends, he was frustrated by his struggles to the very end. He was at Bethesda for almost four years due to his condition, but mostly Parkinson's.  
He broke his hip last August and never fully recovered. He died peacefully Sunday, Jan. 22. He is survived by his siblings Ted, Andy, Wendy and Jim Carley; nieces; nephews; even a great nephew and many, many friends.
In lieu of flowers, please consider making a donation to Places for People, a wonderful organization that provided Nick with the psychological and social support he needed for almost 50 years. Donate at www.placesforpeople.org/give/donate or 1001 Lynch Street, St. Louis, MO 63118.