UPDATE: Lacondo Doss, 42, has been arrested and charged with second degree robbery in connection with this incident.
The Webster Groves Police Department is searching for a suspect who robbed the Energy Express on Big Bend Boulevard early Monday, March 11.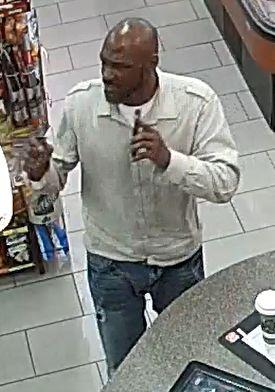 The robbery occurred at about 5:31 a.m. at the gas station and convenience store at 7741 Big Bend Blvd. The suspect, who is described as a bald black man with a beard, attempted to pay for various items with a credit card, but engaged in a verbal altercation with the clerk when he was asked to present his ID, according to the Webster Groves Police Department.
The suspect then pushed the victim to the ground, grabbed several cartons of cigarettes and fled in a silver 2005 Chrysler Jeep Grand Cherokee with Missouri license plate number 6FX 776. No weapon was displayed or implied. The suspect was wearing a tan long-sleeve shirt and blue jeans.
Anyone with information is asked to call the Webster Groves Police Department at 314-645-3000.