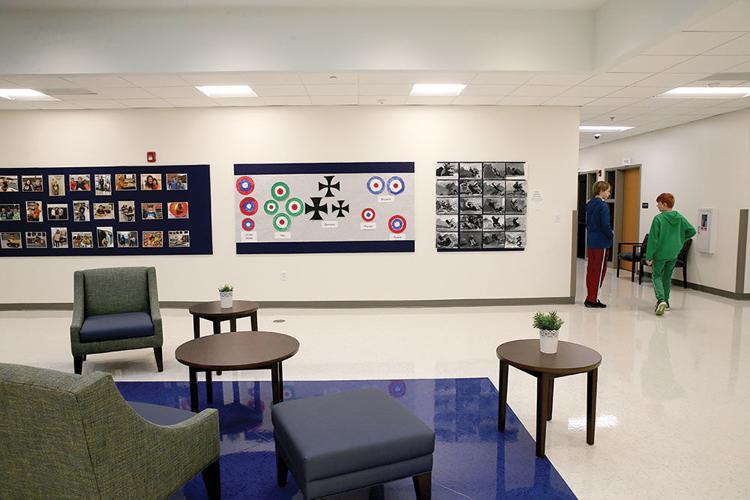 When some children learn at a different level than others, they may wonder why they are "different."
Miriam School considers those children "unique," and that belief is instilled in their students throughout their school years, hence its new tagline, "Miriam Empowers Unique Learners."
Miriam School, 501 Bacon Road in Webster Groves, was founded in 1956 to serve children with special learning needs from pre-kindergarten through sixth grade.
Seeing a need to expand beyond the elementary level, the school incorporated a middle school with seventh and eighth grades in 2002, and now has a total of 95 students.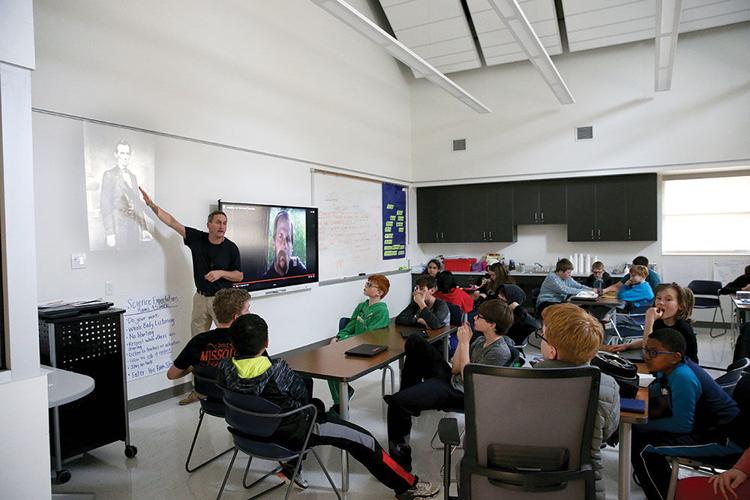 In 2016, the Learning to Succeed Campaign kicked off and raised $10 million toward building a new middle school wing, renovating Miriam School and starting the new Miriam Academy.
The Miriam Academy opened for ninth through twelfth grades in a temporary home at United Church of Christ, 2845 N. Ballas Road, in 2016. It now has 52 students and is the first private high school for students with learning challenges.
Miriam School in Webster Groves opened its $4 million, 12,000-square-foot middle school wing in September 2018.
"The new building has larger classrooms," said Mary Cognata, head of Miriam School. "The building was originally meant for up to sixth grade, and when we started accepting seventh and eighth grade students, we realized how small the classrooms were for these bigger kids. Now the middle schoolers can spread out and they have lockers and a homeroom, which they really like."
The renovated school and new wing blend seamlessly with shiny walls and floors and lots of windows, creating a bright, open feel.
Other improvements include renovation of existing classrooms, as well as the addition of a STEAM (science, technology, engineering, art and math) room and the expansion of the occupational therapy room. Renovations include additional spaces for one-on-one therapy and teaching, as well as a new computer/media room and a new faculty room.
"In many classrooms, students sit on balancing stools. That's one of the ways we accommodate their needs," Cognata said. "For some kids, it's difficult to sit in a standard chair throughout the day because kids fidget and these stools help with that."
Students also take part in a "sensory diet" before morning classes and after lunch, showing up to an occupational therapy room where they swing, roll on balls, or work out on mats.
"If a child is having a hard time in class, he'll tell the teacher 'I need to swing for five minutes,' and he knows that if he swings, he can go back and do the hard math," Cognata said. "Or, they'll want to get 'squished' and they will lay on a bean bag chair and we'll roll a ball over them."
In the technology room, students have a Chromebook and are learning to use technology wisely.
"They determine what is real information versus false information or fake news, and are taught social media awareness," Cognata said.
At Miriam, both academics and social skills are considered when placing a child in a classroom. A student who excels academically may not fit in socially.
"The opposite can be true where they may come in with great social skills but have low academics," Cognata said.
Miriam Learning Center
Since 2010, the Miriam Learning Center, located at the Webster Groves campus, has provided after school programming and support for 1,000 students, ages 3 to 18 years, who have learning disabilities but who remain in their current schools.
Services provided include diagnostic testing, therapies, social skills classes, tutoring and enrichment classes.
Miriam Learning Center also provides on-site services to over 50 partner locations, including charter schools in the city of St. Louis, as well as public and private schools.
In January, Miriam School added young adult services for students ages 15 to 24.
"This service provides programming, academic support and some counseling for students who are transitioning through the high school years up through college years. It gives them some support that they might not have if they're just home playing computer games," Cognata said.
Miriam Switching Post
Miriam School volunteers run the Miriam Switching Post, an upscale resale boutique selling gently-used furniture, home décor, collectibles and jewelry. The shop, located at 292 Hanley Industrial Court, generates about $500,000 a year to help the tuition assistance program.
Open House
On Sunday, March 10, both Miriam School and Miriam Academy will hold open houses at their locations from 1 to 3 p.m. Each school will offer tours and will have both staff and teachers on hand, plus current students and parents to answer questions.
For more information, visit www.miriamstl.org.