The Des Peres Board of Aldermen has approved the purchase of two pairs of rectangle-shaped rapid flashing beacons for installation on Des Peres Road.
One will be located at Grandview Heights and the second 200 feet north of Goodson Road. Crosswalks will be installed at the two locations. Pedestrians can activate the flashing lights by pushing a button when wanting to cross the road.
City Administrator Doug Harms said the city had budgeted $20,000 for one set of lights, but was able to purchase two for $18,000. Installation of the lights and crosswalks will be done by the city.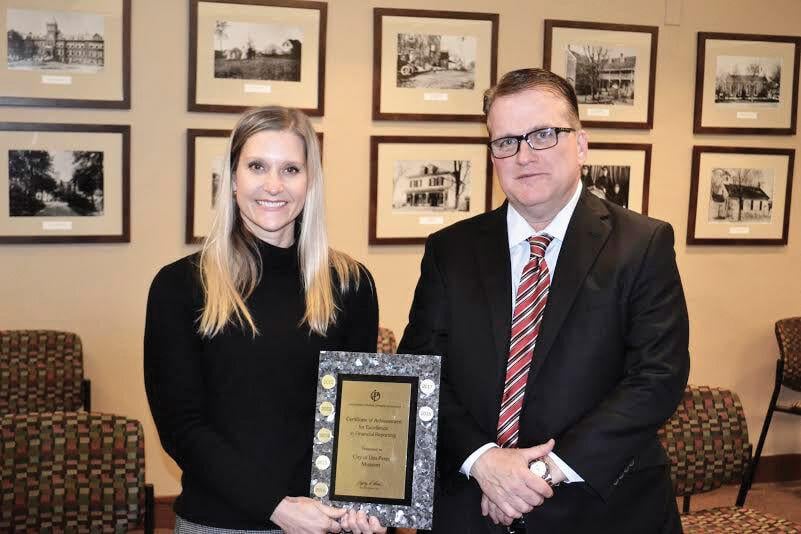 Financial Reporting Award
For the 25th year, the city of Des Peres has received the Certificate of Achievement in Financial Reporting from the Government Finance Officers Association.
Aldermen on Feb. 8 recognized Finance Director Tracy Hansen for her work on the 2019 comprehensive annual financial report.
This certificate is the highest recognition in governmental accounting and financial reporting with roughly 4,300 governmental entities nationwide receiving the award each year.
Only 43 cities in Missouri were awarded the Certificate of Achievement in Financial Reporting  in 2019, which is given to the city and staff member responsible for its preparation and submittal.
In the St. Louis area, 15 cities achieved this designation and include Des Peres (25 years), Kirkwood (25 years) and Webster Groves (15 years).