It takes a big fancy word like ubiquitous to describe Webster Groves resident and art icon Marilynne Bradley. She's taught at Webster High and Webster University. She's published six books of her drawings and paintings. You can see her watercolors everywhere from your friends' homes to public buildings. That's her mural on the west wall of Schnarr's Hardware, and her exhibitions are, well ... ubiquitous.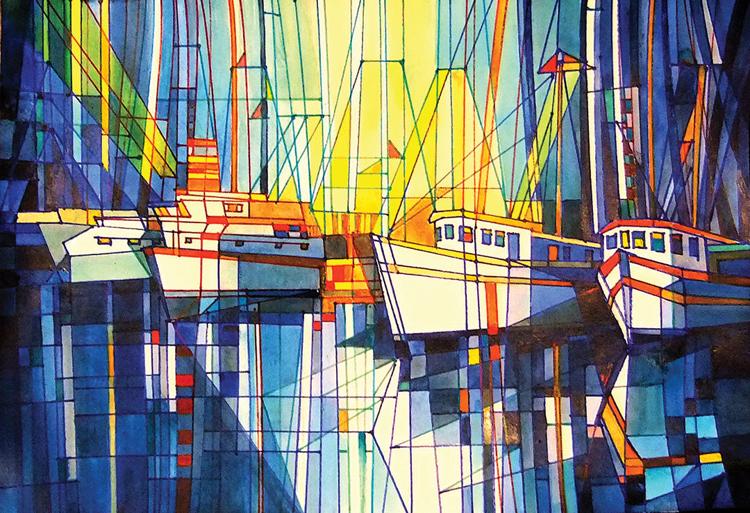 She began her career 60 years ago as a commercial artist, mastering realism early on as she illustrated everything from department store ads to paperback book covers. Then she developed the looser style for which she has become best known. Her landscapes and local urban scenes invite you to enter their world.
About five years ago she turned a corner. "I decided to do something completely different," she said. "I wanted to make my work more structural, and I came up with this geometrical style where these straight, rigid lines hold the shape together."
It couldn't have been more different from her earlier works. She also explored new ways to present the intensity of her colors within the geometrical spaces to show depth of field. The lines and colors worked together to pull the viewer's eye to a particular point.
"I've learned a lot about color," she said. "But it can't be taught. Your eyes have to learn how to see it, and that takes time. Maybe you just have to get old enough to understand how color works."
Initial reaction among her followers was not positive. "Nobody liked it," she laughed. "They thought it was too technical. Just a bunch of lines. I didn't really care. It would have been nice if they liked them, but I was doing this for myself."
As it turned out, Bradley's fan base caught up with her. She's created more than 35 paintings in what she calls her "geometric transmission" style, and they're winning national prizes and attracting invitations for exhibitions. And people are buying them.
"These works have changed the way I see," she said. "We all need to change if we're going to keep seeing life in new and exciting ways."