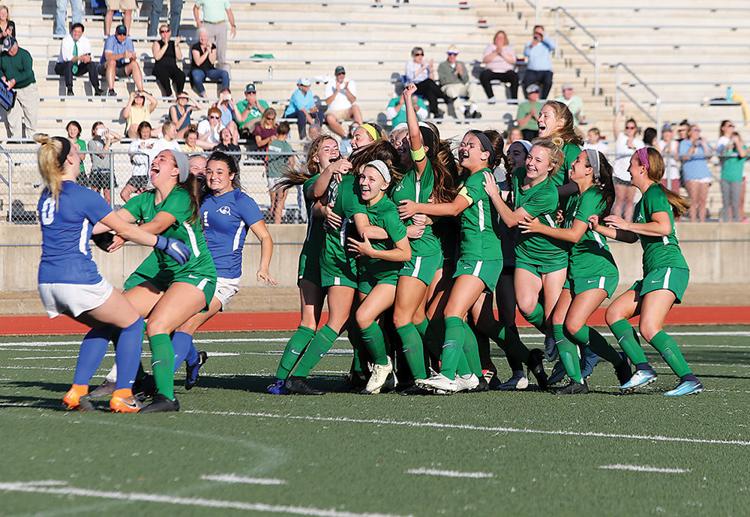 As overtime approached during a five-minute break in the district championship, Nerinx Hall soccer standout Lyndsey Heckel laid on the turf in obvious pain.
Heckel's left hamstring, which she injured two weeks ago, tightened up at the end of regulation play, but the tough-minded midfielder wasn't going to let it stop her from finishing the Class 4 District 3 championship against rival Cor Jesu Academy on May 14.
Heckel fought the pain and helped Nerinx Hall capture the district crown on penalty kicks, 1-0.
The Markers outscored the Chargers 4-2 during penalty kicks. Heckel scored the fourth goal to seal the victory in front of a few of her former teammates and future coaches at St. Louis University, including Chris Allen, the former Webster Groves High School girls coach.
"Even though it hurt playing, I was not stopping," Heckel said of her hamstring flare up. "I told my team this is our game, our season isn't over yet. We didn't want to go home. We came to win this game."
Heckel compared her situation to that of a marathoner "hitting the wall" during a 26.2-mile run. When Nerinx Hall soccer coach Brian Haddock asked her if she could continue to play, she said yes without hesitation.
"She had no legs, but we know she is a competitor," he said. "She has that next level that a lot of kids don't have, even when she's tired."
Nerinx Hall dominated the 110-minute contest, but couldn't find the net in the 80-minute regulation and two 15-minute overtime periods. Heckel hit the cross bar twice in the scoreless battle.
"When I get away from the player and hitting my shot (for a goal), I feel that's my strength," she said.
In penalty kicks, in addition to Heckel, defender Rachel Solverud, midfielder Jessica Preusser and defender Mackenzie Duff scored for Nerinx Hall. Cor Jesu's last two shots against Nerinx goaltender Liz Kelly went wide of the net.
"Being juniors, we rely on these two players (Heckel and Kelly) not to be just good players – we know they provide that mental leadership when we know our legs are dying and it's overtime and penalty kicks are on the horizon," Haddock said. "I couldn't be more proud. We know physically she (Heckel) will hit her penalty kick, but in her mind, that is the difference."
Heckel and Kelly both said they approach penalty kicks the same. They take a deep breath, relax and follow through.
"I get asked that question all the time," said Kelly, referring to preparing for each shot. "I take a deep breath, let it happen and get it over with. It's not even one second."
Heckel said penalty kicks are more of a mental game than a physical one.
Haddock said he spends the final 10 to 15 minutes of practice "rehearsing" the penalty kick situation.
"When you get into overtime, you're dealing with tired legs on both teams and it becomes a mental game," Haddock said. "Soccer is so phenomenal when it gets down to penalty kicks. It compares to hitting a free throw to win the game. We work on penalty kicks. We work on managing the game, whether we're winning or losing, in the final five minutes. I think that's exactly what this team did in the district championship game."
Nerinx Hall (16-3-2) will now face either Marquette or Eureka in sectional play on May 21. Marquette and Eureka were to play for the District 4 title on May 15. The time and location still need to be determined.