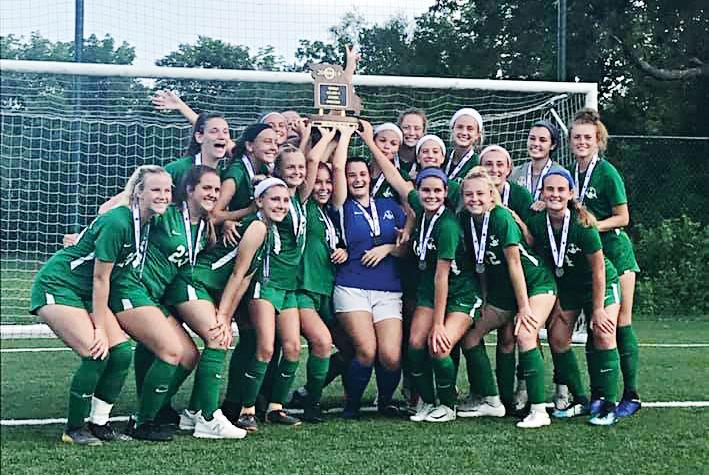 Though the second place finish in the Class 4 Missouri State Girls Soccer Championship produced Nerinx Hall's seventh trophy, Markers Coach Brian Haddock noticed one thing about his players.
The 3-1 loss to Liberty of Kansas City in the championship game at Swope Soccer Village in Kansas City on May 25 only motivates Nerinx Hall to return to the Final Four in 2020.
"The first words out of their mouths after the game were, 'Let's do it again next year,'"
Nerinx Hall Coach Brian Haddock said. "That experience can only help them. They have the talent to do it again and they feel it's a challenge."
Nerinx Hall (19-4-2) advanced to the championship game for the first time since 1994 and played in the Final Four for the first time since 2005. The Markers won the state crown in 1988, finished second in 2019 and 1994, third in 1995, 2002 and 2005, and fourth in 1998.
"To see them there was really memorable," Haddock said. "They set a precedent for down the road."
The game had nearly a two-and-a-half hour delay before the start of the second half because of the weather.
"It felt like two games within a game," Haddock said.
Nerinx Hall battled with a sense of urgency once the game resumed. Down 2-0, Nerinx Hall responded with its only goal in the 59th minute of the game. Sophomore defender Mackenzie Duff headed junior midfielder Jessica Preusser's perfect corner kick into the net to cut the deficit in half.
"They did real well coming out of the long delay," Haddock said. "They kept attacking. They took the game to them. We just couldn't pull out the game."
In the state semifinal on May 24, Nerinx Hall edged Lee's Summit West, 3-2. Senior goaltender Sarah Ruttencutter excelled as junior Liz Kelly's replacement. Kelly missed the Final Four because of a three-week foreign exchange program to France, though her family tried to delay the trip.
Senior forward Sabrina Ochterbeck, junior forward Lyndsey Heckel and senior midfielder Maddy Allgeyer scored Nerinx Hall's goals. Allgeyer nailed the game-winner to extend Nerinx Hall's winning streak to 10. Allgeyer, Heckel and junior defender Caroline O'Keefe added assists.
"The team had her back," Haddock said of Ruttencutter. "The players in front of her wanted her to do well. It was a blessing having her in the lineup. She deserved it. She played real well. She took advantage of the opportunity."
Nerinx Hall has most of its key players returning next season. Kelly will be back in the nets. Top scorer Heckel returns. She had team-highs in goals (17), assists (17) and points (51). Preusser will be back for another campaign. She was second in goals (12), assists (12) and points (36).
Duff, juniors Allie Brown, Rachel Solverud, Ella Hasek and O'Keefe, and sophomore Katelyn Hampton return to man the defense. Preusser, sophomore Sydney Smith and junior Kathryn Hulet will be back to play in the midfield, while Heckel and sophomores Shannon Barry and Olivia Schwarzen will key the forwards.
"They were an unassuming group," Haddock said. "It was neat to see them gel as a team. We dealt well with team chemistry, especially in the last part of the season. That's something I communicate all year.
"We focused on the growth of the team," he said. "We're fortunate to have been there and we want to experience it again."