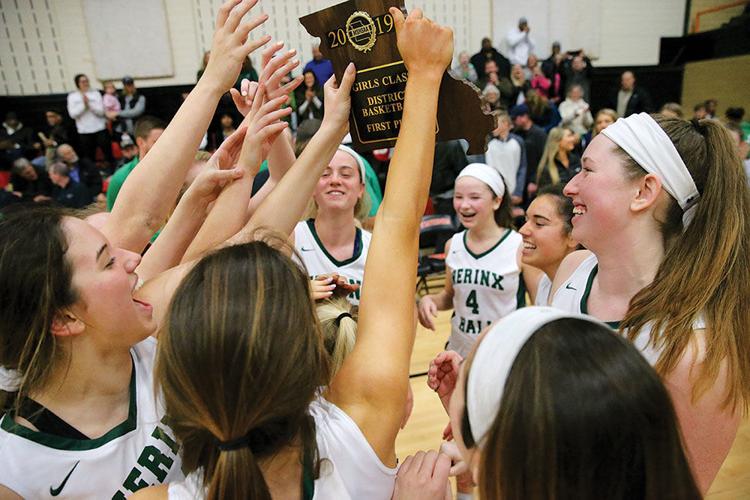 Webster Groves High School Coach Josh Spuhl didn't have to look far to know why Nerinx Hall won the rubber match for the Class 5 District 5 girls basketball championship on March 1 at Roberts Gymnasium.
Nerinx Hall jumped out to a 16-11 halftime lead, led by as many as 14 points in the second half, and staved off a Webster Groves comeback to pull out a 46-41 victory in the Battle of Big Bend. The Markers won two of the three meetings against the Statesmen this season. More importantly, the Markers won their first district crown since 2010.
The Markers (15-13) were scheduled to play Hazelwood Central (20-7) in the sectionals at 7:45 p.m. at St. Charles West High School. The Statesmen finished with a 15-13 record.
Spuhl recalled seeing his squad score just 11 points in the first half and only two of those came in the second quarter. That's right, just two points. And those came on a pair of free throws from sophomore reserve guard Ja'mise Bailey.
"We could have lost by 20," Spuhl said. "We played real good at the end of the game. We just waited too late."
The Markers' zone defense, which was a huge difference in the second meeting, became an issue for Webster Groves again. Nerinx Hall's defense was so good that Webster Groves scored zero field goals in the second quarter. The Statesmen converted 14 of 52 field-goal attempts for a meager 26.9 percent.
Nerinx Hall opened the second half with an 11-2 run to take a 27-13 lead four minutes into the third quarter. Webster Groves did cut the deficit to 41-38 with 40 seconds to play in regulation, but that was as close as the Statesmen would get. In the fourth quarter, the Statesmen were forced to foul to stop the clock and possibly see the Markers miss free throws.
"For some reason, I thought it would be close," said John Duff, Nerinx Hall's first-year coach. "I thought we'd make a good run on them. I told the girls, they're going to make a run back on us. We've got to contain them. I thought we did a pretty good job on that."
Nerinx Hall converted 12 of 15 free-throw attempts in the fourth quarter to keep Webster Groves at bay. The Markers hit 17 of 25 foul shots in the game. Sophomore guard Mackenzie Duff hit seven of eight free throws while older sister, Madison Duff, converted six of eight and junior guard Lyndsey Heckel was four of six.
A change in offensive style has made a huge difference down the stretch for Nerinx Hall. The Markers don't use set plays, just pass and run until they get an open look. The team hit 13 of 27 shots for 48.1 percent. Mackenzie Duff tallied 15 points, Madison Duff added 14 points and Heckel had 13 points.
"It's more of a free motion, just running," John Duff said. "They have gotten real good at it."