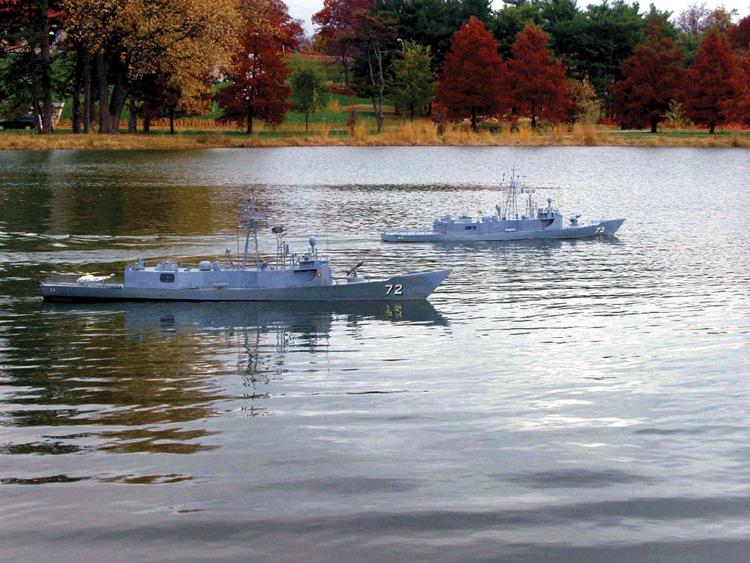 Almost everybody has a fun hobby or two, but Webster Groves resident Jim Tuxbury's unique hobby of ship building provides quite an interesting story to tell. For 25 years, Tuxbury has been building realistic large-scale radio-controlled model ships out of his garage.
The ships, made mostly out of a scrap wood frame and thin plywood hull, can range from a 1.5-foot-long tugboat to a 10-foot-long icebreaker ship. The boats are no small force. They are powered by full-size car batteries, can easily withstand rough waters and 15 m.p.h. winds, and are able to power along the lake faster than a walking person could keep up with.
Tuxbury builds the ships by acquiring the plans to existing ships, and adjusts them to create a model approximately 1/45th of the actual size. Every detail is replicated, as Tuxbury creatively uses household items such as deodorant caps, buttons or the bottom of a soda can to recreate transmitters, radars and other small features.
A large battery is placed inside, as well as 20- to 30-pound weights in order to keep the boat submerged up to its water line. The whole planning and building process typically takes between 12 and 18 months.
Tuxbury's experience in the U.S. Navy is what initially inspired his ship building hobby. As he served, he was captivated by the thought of recreating his own ships someday. He did just that once he reached the point in his life where he had the time to do so.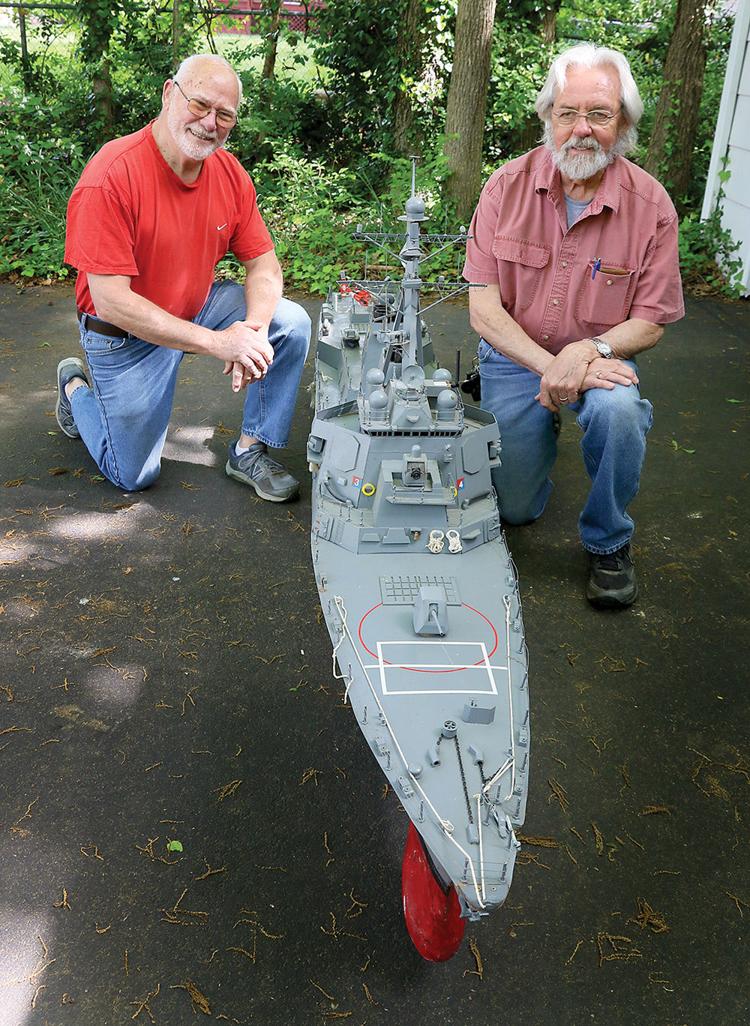 Along with building these ships, Tuxbury shares the wealth of his knowledge and experiences regarding ship building on his website, www.steeldecknavy.com.
"I don't do any advertising on my site, it's strictly for teaching," said Tuxbury. "It's a website for people to get ideas and information."
After the ships are complete, Tuxbury enjoys sailing them on local lakes and ponds. Typically, Tuxbury will also be joined by his neighbor and friend, Ed Carlson, who has been helping Tuxbury with his ships for 20 years.
"Ed is fun," said Tuxbury. "Almost anytime I say, let's go out, he'll be there."
Another friend of Tuxbury's who can often be seen on these ship sailing adventures is Mike Chester. Tuxbury, accompanied by Carlson or Chester, can be found on the lake for an entire afternoon sailing between various shores.
Over the past 25 years, Tuxbury has built more than 10 boats of varying sizes for the purpose of being sailed by him and his friends, as well as for the enjoyment of building the ships themselves. Though he's never created one for the purpose of selling it, he's certainly open to that possibility.