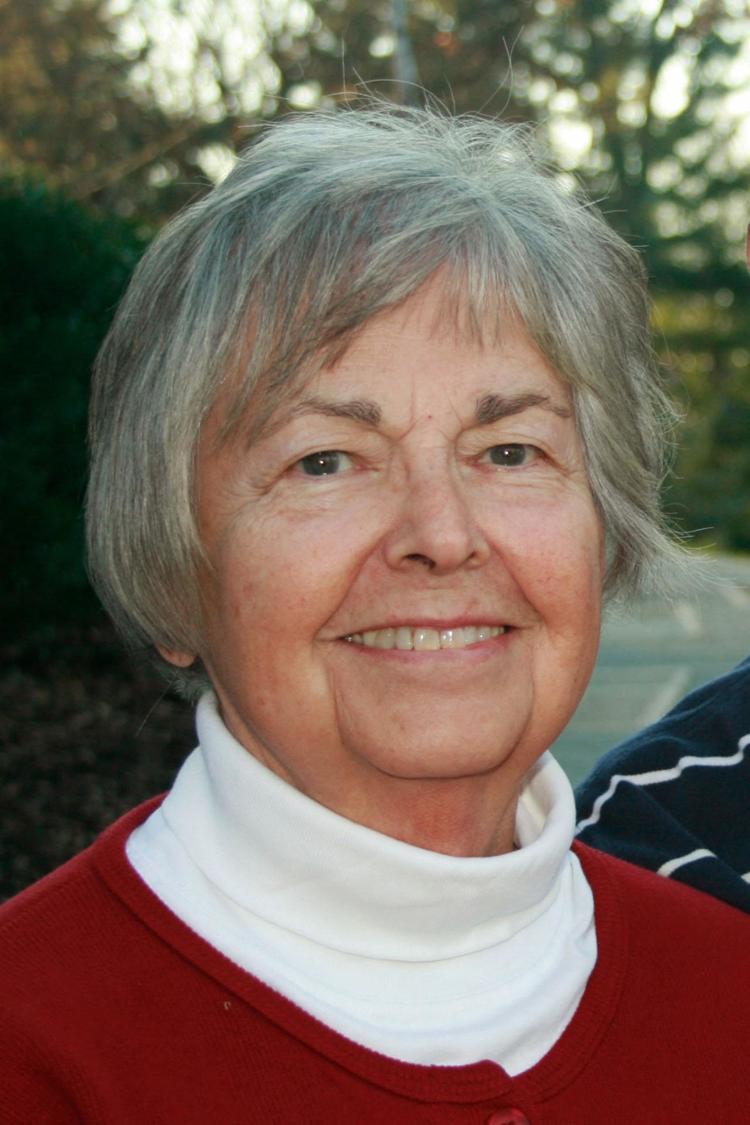 Nancy (nee Dahlkamp) Fries passed peacefully on Sunday, May 3, to be with her beloved husband William (Bill) and her parents Edward and Treva Dahlkamp. Nancy was a loving mother to Mitch (Jackie), Russ (Linda) and Andy (Karen); grandmother to Ed, Tim, Catie, Carey (John) Founds, Kyle, Kevin, Bill, Margaret and Jack; and great-grandmother to Jack Founds.
Nancy loved her many lifelong friendships with people she met in Webster Groves, at Washington University, in the neighborhood of Chatwood Terrace, at Greenbriar Hills Country Club, and through the real estate community in Webster and Kirkwood.
Nancy enjoyed cooking and entertaining for family and friends. When a friend or one of her sons would stop by unannounced, she could put together a gourmet meal from what she found in the refrigerator. She especially enjoyed entertaining friends on Christmas and the famous New Year's Day Brunch that she and Bill hosted for several years. Nancy loved and supported her sons. As the boys were growing up, Nancy was the ultimate swim mom, spending countless hours driving to practice and sitting during long weekend meets in hot, humid natatoriums. She was always there to cheer them on and support them during disappointments.
Later in life, Nancy and Bill enjoyed traveling together and with friends. After Bill's passing in 1998, Nancy became a gypsy with her travel desires and took trips with friends to Hilton Head Island, Destin, Florida, Lake Michigan, Montana and Italy. Nancy had a passion for antiques and spent several years as a partner in Bittersweet Antiques in Kirkwood. She and Bill traveled around the Midwest and to England in search of items to refinish and sell in the shop.
Nancy's home on Lindeman was decorated with a lifetime collection of antiques. Some of her favorites were her ice cream and butter molds and flow blue china. With influence from Bill, and her friends and family, Nancy became an avid Cardinals fan. She enjoyed going to games, mostly just to be with her friends and family. Perhaps her greatest joy was the time she spent with her grandchildren. She was an enthusiastic babysitter, sports fan and all-around supporter of their activities.
The family would like to thank all of Nancy's dear friends for their understanding, support and love during her long Alzheimer's diagnosis. Health care aides provided professional help and friendship to Nancy and her family at home and at Sunrise and Parc Provence, and through Heartland Hospice.
The family held a private burial service at Oak Hill Cemetery on Tuesday, May 5, and plans to host a celebration of her life later this summer. In lieu of flowers, donations to the St. Louis Chapter of the Alzheimer's Association at http://act.alz.org/goto/TeamNancy would be appreciated.