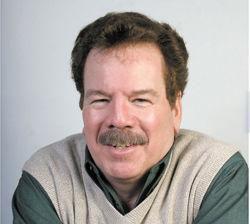 Some residents received a mailer earlier this month on how to be an informed voter. This campaign piece had President Trump and the Pope on its cover — and was targeted to Catholics.
The mailer prompted a conversation among friends. One asked why all the Catholic schools were ready to open, while public schools were going to do distance-learning with the COVID-19 pandemic spiking in Missouri.
That is simple, I said: "Jesus." It helps to have a close relationship with those in high places in these perilous times. I wasn't being blasphemous or snarky. I have the "creds" to talk this way without being labeled the Anti-Christ.
After all, I was an award-winning altar boy at Queen of Peace. Granted, this was a QP on the wrong side of the river, but it still counts. I served Mass all by myself, because 6:30 a.m. was too early for my slacker grade school buddies.
Also, I was in the Jesus Group in grade school. That is an association that rubs off on you. In my grade school, you were not divided into A, B & C tracks on the basis of academic excellence, but into the Jesus, Mary and Joseph teams.
Admittedly, I was always in danger of backsliding into the middling Mary group. That's because I did not shine when it came to math problems. But I did shine brightly like a crazy diamond when it came to grammar and diagramming sentences.
When called to the blackboard to diagram a sentence, I creamed any poor St. Joseph competitor I was up against. He'd be rocking on the balls of his feet while I was chalking up a gerund phrase or a split infinitive — with ease.
Sometimes kids got a special dispensation to move up from the lowest Joseph group to the middle Mary group, but not based on handling a dangling participle. The doctor's kid who lived next door to me, Billy, was one of the beneficiaries of the dispensation route to promotion because of his acts of charity.
Every Monday morning we had our Pagan Baby Day at Queen of Peace. It took $5 back then to buy a pagan baby, which is the numismatic equivalent of $25,000 today (Like I said, my math has not been my strong suit, even from my early days being in the Jesus group).
For $5, a pagan child in a Third World Country could be adopted and given access to education provided by different religious orders. Back in the 1960's, it wasn't easy for grade school kids to cough up the money for a pagan baby.
The nun kept a chart on the wall that was measured in dime increments. It took five kids giving up their white milk lunch money on a Monday to get one of those increments penciled in to buy a baby. However, the doctor's kid came in with a $5 bill every month and bought an entire pagan baby by himself.
Well, you can now see why Billy got promoted to the Mary group. A kid who owned five pagan babies outright by Christmas could not be a Joseph. And Billy was, after all, an MD's kid — not the spawn of a mere carpenter.
I learned so much in Catholic grade school — not just about simple sentences or even more complicated compound-complex sentences. I learned about class division, the cost of being a pagan, and how the world works if you are stuck being a Joseph and you want to move up in life.
In any case, I hope all the parochial schools navigate this pandemic well and show all the rest of the schools a safe way to keep the doors open during a dangerous health crisis. I am praying to Jesus, Mary, and even Joseph — that we get through this holy mess.
Oh, yes, and I am not engaging in a sacrilege talking about a "holy mess." As the Urban Dictionary notes: "A holy mess is a mess that is so epic and terrible in its nature that it recalls plagues and the disasters of Biblical times."