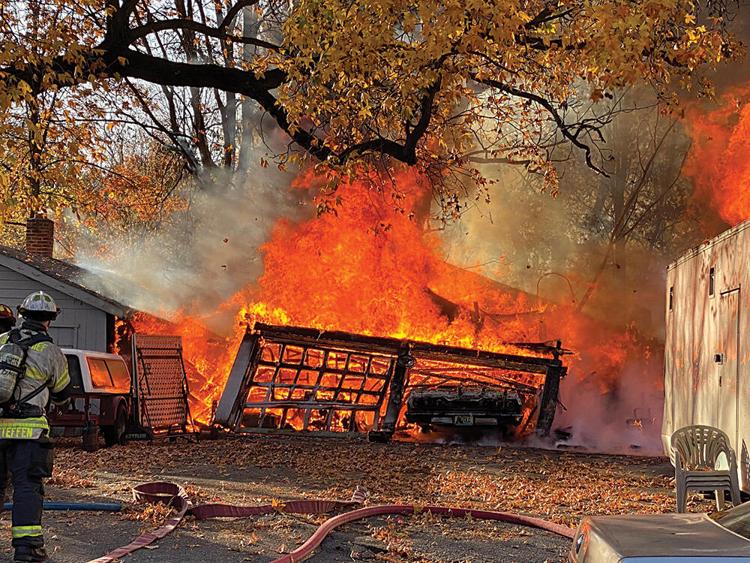 A motorcycle left running in the garage of a Webster Groves home led to an explosion that spread fire to other nearby structures.
The garage was at a home in the 200 block of South Laclede Station Road, which was closed from East Jackson to Murdoch Avenue for more than two and a half hours on Friday, Nov. 6, as crews worked the scene. No one was injured.
The Webster Groves Fire Department received the call at 3:17 p.m., and nearly a dozen other area departments responded to the two-alarm fire. The fire quickly spread from the three-car garage to a nearby barn and shop building on the property, as well as a neighbor's garage. It did not reach any homes.
Several neighbors said they heard what sounded like gun shots just before they saw the garage being engulfed in flames. Homeowner Joe Grasso said he  also heard the loud "pops."
"I had started my motorcycle like I've done a hundred times before to let it warm up a little and then went back in the house," he said. "When I was inside, I heard what sounded like gun shots."
By the time he rushed outside, the garage was on fire.
"My BMW motorcycle (that had been running) was on fire, and the Harley next to it was on fire. My Impala next to that was also starting to catch fire," he said. "My neighbors took the dog and I heard the sirens coming down the street."
Grasso estimates a loss of $50,000 to $60,000 in property that was destroyed including his two motorcycles, car, a camper and pop-up tent, and many of his mother's antiques. 
He estimates another $60,000 to $70,000 in damages and building replacement costs.
"I will get less than a fourth of that from insurance. I'm in shock and this is truly a devastating loss," he said.
Grasso believes the loss might not have been as devastating had crews been able to control the fire more quickly. He claims two of the nearby fire hydrants were not working, which delayed firefighters in dousing the flames.
Webster Groves Assistant Fire Chief Gary Bainter said that was not the case.
"The fire hydrants were working fine, but with the amount of water we were using we had to put pumpers on them," Bainter said.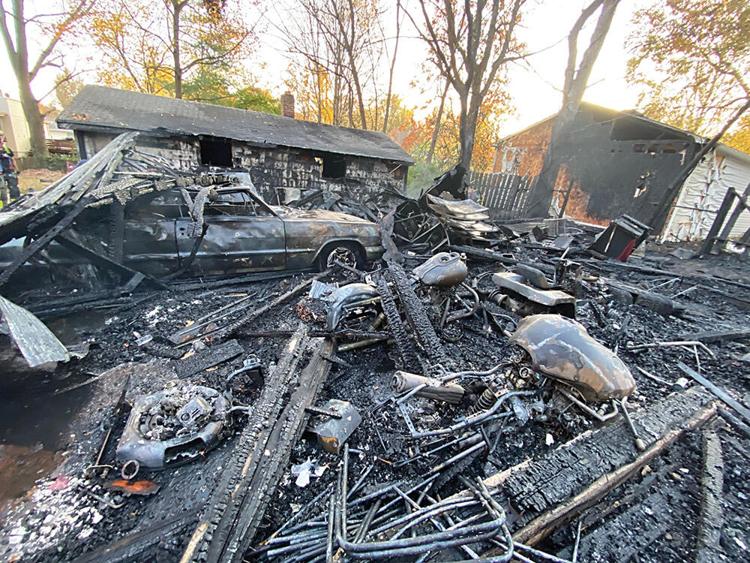 Webster Groves Fire Chief Tom Yohe said it is best practice to use a pumping apparatus to maximize the amount of water available from a fire hydrant.
"Unless a fire hydrant is very close to the fire attack apparatus, a pumper is used to boost the pressure of the water coming out of the hydrant," Yohe explained. "From time to time it is necessary to shut down operations and attach a pumper to a hydrant."
Yohe confirmed that all fire hydrants in the area were and are working properly.
"I have reviewed the hydrant tests records and talked to the crew that was on duty and can assure that all of the hydrants functioned as designed," he said. 
Bainter said Grasso's garage was a total loss, but the two outer buildings on the property, and the neighbor's garage, may still be salvageable. 
The cause of the fire has not yet been determined, but it is not considered suspicious, according to Yohe.