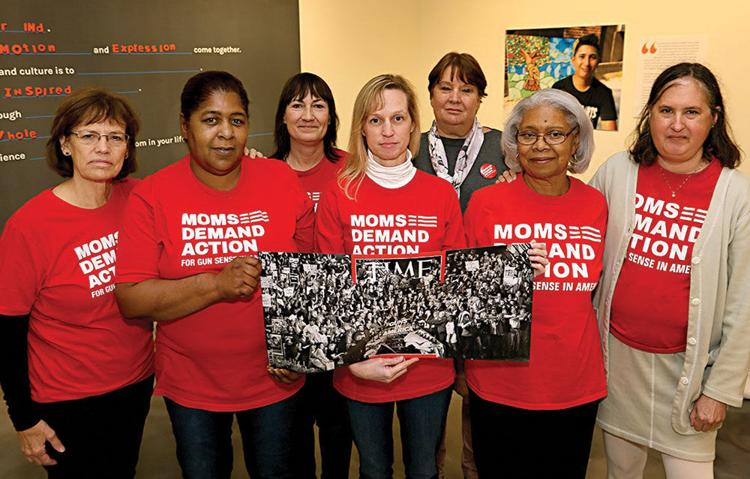 Add Thousand Oaks and Tree of Life Synagogue to the more than 300 mass shooting tragedies in America thus far in 2018. Also, add thousands of more members to Moms Demand Action for Gun Sense in America as the nation's shooting horrors multiply.
From an initial chapter of Moms Demand Action in Webster Groves, the movement to end gun violence has grown to 18 chapters in Missouri. And members vow that they will continue to grow their groups until the gun mayhem stops growing.
"I think the genesis of all the new chapters was the Parkland School mass shooting in Florida that took 17 lives," said Becky Morgan, a founder of the Moms chapter in Webster Groves. "Since the Parkland tragedy on Valentine's Day this year, we went from seven chapters in Missouri to 18."
One of those new chapters serves residents of South County and Jefferson County and meets regularly in Arnold. Tara Mueller is the force behind the new Moms chapter that already has more than 100 members.
"I started the new group right after the Parkland School murders," said Mueller. "As an educator who has to do regular lock down drills, and as a mother, I just had enough of our children being murdered at school. I also was inspired to action by the Parkland students who were standing up and speaking out."
The Oakville Elementary School teacher attended the Moms meeting on March 1 at Hixson Middle School in Webster Groves where more than 1,000 people showed up. Mueller was among those asking what they could do to bring gun sense to America and she signed up to start a new chapter serving South County and Jefferson County.
"At some of our first meetings, we had a JeffCo 'Gun Sense Candidate,' Dennis McDonald, talk to our Moms group," said Mueller. "We also had NRA member Mike Revis of House District 97 talk to the group. Both candidates talked about supporting the Second Amendment, while also passing sensible gun safety legislation in Missouri."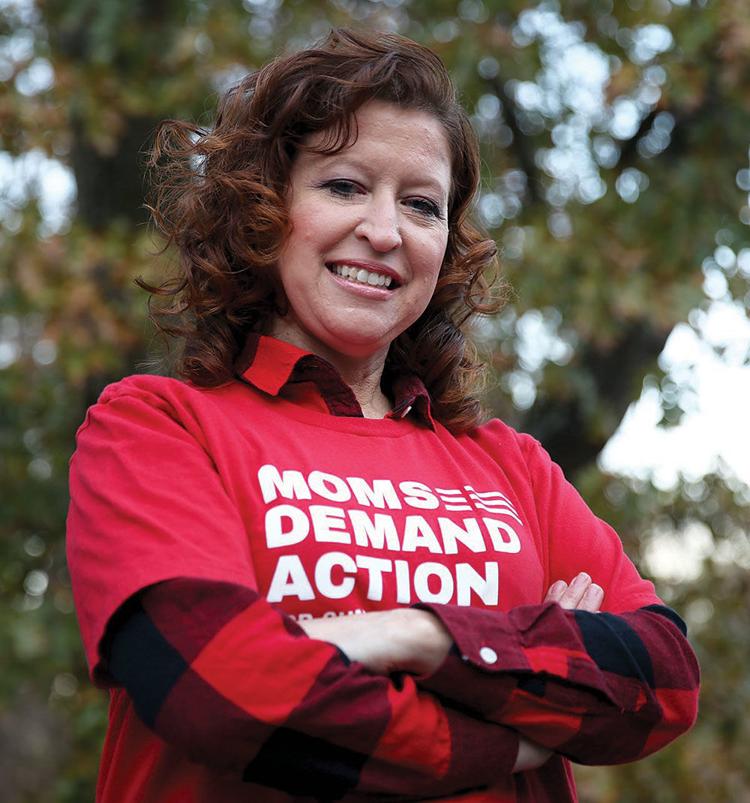 Although Missouri's "Gun Sense Candidates" did not fare so well in the state on Nov. 6, across America it was quite a different story. More than 150 such candidates, both incumbents and challengers, will be part of the new U.S. Congress in 2019.
Gun Sense Majority
"Although we are disappointed with the Nov. 6 election results for our candidates in Missouri, we are very happy with the new U.S. House," said Morgan of Webster Groves. "We have a gun sense majority in Washington, D.C., that will finally pass laws to address the easy availability of guns and the violence we've seen in Sandy Hook and Parkland and Thousand Oaks.
"When these measures get to the Senate, we will see who will stand up for gun sense and safety for our schools and communities," said Morgan. "And we will remember those who don't when the 2020 election comes around."
In Missouri, Morgan said the Moms groups will work to stop gun legislation in Jefferson City that she said defies common sense.
"There are state lawmakers who have vowed to introduce 'guns everywhere' legislation," said Morgan. "Right now, there are 13 places where guns can be prohibited – bars, child care centers, places of worship – there are legislators who want to end these exceptions to carrying arms."
Morgan and Mueller mostly have praise for the state delegation from the "blue areas" of St. Louis that have fought state proposals to arm teachers and to allow guns on campuses. However, rural red state areas are another matter.
"That is why we are so gratified to have new Moms chapters in red state areas like Rolla, Joplin, Marysville and Chillicothe," said Morgan. "We are not giving up anywhere. We will endure. We are going to send a message.
"Our message is not anti-gun or against the Second Amendment," said Morgan. "We are non-partisan and we will support Republicans who want gun sense. We have male Republicans and NRA members in our groups. We think we can do well in red state areas when our message is heard and not distorted."
Morgan said Moms groups hope to "flip" state districts to gun sense candidates in November 2020. They want to emulate victories that took place in 2018 in Congress and in gubernatorial races. The Moms can claim Governors-elect Laura Kelly in Kansas, Tim Walz in Minnesota, Gretchen Whitmer in Michigan, and Jared Polis in Colorado, who all ran on gun safety platforms.
Not The New Normal
The new Jeffco Moms group meets the fourth Thursday of the month at 7 p.m. at St. Mark's United Church of Christ in Arnold. Mueller said the next meeting is Jan. 24. Until then, members will study the book, "Gundamentalism" and are encouraged to see a documentary, "No More Thoughts and Prayers."
That title echoes the sentiments of of many moms who have lost their children in mass shooting incidents, including Susan Orfanos, the mother of one of the many victims killed in a bar in Thousand Oaks, California.
"I don't want prayers. I don't want thoughts. I want gun control, and I hope to God nobody sends me anymore prayers. I want gun control," Orfanos told the press after 12 gun deaths.
Despite their regular occurrence in America, Morgan and Mueller are determined that mass shootings cannot be allowed to become "the new normal."
"There are people who seem to think that these tragedies are just the cost for the freedom of the Second Amendment," said Morgan. "That's wrong."
Morgan's Moms group meets at 7 p.m. on the first Thursdays of the month at Kirkwood Baptist Church. On the agenda at the Dec. 6 meeting, will be a session on counteracting "gun myths with truth" along with other items.
"It's all about talking turkey with relatives over the holidays," said Morgan. "If they say: 'the only way to stop a bad guy with a gun is a good guy with a gun,' we can provide the statistics to show that this fiction and other fictions can be countered with the truth."
Also on the agenda is a session on how to keep young children safe when visiting homes where guns are present.
"We will show how important it is to ask other parents politely whether they have guns in the house and whether they are securely stored," said Morgan. "Kids visit other kids' homes during the holidays. Kids are curious. It is not out of line to ask whether guns are present in homes in the interest of safety."