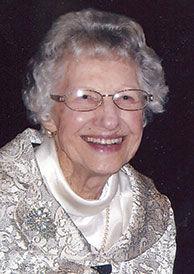 Sharp, Mildred "Peg" E. (nee Schroeder), age 108, of Kirkwood, Missouri, passed away peacefully in her sleep on Thursday, Nov. 29, 2018, at 4:50 a.m., at Bethesda Gardens in Kirkwood, Missouri.
Peg Sharp was born on April 3, 1910, in Brooklyn, New York, the daughter of German immigrants Chris and Albertina (nee Stelljes) Schroeder. She and her brothers, Harry and Bill Schroeder, grew up in the Flatbush neighborhood of the Brooklyn, New York, borough.
Peg and her family moved to a farm in Hackettstown, New Jersey, and then into town, where her father was a butcher and store owner. She graduated from Hackettstown High School in 1927 and Douglass College (New Jersey College for Women of Rutgers University) in 1931, with a major in German and a minor in French. She married John "Paul" Sharp in 1936.
Once her three sons were old enough, she taught school at the Kirkwood and Rockwood school districts and retired as president of the Rockwood Teachers Union. When her husband retired, they motorhomed, tented, hiked and toured all over the world.
After her husband passed, she joined a quilting group at First Presbyterian Church of Kirkwood, then Opie Otis' aerobic dance group at First Presbyterian Church, University of Women, League of Women Voters and book clubs; she conducted travelogues and joined the German Club of St. Louis, just to name a few.
After moving from Gill Avenue to Bethesda Gardens, she remained active in many resident organizations, including the Wii bowling team. Peg had an adventurous spirit, a love of knowledge and a zeal for life that was infectious to everyone she met. She embodied what we should all aspire to do: always dress to the nines and be ready to take on the world.
Peg was preceded in death by her parents; her husband Paul; her brothers Bill and Harry Schroeder; and her sons William "Bill" and Richard.
She is survived by her son, John (Linda Marsonette) Sharp of Chesterfield, Missouri; three grandchildren, Elizabeth Sharp and Michael (Shevaun) Sharp, and Richard's son, JP Sharp; two stepgrandchildren, Chuck and Susan Marsonette; two great-grandsons, Logan Sharp and Liam Sharp; former daughters-in-law Mary Douglas Sharp and Christine Sharp; and other relatives and many friends.
Memorial services will be held at First Presbyterian Church in Kirkwood, then at First Presbyterian Church in Hackettstown, New Jersey, times to be announced. Donations preferred to VA St. Louis Health Care System, St. Louis Fisher House or Helping Hands for Single Moms.
Arrangements by Bopp Chapel, www.boppchapel.com