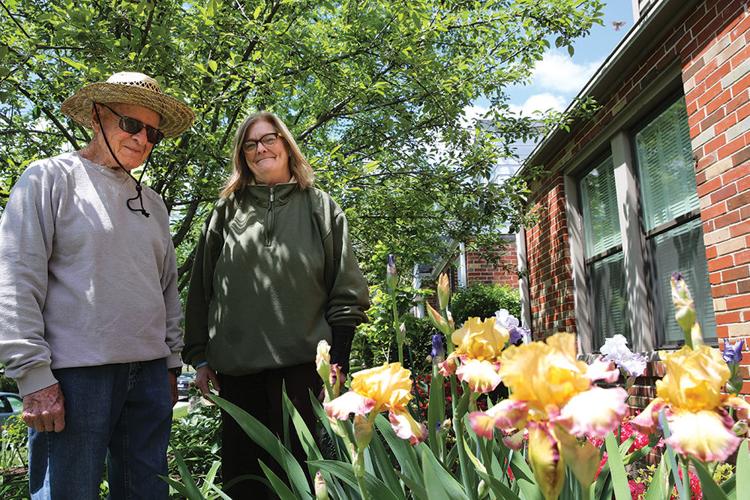 Irises have come a long way from Grandma's purple "flags." Those old-fashioned tall bearded irises remain popular, but today the colors reflect the rainbow as Dewey Long's Kirkwood yard attests.
Scattered throughout his garden, Long has about 20 hybridized irises mixed among his other flowers including lilies, a Mr. Lincoln red rose, peonies and a bright pink azalea in full bloom.
"I'm not an iris aficionado," said Long, a member of the Kirkwood Iris Society. "I'm a gardener. I like to have flowers around."
On a recent tour of his garden, Long pointed out his many unique irises, which received accolades from fellow Kirkwood Iris Society member Mary Ann Campbell of South City. She pointed out one iris called "Cuchara Pass," which has what she called a beautiful plicata pattern with stippled petals and an overlay of yellow and purple hues.
"Hybridizers have come up with more and more unusual characteristics over the years," she said.
Campbell said the hybridizer takes different irises and develops them into unusual patterns. Once the new iris is sustainable, it is introduced and becomes a named iris in the American Iris Society registry.
The majority of Long's irises are from hybridizer David Miller from Golden, Colorado, who he met at a high school reunion. Miller is married to a woman who went to school with Long's wife. When Miller asked Long if he grew irises and he said yes, Miller sent him 20 varieties of irises.
Miller names his irises after his granddaughters, "Clara's Choice" and "Princess Ellen," and points of interest in southern Colorado like the bi-color purple and white beauty called "Crestone Peak" and "Cuchara Pass."
Some Kirkwood Iris Society members, including Long, recently returned from the American Iris Society National Convention in California. During an iris auction, Long outbid everyone and brought home a new Miller iris with chocolate blooms. He's hoping he'll be able to showcase that prize next year in his garden.
Long said he doesn't have a favorite iris, but does have a fondness for yellows and the variations on that theme such as the rich "Butterscotch Blush."
"An iris was the first thing I ever planted," Long said, noting it was a rhizome his mother bought called "New Snow, which was all white when it bloomed.
The iris has also been Campbell's favorite flower since she was a child when she called them "flags."
"I thought of iris as grandmother flowers since they lined the fences of many grandmothers' yards in the neighborhood," she said. "I love other plants, too. I'm an herbalist and I grow and use a lot of herbs."
While the tall bearded iris remains very popular, Campbell mentioned a few of the large number of varieties available including the Siberian, Chinese Crested and Louisiana irises. She said the Louisiana iris is popular in St. Louis, but it's hard to grow here unlike in Louisiana where it thrives.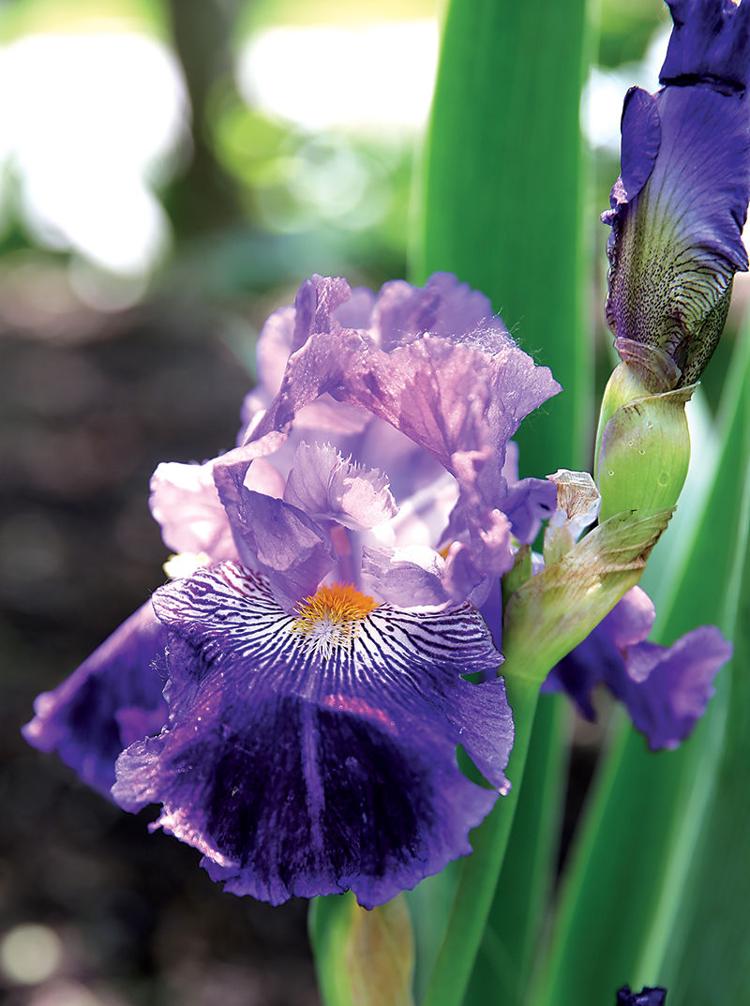 Kirkwood Iris Society
The Kirkwood Iris Society began in 1992 and has about a dozen dedicated iris enthusiasts. The society is a member club of Region 18 (composed of Missouri and Kansas) of the American Iris Society.
"We are a laid-back group of people who want to learn and teach about irises," said Campbell, who serves as the membership chair for Region 18.
What the Kirkwood group lacks in membership, it makes up for in activities. Earlier this week, the Kirkwood Iris Society held a Classroom Iris Project for students at Churchill School in Town and Country. It is beginning a similar project at the American Heritage Girls Club at Kirkwood's St. Peter School.
"We will have a program where we teach them about iris," Campbell said. "We'll encourage the girls to grow irises and work with them, and eventually they may have a show."
She said the girls will be working toward a badge similar to Girl Scouts.
"The idea is to spread the love of irises and about how easy they are to grow and hopefully bring up more irisarians," Campbell said. "They might catch the bug."
Upcoming Events
May is Iris Month when the irises are in full bloom so it's "iris everything," Campbell said.
On Sunday, May 19, the Kirkwood Iris Society is holding a tour featuring two to three gardens, plus the iris garden in Mudd's Grove In Kirkwood, which the society maintains.
On Aug. 3 and 4, the Kirkwood Iris Society and the Greater St. Louis Iris Society will hold its annual iris sale at the Missouri Botanical Garden.
On Sept. 13-15 the Kirkwood group will sell quality irises at low prices at the Kirkwood Greentree Festival.
To get started growing iris, Campbell said the most important thing to do is to plant iris rhizomes shallowly in the fall in full sun in an area with good drainage. Irises that grow well in this area can be found at the club's sales at Greentree Festival and the Missouri Botanical Garden.
The Kirkwood Iris Society meets monthly on Sundays at 1 p.m., February through May, at the American Legion Hall, 314 S. Clay in Kirkwood.
In July, the group has a potluck picnic and iris auction. The year concludes with a Phabulous Pheast in November. Annual dues are $5. New members are welcome. For more information on the club or the May 19 tour, email Campbell at macphd16@gmail.com.