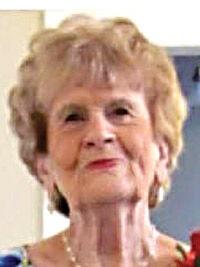 Hughes, Mary Vivian, age 94, passed away Feb. 5, 2021, in Arkansas with family.  She was born Dec. 3, 1926, in Butler County, Missouri, to the late John William (JW) and Myrtle Lucinda Dodd. She was also preceded in death by her husband of 44 years, Bill; nine sisters; and four brothers.
Mary was a loving wife, mother, mother-in-law, grandma, sister, aunt and friend to many.  She is survived by one sister, Wilma Ponder; her children Jim Hughes and wife Janice, Don Hughes and wife Peggy, Bob Hughes and wife Tracy, Karen Leach and husband Scott; nine grandchildren; and four great-grandchildren — plus one in May.
Once she graduated from Neelyville High School in 1944, she followed her dream to the "big city" St. Louis, where she met and married her husband Bill on Jan. 3, 1948. They eventually settled down in Kirkwood, where they built three homes and raised their four children. After her husband passed, she remained in Kirkwood 28 years, living in the same house until the age of 92, when she moved near family in Bentonville, Arkansas.
Mary loved the Kirkwood Community and was a faithful member of Kirkwood Baptist Church for 61 years, active in outreach along with several other volunteer activities.  For over 30 years she was a secretary for directors at Monsanto's headquarters, a dedicated, world-class typist. Once retired, she enjoyed traveling with family and friends, daily walks, music, gardening, fashion and all things pink.  At the core of her life and spirit was always her faith, family and friends, for whom she always had a bright smile and warm hug.  
A Celebration of her life is planned for June 19 in St. Louis. Memorial contributions preferred to Shiloh Stables, 5965 Twin Fawn Ridge, Hillsboro, Mo. 63050. Go to www.Shilohstables.org for information about their amazing work.