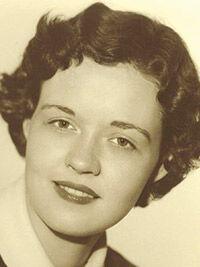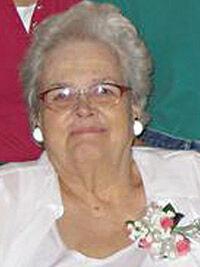 Slais, Mary Martha was born on the first day of summer 1931, and passed away on Jan. 2, 2021, at the age of 89. She was the beloved daughter of Gladys Buckner, affectionately known as "Mamie." Mary spent her childhood in Springfield, where she graduated from Greenwood High School in 1949. 
Mary's joyful spirit shone through in her love of music and dance. She was an accomplished pianist and filled her home with classical music, often sitting down to play her favorite piece, "Clair de Lune." Before international cooking was popular, she tried out new recipes inspired by her travels, and made special meals for her family and friends. She also enjoyed preparing meals from the recipes she learned as a child from watching Marie and Daddy Harold cook. The entire family found joy and comfort in King, the family's Sheltie, who was a gift from Mamie.
Mary was devoted to her children, and always put them first. She passed down her deep faith by ensuring that each of her four children received a Catholic education. After raising her family, Mary fulfilled her dream of graduating from college when she earned a bachelor's degree in library science from Washington University in 1982. 
Mary had an adventurous spirit and enjoyed traveling. One Christmas Eve, she even flew from St. Louis to Kodiak Island, Alaska, to be with her newborn granddaughter on Christmas morning. She also enjoyed trips to the Pacific Northwest, where she visited the Oregon Coast with her daughter, son-in-law, and grandchildren. Mary had special memories of her trips to Lourdes and Fatima and her visits to the shrines there. Later in life, her travels were closer to home, where she enjoyed visiting the Missouri Botanical Garden and St. Louis Art Museum. She saw beauty all around her and loved watching the birds outside her window. 
Mary lived out her Catholic faith through her generous spirit, showing through her actions that "it is more blessed to give than to receive." She was a devoted friend, and reminded those closest to her that "every moment is precious." Her gentle soul will live on in the lives of those she touched. Mary was a cherished mother and dear grandmother, and will be deeply missed by her children Theresa, Patti, Julie (Dan Castenson), and Ricky Slais; and grandchildren Kate and Scott Castenson. 
A funeral Mass will be held at Holy Redeemer Catholic Church in Webster Groves on Jan. 13, 2021, at 10 a.m. "I love you, honey."