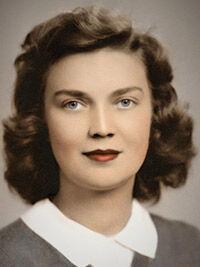 Rau, Mary Jewell McBee, 96, long time resident of Glendale, Missouri, passed away Dec. 18, 2020, at Missouri Baptist Medical Center from complications due to COVID-19.
Born April 18, 1924, in Stanford, Kentucky, Jewell had a keen interest in three things from an early age: music, science and horses. Although an accomplished violinist and talented pianist from elementary through high school, she preferred to be on horseback far more than anything else. Lucky for her, an uncle raised quarter horses that just happened to need constant exercise, love and attention. She had the storybook childhood.
During World War II, she graduated from Henry Clay High School in Lexington, Kentucky. Discouraged from pursuing an engineering degree by the norms of the 1940s, she obtained two bachelor's degrees: — one in home economics, the other in library science — from the University of Kentucky, where her father taught metallurgy. She married a returning veteran, Ted Rau,
whom she had met while working as a librarian in the Fine Arts Library at UK, in 1951. In 1955, Ted's job with Sealtest Dairy brought them to St. Louis, where she settled in as a homemaker while raising two boys in Glendale. Looking for a way to stay active in her kids' lives in school while using her gift for all things library, she founded the North Glendale School Library in 1967, which has remained an essential resource for NG students more than 50 years later. She continued her library career, first as an audiovisual librarian at Kirkwood High School from 1973 through 1977, then as a librarian at the Jewish Hospital School of Nursing until retirement in 1989.
She didn't know it, but she had more than 30 years of retirement to enjoy, which she filled with crafting, stamp and coin collecting, organizing and cataloging everything just as a fastidious librarian does. She lost her husband of 66 years in 2017. Dementia eventually robbed her of her past, but she maintained her feisty spirit and beautiful soul until the end. She was always able to make everything fun and was, and still is, arguably, the best and most loved mother ever. Our grief is profound for the loss of our mother and the hundreds of thousands of American families experiencing the same tragic loss of a loved one to COVID-19 that has been unnecessarily exacerbated by the inept political leadership we've had to endure.
Jewell was preceded in death by her husband, Theodore S. Rau; brothers James W. McBee and Joseph F. "Jody" McBee, Sr.; and parents James Green McBee and Mary Clarice Cain. She is survived by her eldest son James T. Rau and his wife Shanley Wells-Rau of Ponca City, Oklahoma, and her youngest son William R. Rau of St. Louis, Missouri; sisters in-law Mady Rau of Louisville and Christine Buchannan-McBee of Danville; nephews Joseph F. "Jeff" McBee, Jr., Jeremy R. McBee, Gerry Rau and Thomas S. Rau; and other friends and family members.
In lieu of flowers, donations can be made to Greater St. Louis Honor Flight at gslhonorflight.org