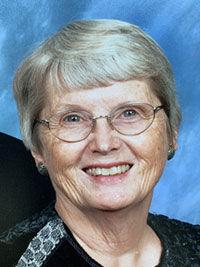 Heggie, Mary Etta, passed away on Sunday, Oct. 9, 2022, at the age of 82. She was preceded in death by her beloved husband, Robert Joseph Heggie. She is survived by her three sons: Robert (Jean) Heggie; Joseph (Nanette) Heggie; and John (Corinne) Heggie. She was loving grandmother to Baxter, Claire, Jack, Paul and Teddy; and sister of Robert Johnson. Our dear aunt, cousin and friend.
She was an active member of Grace Episcopal Church since 1967. She was also employed by the same church as Christian Education Coordinator for 20 years.  Some of her fondest memories were organizing and participating in dozens of youth mission trips to repair homes throughout the Midwest.
She was an active member of the Kirkwood community for over 50 years. She volunteered with SPROG, Rebuilding Together and Boy Scouts and was a docent at Missouri Botanical Garden. She supported three sons and many friends at Kirkwood High School.
In lieu of flowers, the family requests donations in Mary Etta's memory to Horizons of St. Louis (formally SPROG) — www.horizonsstlouis.org.
Funeral services will be held at Grace Episcopal Church, 514 E. Argonne Drive, Kirkwood, Missouri, on Thursday, Oct.  20 at 2 p.m.
Her family thanks the staff at Manor Grove for their loving care of Mary Etta during her final years.