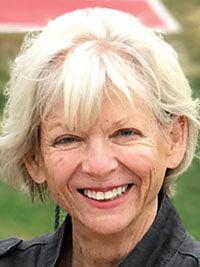 Mohler, Martha Jane. June 18, 1940 - July 22, 2021.
Martha Jane Mohler (nee O'Daniel), of Kirkwood, Missouri, passed away peacefully at home on July 22, 2021, at the age of 81. Born in Kansas City, Missouri, to the late James Garland and Dorothy O'Daniel, she is survived by her loving husband of 59 years, Merrick Davis Mohler; and her four boys: David (Kris), Jason (Nicole), John, (Robin) and Robert; and her grandchildren, Benjamin, Monet, Weston, Van and Addyson. 
Martha Jane graduated from William Jewell College, where she met Merrick and worked briefly as an elementary school teacher before starting her family. She embraced her duties as a wife and mother with passion and created a loving home for her family. A gourmet cook with the desire to experiment, her meals and ability to entertain will be missed by family and friends. She was the complete package, and to her boys, she will always be remembered as a wonderful mother. 
One of her main passions in life was the theatre, and on Friday nights in the summer, you would find her in her seats at The Muny enjoying whatever show was playing. She was also active for most of her adult life with the Kirkwood Theatre Guild. Whether she had the lead in a show, was directing it, working the props or catering the meal for set take-down, she loved her KTG friendships and the happiness it brought her. 
One of her proudest achievements was purchasing her beloved cabin at Coldwater Club near Ste. Genevieve, Missouri. As a vivacious reader, Coldwater was often the site for her Book Club, and she cherished her days with The Leapers, enjoying a book, some wine and wonderful food. Coldwater provided her with more than 30 years of friendships and family celebrations. She passed knowing her family would continue her legacy and that pleased her greatly. 
The family wishes to thank all of her wonderful friends for their love and support through her health struggles. Your prayers and kindness made a difference to her when she needed it the most. In lieu of flowers, the family — and MJ — ask that you donate to the Alzheimer's Association - Greater Missouri Chapter, 9370 Olive Blvd, St. Louis, MO 63132. 
Services private. Arrangements by Bopp Chapel.