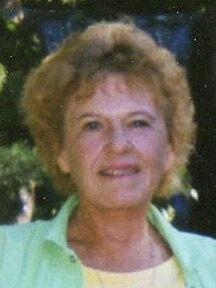 Baird, Marella Jean (Hardesty) left her Earthly body to be with Our Lord on Sept. 20, 2020, in St. Louis.
Marla, as she was known to most, was born on April 23, 19-none-of-your-business in St. Louis to Oliver Jerome (OJ) Hardesty and Laura Elizabeth (Coleman).
On May 22, 1960, she married Donald Morrison Baird in a beautiful fairytale wedding. Together they raised three children: David Oliver, Laura Marie (John Pogue II) and Donald Morrison, Jr.  
After the birth of her daughter, the family moved to Wyoming and spent 10 years there before finally settling in Medford, Oregon. Marla enjoyed working various secretarial and administrative assistant jobs until she retired in 1987. Unfortunately, Marla and Don's union ended in 1992. She returned to St. Louis, her beloved home, and spent her remaining years there.
In addition to her loving children, she had two grandchildren: Adriann and John III; and one great grandson, Axel. 
If you ever met Marla, you'd know how unique and unforgettable she truly was. She had a contagious zest for life and throughout her years, she loved seeing concerts, plays, stand-up comedy, traveling and spending time with loved ones. She was known to always have her hair done and makeup on and always enjoyed a great lipstick. She knew how to dress for any occasion. Marla was young at heart and had a sense of humor to match. She laughed easily and loved fully.
She is survived by her daughter Laura (John), son David, grandchildren, great grandson and dear friend Donna Kholer.
She was preceded in death by her mother, father, son Donald Jr. and dear friend Harry Kholer.
She will be deeply missed.
Marla's funeral took place on Tuesday, Sep. 29, at St. Peter Catholic Church. Her final resting place will be at Hillcrest Cemetery in Medford. In lieu of flowers, memorial donations to St. Peter Catholic Church, ASPCA, St. Joseph's Indian School, Habitat for Humanity, or Paralyzed Veterans of America are appreciated.