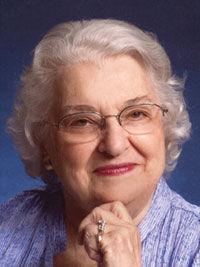 McGuire, Mardel, was Fortified with the sacraments of Holy Mother Church on Saturday, Feb. 18, 2023,  at age 95. She passed peacefully in her sleep at home, surrounded by her children and their spouses and her sister, grandchildren, and great-grandchildren.
She was the beloved wife of the late John O. McGuire (2011); dear sister of Virginia M. Miller; dearest mother of Christine Frasca, Michael McGuire, Mary Carol (Craig) Ghislin, Elizabeth (Bill) Murphy, Jeanne (David) Brunckhurst, and Katherine (Jeff) Garner; dear grandmother of Endrina (Gary) Rainey, Leslie (Frank) Prokawski, Erin (John) Lane, Evan Ghislin, Jacob, Andrew, Ryan, and the late Elena Murphy, Corinne and John Wm. Brunckhurst, and Patrick Garner; dear great-grandmother of Rebecca and Samantha Rainey and Joshua Frasca, Andrew and Kara Prokowski, and Fiona and Austin Lane; and sweet elder cousin to Karen Karabell, Rachel Presley, Shannon Martin, Gayle, Ron, and Rich Poynter, and Annette Yearwood.
 Mardel and John married in 1952, while John was in the Army. She cherished many fond memories of their early time together in the barracks at Carlisle, Pennsylvania, and let Dad teach her to shoot snakes out of the woodpile when they lived on the edge of the woods in Arkansas. 
She enjoyed clerical work, but mostly she was an avid antiques hunter. She once sat at the dinner table, promising Dad to fix light meals all week to adjust the budget, while steadfastly refusing to return the prized crystal pitcher and matching glasses she had come home with. She loved to read and study gemology, wearing her finds with pride. She also spent many years volunteering at church, putting out the HR Highlights, and coordinating the Eucharistic Ministers. She took her job as a homemaker seriously and kept busy with sewing, decorating, and cooking daily for a household of eight busy people.
Services: Funeral Mass was held on Feb. 23. Burial at Resurrection Cemetery. In lieu of flowers, please donate to St. Vincent DePaul Ministries: www.ssvpusa.org.
Arrangements by Bopp Chapel.