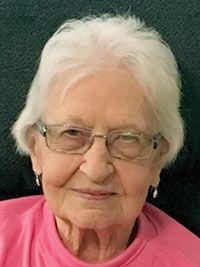 Sprick, Madelyn E., 92, passed away peacefully Aug. 11, 2021, surrounded by family.
Madelyn Elizebeth Hase was born Oct. 1, 1928, in Treloar, Missouri. She met the love of her life, Julius Sprick, at a dance in Warrenton. They married in 1947, dancing their way through life together for 72 years. That union produced two sons, David (Candace), and Daniel (Ellen); five grandchildren, Briana, (Steven), Tyson (Kelsey), David (Emily), Trey (Camille), and William; and four great grandchildren.
As a young girl, Madelyn was active in high school plays and was gifted in math and accounting. Once married, she moved to St. Louis, working at various banks and in the cashier's office at Sears. An avid sports fan, she loved cheering on her brothers, sons and grandsons at their games, and rarely missed a Cardinals game on TV. 
Madelyn was a longtime member of Hope United Church of Christ, where her beautiful voice contributed to the choir for many years. She had been living at Bethesda Orchard, singing in the Glee Club and enjoying the activities of her life which included playing cards and Bingo, reading, puzzles, and the music programs there.
Madelyn was preceded in death by her beloved dance partner, Julius; her parents, William and Elda (Brandt) Hase; brothers Carl, Ted, Victor, William and Wilbert; and sisters Emma Meyer, Cornelia Petersmeyer, Laura Mueller and Elvira Wippermann.
Family and friends are invited to pay respects at Kutis Funeral Home, 10151   Gravois Road, on Friday, Aug. 27, at 9 a.m. Service will be followed by burial at Jefferson Barracks. The family kindly requests all visitors wear masks.
In lieu of flowers, memorial contributions may be made to Hope United Church of Christ.