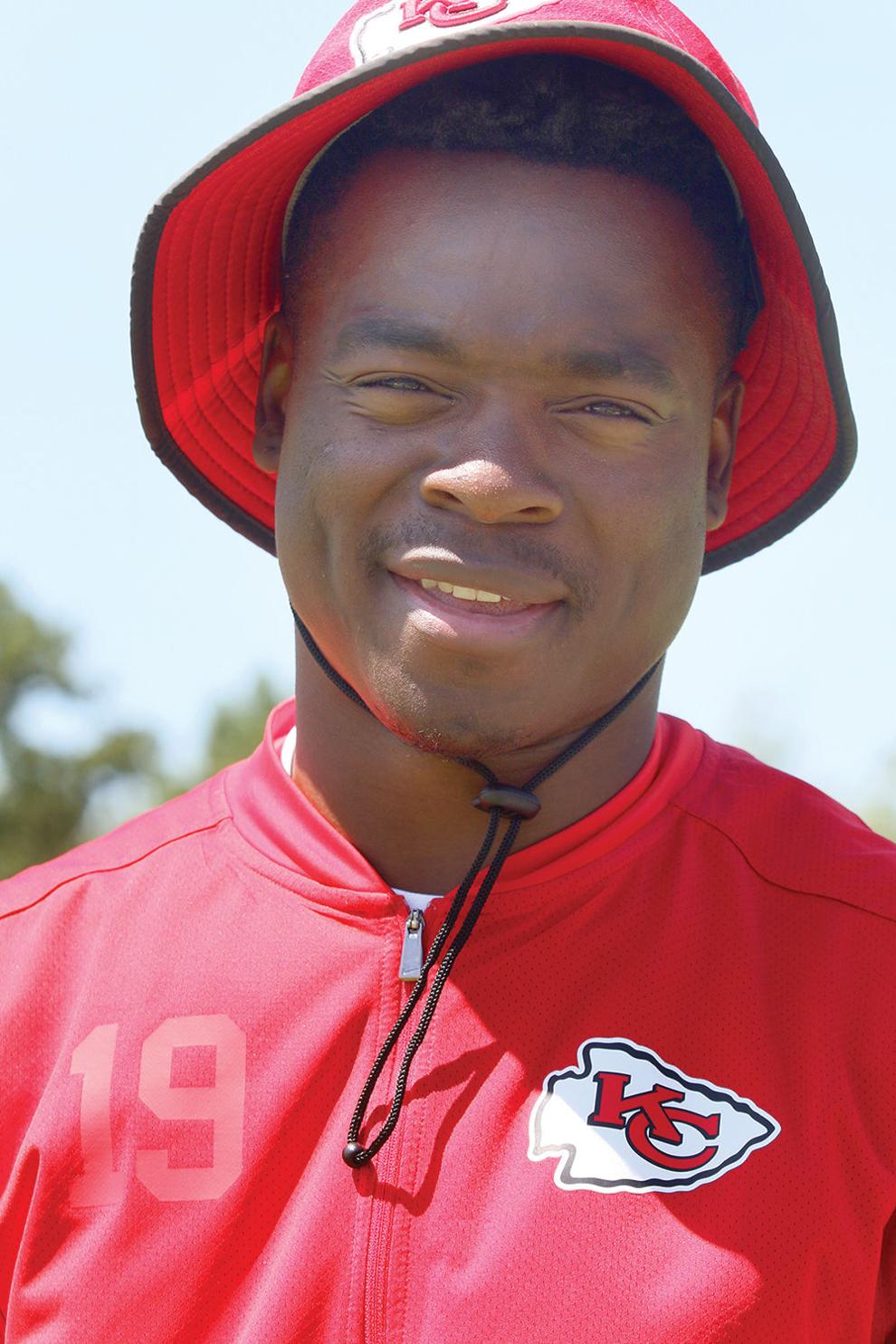 Jeremy Maclin's football career has come full circle.
Maclin, a 2006 Kirkwood High School graduate, recently moved back to St. Louis after an eight-year career in the NFL.
Maclin announced his retirement from the NFL earlier this year, and is now volunteering his time as an assistant coach at Kirkwood, where he made a name for himself on the high school's football field.
Maclin, his wife Adia Kuzma, and four-month-old daughter, Jett Rose Maclin (born on April 10), returned to St. Louis from Baltimore in June to begin a new life. He is now one of two former NFL players on Kirkwood High's coaching staff. The other is Butler By'Not'e, who played for Denver and Carolina.
Maclin, 31, decided to move back to his hometown of Kirkwood earlier this year after it became clear his body could no longer handle the rigors of the NFL. He wanted to keep playing, but physically never fully recovered from surgery after an injury to his left hamstring during his first season with the Baltimore Ravens two years ago.
After an injury-plagued 2017 season, the Ravens released Maclin in 2018. He then missed the entire 2018 season because of the injury. He was able to overcome two knee injuries and a groin injury during his college days at Missouri and in his pro career, but his hamstring wouldn't respond. After the surgery and consultations from multiple doctors, Maclin decided it was time to move on from football.
"It was tough," Maclin said. "It was tough because other than my hamstring, I felt I could have still played. I battled mentally, and I wanted to continue playing. But, it is what it is and that stuff happens. It (my hamstring) never got right. If there was a chance of me getting back to where I was, I would still be playing."
Maclin, a speedy wide receiver, caught 514 receptions for 6,835 yards and 49 touchdowns for the Philadelphia Eagles, Kansas City Chiefs and the Baltimore Ravens. In four playoff games, two each with the Eagles and the Chiefs, Maclin recorded 17 receptions for 299 yards and one touchdown.
Maclin was drafted in the first round (19th overall) by the Eagles during the 2009 NFL draft, where he played five seasons and would have played six years there if it wasn't for a torn ACL injury that cost him the entire 2013 campaign. His best season came in 2014 when he caught 85 passes for 1,318 yards and 10 touchdowns.
As a free agent prior to the 2015 season, Maclin signed a five-year, $55 million dollar deal with the Chiefs and played in his home state for two seasons. He battled injuries during the second year in Kansas City. He was released two weeks after getting married in 2017. He signed with the Ravens later that year, but was released in 2018. He didn't play at all in 2018, and it became clear to Maclin that his career was over.
Maclin said he will always remain in football in some capacity, whether it be in coaching or even broadcasting. He loves helping the younger generation. Through his foundation, he has hosted football camps and donated school supplies to children for years.
"I still love the game," Maclin said. "That's why I'm out here (coaching). It still has a special place in my heart. More than anything, it's about giving back – sharing my knowledge, whether it's high school students or college.
"I still have guys in the league that call me," he continued. "It's all about them. I let them know what I've been through, my way of running routes, being mentally tough, watching tape and so on."
His cousin, Jairus (Jay) Maclin, said having Jeremy Maclin on Kirkwood's coaching staff is a big opportunity for the team.
"It's great having him here," Jay Maclin said. "I just want to gain a lot of knowledge from him, especially with his mental attitude of going into every game with the mindset of winning and playing our hardest."
The NFL's Butler By'Not'e
By'Not'e, a former running back in the NFL with Denver and Carolina, begins his second tour on Kirkwood's coaching staff as a running back coach.
By'Not'e, 46, was a running back at Ohio State and switched to cornerback when he played professionally. He also played in arena football, the XFL and NFL Europe in Barcelona.
A minister, By'Not'e was the team chaplain at Ohio State. He was a high school football coach in Columbus, Ohio, for 10 years. By'Not'e was offered a job with St. Louis Public Schools in 2015, and also became a paid assistant coach at Kirkwood for a year. He then became head coach at Vashon, his high school alma mater, for two years before returning to Kirkwood this fall.
"It's a blessing to be back," he said.