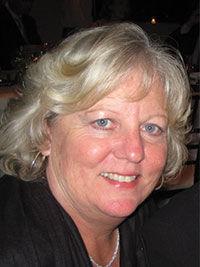 Eberle, Lynn. With great sadness, the Eberle family announces the passing of Lynn Boeckmann Eberle, loving mother, wife, daughter, MeMe, sister, and friend. After a courageous battle with cancer, Lynn passed away peacefully on Jan. 9, 2023, surrounded by loved ones. She spent her final days showered with love and affection from her people — a tribe of friends and family dedicated and devoted to her infectious spirit. 
Lynn was the beloved wife of 40 years to Larry Eberle; the loving mother of her three sons, Patrick (Molly), Paul (Emily), and Charlie (Jenny); treasured MeMe to seven grandchildren, Annie, Lucy, Finley, Sullivan, Charley, Elle, and Lou; cherished sister and aunt to Joan Lambertus (Andy), Syl Lincoln, and Brittany; and devoted daughter to Bernice Conner and Arthur Boeckmann.
Lynn was born and raised in St. Louis, Missouri. She graduated from Parkway West High School in 1973 and went on to Southeast Missouri State in Cape Girardeau. Lynn spent many childhood summers attending Camp Zoe in Eminence, Missouri, eventually becoming a camp counselor where she met fellow counselor and future husband, Larry Eberle. Together, they formed a successful production company, raised three wonderful sons, and provided endless love and support to everyone they knew. 
Lynn was perpetually devoted to her family, managing high school sports teams, planning vacations, hosting holiday dinners, and always leaving the door on Iris Lane open to all. In 1998, Lynn and Larry bought a lake house in Cuba, Missouri, where they quickly became pillars of the Indian Hills community and helped create cherished memories for countless friends and family each summer. Lynn was generous and giving. She was a source of peace and comfort to so many. We will miss her compassionate character, her sense of humor, and her unconditional love. A celebration of life will take place on Jan. 29, 2023, from 1 to 5 p.m. at Sunset 44 Bistro & Banquet, 118 W. Adams Ave., Kirkwood, MO 63122. For more information and to offer condolences, please visit stlouiscremation.com.