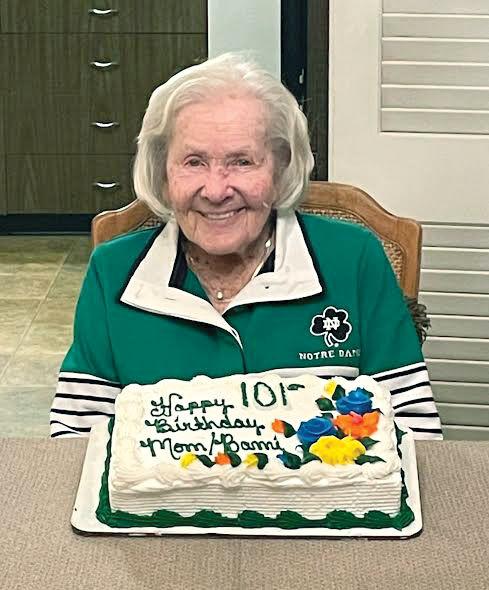 Update Oct. 21, 2021: Lorretto McDonnell Scharf passed away at age 101 on Sunday, Oct. 17, 2021. Read the obituary here.
Train whistles are more than irresistible beacons to one local resident who just turned 101 years young on Sept. 5, 2021.
Loretto McDonnell Scharf has lived in Kirkwood her entire life, starting with her 1920 birth in a home off Railroad Street, now the Memorial Walk between Kirkwood City Hall and the Kirkwood Police Department. Railroad-related elements crisscrossed the entire life of this spry senior.
"I never smoked, I never drank coffee, and I played golf three times a week until I was 87. I'd still be out there on the links if two back surgeries in 2007 hadn't made me put down my clubs for the last time," she proclaimed.
Local history intermixes with her lineage. As of Sept. 19, the property on which Scharf lives had been in the Scharf family for 102 years. A ranch house, built on the parcel in 1964 by her mother-in-law, Marie Scharf, is Loretto Scharf's current home.
"Kirkwood's streets used to be narrow and most folks walked everywhere," she recalled. "If someone did have a car, speed was limited to about 20 miles an hour."
Scharf lucked out by winning a car as a grand prize after buying a single raffle ticket in a contest. She's seen many Kirkwood landmarks change. Kirkwood Ice & Fuel, today a restaurant, was once a service that delivered ice for "ice boxes" and heating fuel to homes and businesses. She said parking lots have replaced buildings.
But many things, she said, are still the same.
"The train station where my family sent four sons off to two wars, the city hall where I had my first full-time job writing tax receipts for the city tax collector, and Down by the Station, now closed, but still the same building, where my uncle, Will McDonnell, had a grocery store and delicatessen from the 1920s into the 1960s."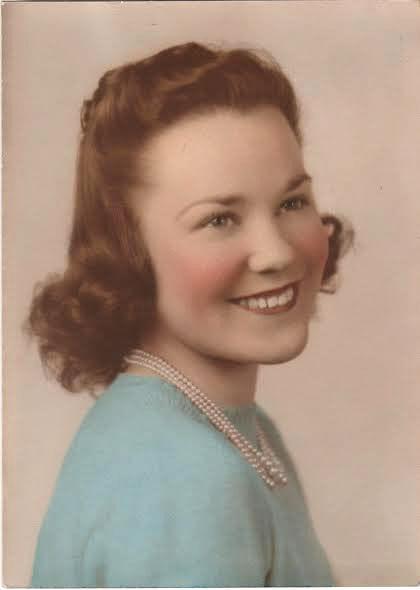 Kirkwood Roots
This centenarian's grandfather, Martin McDonnell, moved with the Missouri Pacific Railway company in 1896 to Kirkwood from Holden, Missouri. He became the local yardmaster and car inspector at the Kirkwood Train Station. All of Scharf's family grew up housed somewhere near Monroe Avenue.
"My grandfather was an alderman on Kirkwood City Council from 1912 until 1930, and in honor of WWI soldiers, including my father, Maurice, who fought at the Battle of Argonne Forest, he proposed the street name change of Main Street to Argonne Drive," said Scharf.
Her husband, William "Bill" Scharf Jr., moved to Kirkwood in 1919 with his parents when he was 3 years old. At that time, Kirkwood had only a two-lane dirt road. 
The Scharfs were both graduates of St. Peter Catholic School and Kirkwood High School. They married in 1942 at St. Peter Catholic Church, just two years after the Kirkwood Public Library opened and city officials commissioned a new city hall be built to replace what had been a row of commercial buildings.
Although Bill Scharf passed on in 2001, Kirkwood remains dotted with his family's footprints. Bill's father, William Scharf Sr., was the owner-operator of Scharf Cigar & Tobacco Manufacturing Company in St. Louis until 1923 when he established Scharf Shell Service. The "filling station" then was located at Big Bend and Denny, now where Doc's Harley-Davidson is located on Kirkwood Road.
By 1925, William Sr. opened a new gas station on Big Bend and Geyer, across from St. Joseph Seminary, which is now the Meramec campus of St. Louis Community College. Will and Bill both operated that location. In the late 1950s a new Shell service station was built, which continued in operation until Bill retired in 1992. A Fastrak Phillips 66 exists there currently.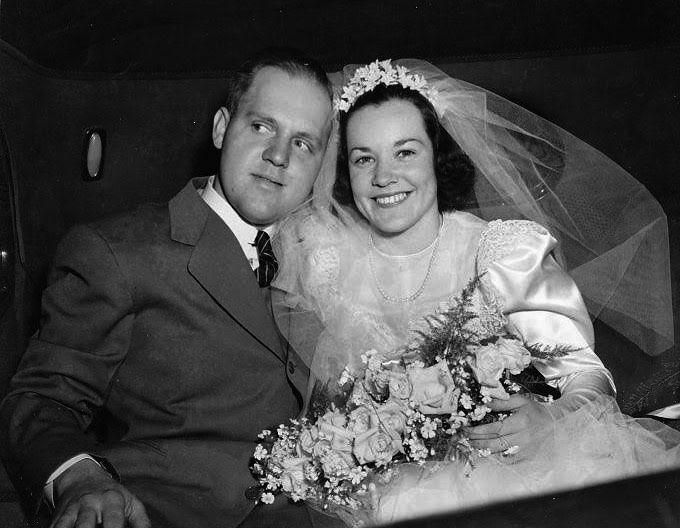 Having Fun Turning 101
Loretto Scharf celebrated her 101st birthday with family members at Billy G's Kirkwood, located on Argonne across from the train station.
Her son, Keith Scharf, said they planned a themed 100-year birthday party at the Kirkwood Train Station. 
"However, COVID hit and we had to abandon those plans and opt for a parade instead," he said.
He said his older brother works for NBC-TV and was able to get a photo of their mother with 101 birthday wishes on national television through Willie Geist, co-anchor of MSNBC's "Morning Joe" and anchor of "Sunday Today" with Willie Geist.
An active golfer since the 1940s, Scharf also is an avid Notre Dame football fan. However, she gets so nervous during games that she often can't finish watching. Of course, she's rooted for the St. Louis Cardinals all these decades.
Prior to the recent pandemic, Scharf attended 6:30 a.m. Mass each morning, often going to breakfast afterward with fellow parishioners.
Fa-La-La-Loretto
Scharf said she now mostly enjoys spending time with her three children, nine grandchildren, eight great-grandchildren and four (soon to be five) great-great grandchildren, as well as her grand-dog.
She served as the first president of the Marion Guild of the Ladies Club of St. Gerard Majella Parish. She also became treasurer for the St. John Vianney Mothers' Club in 1961, its initial year.
After joining the Kirkwood Women's Golf Association and playing at the defunct Crystal Lake Country Club in Des Peres in the early 1960s, Scharf eventually golfed in the Miami region year-round. In 1968, she volunteered as an official scorer for the Doral Open professional golf tournament, scoring for notable players such as Arnie Palmer, Jack Nicklaus, Tom Watson, Freddie Couples, Lee Trevino and Vijay Singh.
She also competed in St. Louis and Missouri State Golf Association tournaments. When she no longer could golf, she turned her passion to playing bridge with friends in several bridge clubs, including duplicate bridge. 
Loretto's unique name came as a derivative of her mother's name, Loretta. 
"Because she was the oldest of six children, and 'Loretto' was difficult for the younger kids to pronounce, she was simply La," said daughter Judy Scharf Post. "Her nieces and nephews still call her Aunt La, and a childhood friend who is now 99 wrote on her birthday card, 'Happy Birthday Dear La!'"