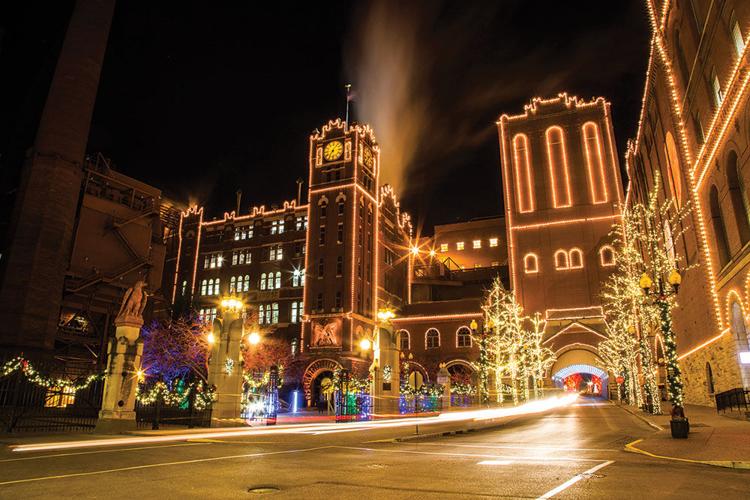 Brewery Lights
Witness the magic of more than a million twinkling lights during the 33rd annual Brewery Lights at the Anheuser-Busch St. Louis Brewery.
Now through Dec. 30, Thursday through Sunday, 5 to 10 p.m., guests are invited to stroll down Pestalozzi Street to marvel as the brewery is turned into a remarkable holiday experience with something for everyone, including a new Kids Zone.
While Brewery Lights is complimentary, guests can upgrade their holiday experience with a variety of individual and group packages, which can be purchased at BudweiserTours.com.
The Tour Center will be closed Christmas Eve and Christmas Day, but the lights will be on every night.
Drive-through tours are also welcome Monday through Wednesday after dusk until midnight. Visitors can enter from Arsenal Street turning onto Seventh Street and then travel along Pestalozzi Street.
Science Illuminated
The Saint Louis Science Center's Science Illuminated, an outdoor holiday light display, runs Wednesdays through Sundays, through Dec. 30, from 5:30 to 8:30 p.m.
The outdoor interactive display will be located in the Science Center's one-acre outdoor GROW gallery and pavilion, located outside the west side of the museum's main building at 5050 Oakland Ave., and visible to motorists on Highway 64/40.
Tickets for Wednesdays and Thursdays are $5 for Science Center members and $7 for non-members. Fridays, Saturdays and Sundays, tickets are $6 for members and $8 for non-members. Visit www.slsc.org for details.
Wild Lights at the Zoo
A wild, arctic wonderland with 1 million twinkling holiday lights and festive family fun awaits you at U.S. Bank Wild Lights at the Saint Louis Zoo. Wild Lights is open from 5:30 to 8:30 p.m. on the following dates:
• Dec. 7-9
• Monday, Dec. 10, is Sensory Night for individuals on the autism spectrum and others who may benefit from a sensory-friendly experience.
• Nightly, Dec. 12-23
• Nightly, Dec. 26-30
Tickets can be purchased in advance at stlzoo.org/wildlights, or at the door on nights of the event starting at 5:30 p.m. Ticket sales and event entrances will close at 8 p.m. Ticket prices are Monday-Thursday, $8/members, $9/non-members; and Friday-Sunday, $10/members, $9/non-members.
Sensory Night: $8/members, $9/non-members (Tickets are limited and must be purchased in advance.)
Children under age 2 are free. Free parking is available on zoo parking lots during event hours.
Winter Wonderland
Winter Wonderland drive-through light display is open through Dec. 30 (closed Christmas Eve) at Tilles Park, 9551 Litzinger Road.
It is open for vehicular traffic and carriage rides every day except Mondays and Saturdays from 5:30 to 9:30 p.m. Saturdays are reserved for carriage rides only. Mondays are reserved for Winter Wonderland Walk only.
For more information, visit www.stlouisco.com/ParksandRecreation/WinterWonderland2018.