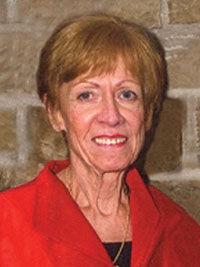 Bopp, Linda Darlene (nee Davis), passed away peacefully on Saturday, May 6, 2023. She was the beloved wife of Louis H. Bopp II for 53 years; dear mother of Christine Bopp and Suzanne Bopp; dear stepmother of Lou (Joanna Kaslow) Bopp III; loving Gaga to Alyssa and Nicole Roth and Rose Bopp; dear sister of the late Dee Davis (Pat Douglass, surviving); dear sister-in-law of Susie Bopp Miller; and cousin and friend to many. 
Linda was born in Salem, West Virginia on April 2, 1944, to Vollen and Glitis Fultz Davis. After graduating from Salem College, she became an elementary school teacher in Virginia where she met Louis H. Bopp II. They married on June 21, 1969, in Salem, then moved to St. Louis, Missouri, where she enjoyed teaching, and later became a funeral director and bookkeeper at Bopp Chapel for many years. She retired in 2000 to help care for her grandchildren. 
Her greatest joys were her family, entertaining, cooking and celebrating. She loved the St. Louis Cardinals, her grandchildren's softball and soccer teams, and the WVU Mountaineers and WVU Lady Mountaineers.
Funeral service Tuesday, May 16, 11 a.m. at Bopp Chapel, 10610 Manchester Road, Kirkwood. Interment St. Lucas Cemetery. Visitation Monday, May 15, from  4 to 7 p.m.