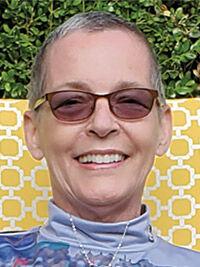 Griffin, Leslie, age 62, passed away Feb. 14, surrounded by her loving family, after fighting a courageous battle against pancreatic cancer with grace and strength. 
Leslie was born in Detroit, Michigan, on Feb. 23, 1958, to Barbara and Phillip Deck. In her early years she moved to St. Louis where she remained and has been a long-time resident of Kirkwood. She was a world traveler but some of her happiest moments were spent with the sand in her toes and the sea spray in her hair in Mexico. She had an amazing ability to love and supported animal rescue and participated in cancer awareness charities. Most of all, she enjoyed spending time with family, friends, and her most loyal companions Gracie, Charlie and Annie who never left her side. She will be dearly missed and forever in our hearts. 
She was preceded in death by her parents, Barbara (John Haug) and Phillip Deck; her brother Patrick Deck; and her cherished dogs Rufus and Buckwheat. 
She was the beloved wife of Greg (Cookie) Griffin; mother of Michelle Stevens Wilson (Matt), Christine Marxhausen (Corey), Joshua Stevens, and Jennifer Stevens (Nick Garrison); grandmother to Tobias Billings, Clayton Arnold, Ava Stevens and Nathan Stevens; sister to Marla Mawby (Walter) and Johnny Deck (Kathy). 
A private funeral will be held at noon on Friday, Feb. 19, at Chapel Hill Mortuary, 10301 Big Bend Road, Kirkwood, Mo. 63122. A celebration of her life will be planned later this spring. In lieu of flowers, please consider donations to the Humane Society of Missouri or Shriner Children's Hospital St. Louis.