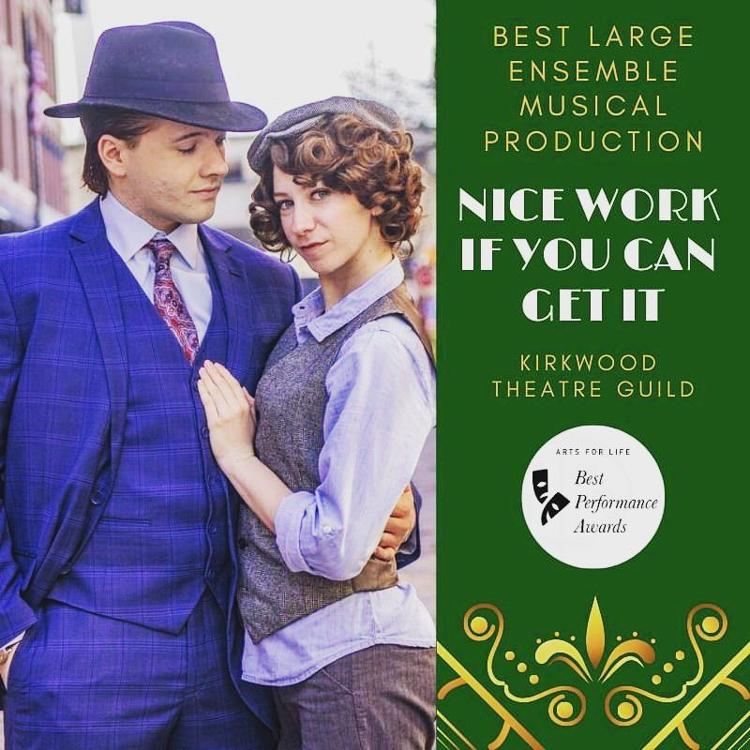 Arts for Life, a St. Louis non-profit dedicated to the healing power of the arts, recently awarded Kirkwood Theatre Guild's production of the George and Ira Gershwin 1920s musical-screwball comedy "Nice Work If You Can Get It" with seven Best Performance Awards, including Best Large Ensemble Musical Production, Best Director and five acting awards.
KTG was nominated for 17 awards. This is the guild's sixth win for a musical production since 2000.
Arts For Life is a nonprofit organization that encompasses 140 communities and 8,460 square miles in St. Louis city, county and St. Charles County in Missouri and Madison, Monroe and St. Clair counties in Illinois.
Founded in 1994 by Lucinda Gyurci as a group dedicated to the healing power of the arts, AFL has honored community theater musicals for performances and achievements since 1999 (BPAs), plays since 2015 (Theatre Mask Awards) and expanded awards in youth musical theater in 2013.
Performances from nominees for large ensemble musicals, two small ensemble musicals and five youth productions premiered on AFL's YouTube channel for 10 days leading up to the awards, and are now available for viewing. 
To see a list of the 2019 nominees and winners, as well as the awards history 1999-2019, visit www.artsforlife.org.