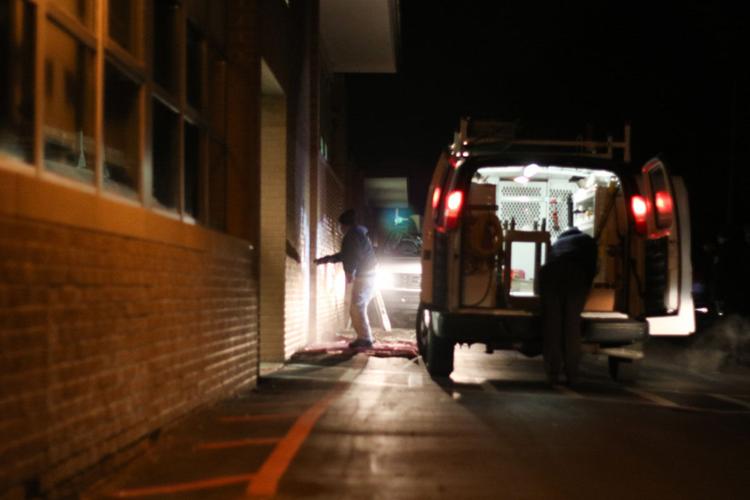 Update Jan. 13, 2021: Suspects have been identified and arrested. Read the story here.
On the same day Trump supporters staged a coup at the Capitol Building in Washington D.C. to interrupt the confirmation of Joe Biden's 2020 election victory, several Kirkwood schools were tagged with racist graffiti.
Around 6 p.m. on Wednesday, Jan. 6, Kirkwood High School was vandalized with spray-painted racial slurs and hate speech about a retired staff member. Similar incidences were reported at both Nipher Middle School and North Kirkwood Middle School.
"I am saddened and disappointed to report that last night (Jan. 6), vandalism was reported on the campus of Kirkwood High School. The vandalism included racist and derogatory statements spray-painted on the exterior of the building. The administration immediately contacted the police. Overnight, district maintenance crews worked to clean the vandalism," Superintendent David Ulrich said in a statement the district released Thursday afternoon, Jan. 7.
"Our staff members, the district administration and the board of education strongly condemn racism, hate speech and acts of vandalism. We are dealing with this head on," Ulrich added. "We are continuing the important conversations and education on racial equity for our entire community. Each building principal and counseling staff addressed this situation with their students, staff and families. We will continue to work closely with the Kirkwood Police Department to ensure a complete investigation into this matter."
Principals at each building issued statements to parents about the incidents. Kirkwood High School Principal Michael Havener said he is receiving reports of social media posts and is addressing the issue with students and staff members.
North Kirkwood Middle School Principal Tim Cochran said he shared a video with students the day after the incident and allowed for discussion time, as well as encouraged students to speak with parents, counselors or teachers about it.
"Honestly, I am personally experiencing a variety of emotions around this incident: sadness, anger, confusion, among others. I am sharing this information with you because our children need help and guidance to process such incidents," said Cochran. "Let's work together not only to support our children, but also to empower them to make a positive difference in our larger community."
An email sent to all district parents by Ulrich explained that prior to this week's politically-charged events, a communication welcoming everyone back to school, as well as a community-wide survey, were planned to be sent out. Ulrich said the district is hitting pause on those plans, though the survey will appear in this week's Webster-Kirkwood Times.
"Next week, you will receive additional details and links to the online survey. For now, we are going to focus on our students' academic and social and emotional needs," Ulrich said.
March Against Injustice
A march from Kirkwood High School to the Kirkwood Police Station to protest the Kirkwood Police Department's handling of the investigation will be held at 4 p.m. on Jan. 13.
The peaceful movement, organized by Kirkwood High School students, protests the KPD's refusal to label the graffiti as a hate crime, instead investigating it as vandalism, which carries less serious charges.
The Kirkwood Police Department neither confirmed nor denied this allegation.
"To protect the integrity of the investigation, the police department will not comment on the content of the graffiti," said Community Relations Officer Gary Baldridge. "With that being said, appropriate charges, fitting to the crime, will be filed when the culprits are arrested."
There is currently also a petition circulating among students to cover the spray-painted high school wall with a mural.