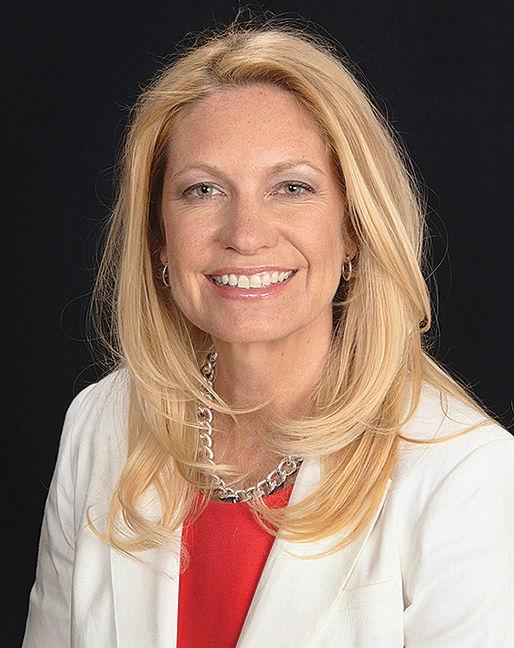 It's likely the Kirkwood School District Board of Education on Feb. 10 will vote on whether to censure Board Member Julie Backer while requesting she recuse herself from the current superintendent search.
In an unusual and surprising move, Kirkwood School Board President Darnel Frost asked fellow board members to consider these actions during a special meeting on Feb. 1.
Backer, who was not present at the Feb. 1 meeting, responded to the allegations on Feb. 4.
"It is unprecedented and outrageous that fellow school board members would attack another member publicly so close to reelection," said Backer, who is up for reelection in April.
Backer said she has not recused herself from the district's superintendent search.
"I have heard from supporters across the school district, including Kirkwood teachers, administrators, parents and community members who are as upset as I am," she said. "I am going to going to take the high road. I am proud of my record working on behalf of students, parents and residents of the Kirkwood School District.
"Frost outlined several complaints against Backer, saying she has violated board policies related to ethics and the confidentiality of information discussed during closed sessions. He said her actions have changed the outcome of certain district decisions.
Frost added that many of her behaviors have been "disrespectful" and "detrimental" to a number of school administrators, staff members, fellow board members and the district.
"We can no longer, as a board, sit by and allow this behavior to happen because when it does, it seeps into our administration, our principals, our staff and then our classrooms … and that's not fair to our kids," Frost said. "Some of the demeaning things that have been said (by Backer) have been very hurtful, to the point that we have employees considering legal recourse against us."
A censure amounts to a statement by the board admonishing a board member for certain behavior, according to Kelli Hopkins, an associate executive director of the Missouri School Board Association.
"It condemns the board member's actions," she said. "It's a symbol by the board that says, 'We want to separate ourselves from this person's bad behavior.' Sometimes it's presented as a resolution and voted on or sometimes it's a simple motion, but it's very rare."
Frost said he has not taken the decision to bring this before the board – and the public – lightly, but feels it is necessary. He said his attempts to discuss and resolve these issues with Backer have been unsuccessful, and the board cannot continue to tolerate behavior that undermines and damages the district's credibility.
"Please know that censuring is a last resort in handling situations to be used only after other, less public means, have been exhausted," he said. "These other, more private means, including the utilization of consultants, have been used without results. While this is not something that is comfortable for any of us, it is necessary and essential in ensuring our board is able to move forward in an ethical manner and refocus our attention of our primary role of supporting the education of our students."
Backer, who said she was not at the meeting because her disabled daughter's caregiver canceled unexpectedly, said she was "shocked and dismayed" by Frost's actions. She said Frost did not attempt to work out issues with her prior to the meeting and she was not aware a discussion pertaining to her was on the agenda.
While a board can censure one of its members, a recusal is not something a board can do to someone, Hopkins said.
"A board can request a recusal, but a recusal is something you do to yourself," she explained. "To request a recusal means the board is asking that person to voluntarily step back and not participate in something."
Backer told the Times on Feb. 4 that she has not recused herself from the superintendent search and that she "continues to be actively involved in the process."
Frost said he is calling for her recusal because she is having a negative effect on the district's superintendent search.
"I don't believe she has the ability to be impartial in choosing the superintendent," he said, noting Backer's persistent push to hire a certain person for the position. "The discussion and dialogue I've had with our consultant leads me to believe that."
Frost said Backer's actions have also compromised two of the district's past superintendent searches, suggesting her behavior has played a role in one superintendent's departure and a potential candidate deciding not to take the position in another case.
Board Member Jean Marie Andrews backed Frost in censuring Backer, as well as her recusal from the superintendent search. She listed several times Backer has been in violation of a board policy or her behavior has negatively impacted staff members or the district.
She claimed Backer has jeopardized the district by divulging confidential information to employees, and that she has tried to influence the hiring or firing of certain administrators. Andrews also claimed Backer pressured a district employee to destroy the recording of a public meeting during which she publicly disparaged the superintendent.
Questions Surround Meeting
Board Member Angie Bernardi called Andrews' list "hearsay," but Frost said he knew them to be true through his experiences as a board member as well.
Bernardi stressed that the board needs to be thoughtful, deliberate and considerate before taking any action against Backer.
"This is a very serious action and we need to be very clear about what policies have been violated," she said.
Frost said Backer has violated board policies regarding ethics and confidentiality surrounding closed sessions. Language in the policies state that board members are not to disclose the details or discussions of closed meetings, which Frost and Andrews claim Backer has violated.
Bernardi questioned the timing of the special meeting, and Frost bringing the issue to the public before having spoken to the board about it. She said a closed session would have been more appropriate per board norms.
There is also a school board race and a bond issue on the April ballot. Backer, who has served on the board since 2014, is up for reelection. She has spoken out against the ballot measure that, if passed, would build an elementary school on property the district owns at Lindemann and Dougherty Ferry.
Board members Jennifer Pangborn and Chad Kavanaugh said they realize that while Backer's "style" can sometimes be abrasive, she has made a number of contributions to the board. Many parents and community members particularly appreciate Backer's longtime advocacy for families of children with special needs.
The board is expected to take up the matter at it's next meeting on Feb. 10, 7 p.m., at the Administrative Services Center, 11289 Manchester Road.